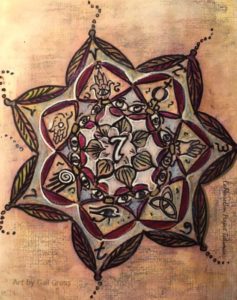 Talismanic painting by Gail Gross ©
March 22, 2017 marked the 7th year Anniversary of ÇaFleureBon. In anticipation of this milestone, ÇaFleureBon founder and Editor-in-Chief Michelyn Camen invited eight American artisan perfumers to participate in "Project Talisman" – "a multi-perfumer project where each perfumer created a fragrance "parfum de protection" to ward off the evil eye or attract positivity." On the Ides of March, most of the perfumers offered their magical potions, specifically designed to function as perfume talismans for safety, positivity and protection to perfumistas and readers; Patrick chose to create Proteckt as a bespoke fragrance.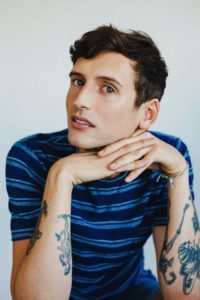 Patrick Kelly of Sigil Scent
For ÇaFleureBon's Project Talisman Patrick Kelly of Sigil Scent created Proteckt: "… a resinous, smoky blend of woods, punctuated by fresh tagetes and bubbling citrus notes…. inspired by the alchemical symbol for "essence." – Patrick Kelly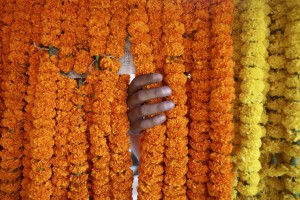 To affect an aura of protection, Patrick Kelly's Proteckt fragrance features some of the strongest and historically important essential oils available to perfumers. The first of these that greets my nose when I spritz Proteckt is tagetes. Tagetes essential oil is extracted from the Southern Marigold (Tagetes minuta), a tall flowering plant with very small yellow flowers that was originally native to South America and is now considered a weed in many parts of the world. The Aztecs used a powder made from the flowers of a related species, Tagetes lucida, to make ritual incense.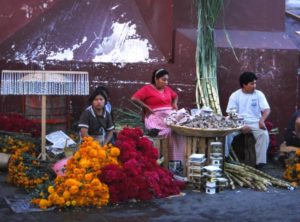 Vendors selling Tagetes and incense for the Day of The Dead in Mexico Photo Scripps News Service
In Mexico, Tagetes are associated with the Day of The Dead. Today the bright orange and saffron colored garlands of the larger flowered tagetes species and hybrids are used to drape Indian temples during festivals and celebrations. Oil of tagetes has a very distinct odor and has been used for centuries as an antiseptic, to dress wounds and to protect people from evil of all sorts. The flowers and the essential oil of tagetes repel insects (and perhaps evil as well) with a strange, tangy, candied metallic scent, at once warm, crisp and powdery with overtones of apple and citrus.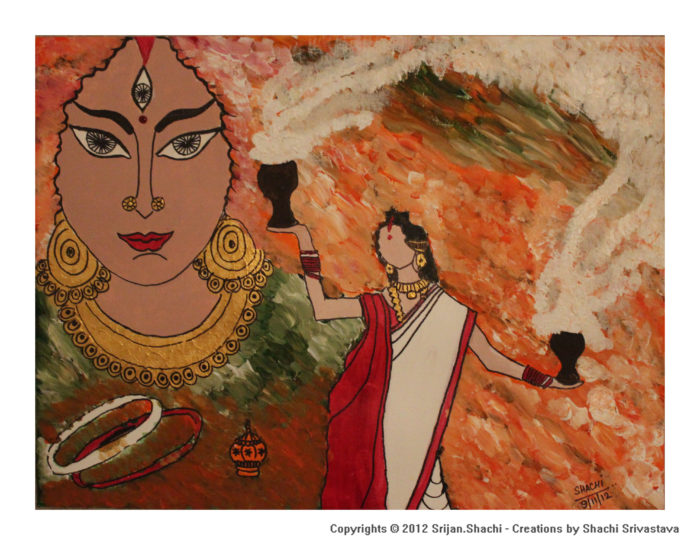 Shachi Srivastava Dances with Incense©
In Sigil Scent's Proteckt fragrance, the olfacive profile of tagetes merge with the sharp, fruity qualities of black pepper and the rich, tart, berrylike sweetness of blood orange, creating a focused, pungently refreshing and penetrating opening. After about a quarter of an hour, this bright and protective shield melds and merges with cedar and frankincense, resulting in a scent akin to a smoky, fruity, nutty incense that lingers for at least an hour before the comforting effect of styrax (benzoin) carries the protection into the dry down. Like all of the Sigil Scent natural fragrances, Proteckt is very long wearing. This perfume helps me to feel safe for many hours by infusing my mind with positive energy. Proteckt is truly a talismanic perfume, a rich and serous fragrance that I value not only for its magic but for its relaxing, therapeutic qualities as well.
Notes: Styrax, pepper, cedar, frankincense, petitgrain, tagetes and blood orange.
I would like to thank Patrick Kelly of Sigil Scent for the generous sample of Proteckt. Opinions are my own.
Gail Gross, Editor
Art Director, Michelyn Camen, Editor in Chief
This Perfume is not available for sale, and is bespoke, created only for our Seventh Year Multi Perfumer Collaboration: Project Talisman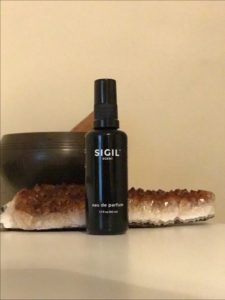 Thanks to the generosity of Patrick Kelly of Sigil Scent we have one 50 ml of Sigil Scent Proteckt ($90) available to one registered reader USA. (Be sure to register or your comment will not count). To be eligible for the draw, tell us what appeals to you about Gail's review of Proteckt, if you are familar with tagetes in perfumes, and if you have been following the Talisman Project. If you would like Proteckt to be offered for sale, do let us know…it is that good. Draw closes May 2, 2017
We announce the winners only on site and on our Facebook page, so Like Cafleurebon and use our RSS feed…or your dream prize will be just spilled perfume.