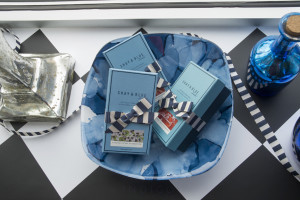 The first piece I ever wrote for ÇaFleureBon was on Shay & Blue. It was on the unctuous Salt Caramel scent that Dom de Vetta and perfumer Julie Massé created in collaboration with Charbonnel et Walker. Inspired by the chocolatier's cult Sea Salt Caramel Truffles, it was one of my most drenched scents year. I think I went through two 100ml in as many months… it was sheer liquid golden indulgence. I am unashamedly passionate about Shay & Blue, I've followed them from their early pre-launch colour musings and flower harvest updates on Facebook to brand launch and the opening of the gorgeous Vermeer-esque boutique in Marylebone. The price point is accessible; l like the cerulean hue of bags, ribbon, store and tinted flacons. The styling and marketing is elegant, simple, yet executed with a witty panache and edge that reflects Dom's years of working in luxury scent, including stints as Senior Vice President of Chanel, responsible for launching Les Exclusifs and then moving on to take the reins at Jo Malone when she stepped down due to poor health; Dom was a recipient of CaFleureBon Creative Director of the Year 2014.
I have all the Shay & Blue scents bar Sicilian Limes; I just can't do limes. My faves are the Almond & Cucumber and Salt Caramel, although the Amber Rose with its melting heart of dulce de leche is a curious shimmering floral creation I go to when I'm sad. Blacks Club Leather and the Oud Alif are both rich, finely balanced variations on well worn themes, yet somehow moulded by Julie Massé into introspective and sensual formulae of grace, force and deliberate personality. I'm aware the oud trend has seeped into every aspect of the perfumery business now, with all levels, niche, mass market and artisan producing oud tinted juice for an ever demanding market. Oud Alif is beautiful and addictively wearable, not something that can always be said about oud; it is a very divisive note. Touches of chocolate and coffee temper the sweaty violence of the oud. It is this ability to riff on familiar tropes that makes Shay & Blue so good at what they do.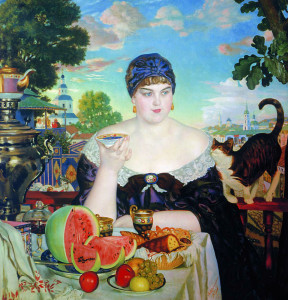 Boris Kustodiev The Merchants Wife
I like a touch of melonic pungency in scent, it's a tricky note to conjure up and get away with. More often than not, compositions are just overwhelmed by the creeping dead fingers of aquatic and ozonic effects. The old version of Calyx by Sophia Grojsman for Prescriptives was a very modern and decidedly unsettling blast of off white floral miasma and tropical fruit basket on the turn. The underlying whiff of ripe melon and decayed guava was fabulous. Gorilla's magnificent Breath of God is actually two scents in one, Inhale and Exhale, one of smoke, the other of external mountain floral. The counterpointing of lush fruit, incense, mud and air is genius. The juice smells damp, joyous and of course deeply beautiful. One of the prettiest melon captures is Michel Roudnitska's underappreciated Emotionnelle by Parfums DelRae, diaphanous and ultra-feminine, it does flutter a very fine line between gorgeous and kitsch, but on the right skin it smells of love and all its soft secrets.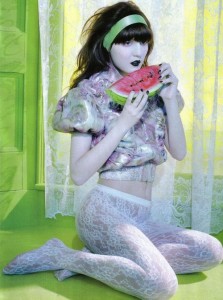 Dazed and Confused Irina Lazareanu
Now we have something so juicy and verdant from Shay & Blue, bursting with blushing chemistry. Watermelons is an unashamedly joyful melonic note that echoes something Julie and Dom have used quietly and smoothly a few times in previous compositions such as Almond & Cucumber and Suffolk Lavender. It is a rather gentle creamy aquatic effect, almost calone, 3,6-nonadienol or a mix of citral and beta ionone. Rubicund, dripping and lashed to green mandarin, Julie Massé's watermelon is freshly cut and glossy with Jolly rancher charm. It is essentially a tertiary essay in green, differing shades of tropical urgency and grassy playfulness. The melon/citrus headburst is chartreuse with a honeydew-tinted halo. A rather plasticed but nonetheless buoyant honeysuckle and green tea heart is shaded in mantis and mint, bright and shimmering in flickering sun. Vetiver anchors Watermelons, 'clipped vetiver', according to Shay & Blue that oddly suggests an image of buzzcut lawns and shorn dolls. (My mind can be a strange place). This grassy depth is viridian, a rooty aromatic place where the melon juice drips and stains leaf, soil and passing ant.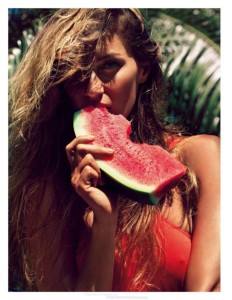 Gisele Bundchen Inez & Vindoodh Vogue Paris July 2012
Shay & Blue make no great claims to olfactory advancement or indeed revolution. They simply make beautiful perfumes that your senses will fall in love with. Dom and Julie carefully push our olfactive pleasure buttons, giving us delicious formulae with clever twists to keep us hooked to their stylish way of scented thinking. Watermelons is a wonderful new addition to an already impressive line up. I'm pretty citrus-phobic so I struggle with fresher scents as we head into warmer weather. This dewy moreish juice is the perfect summer perfume… that's if the bottle that long of course…
Disclosure: From my own collection
–The Silver Fox, Editor and Author of The Silver Fox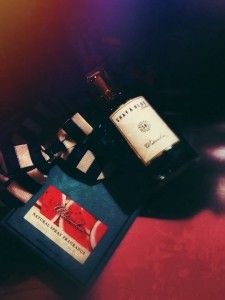 Shay and Blue Watermelons by TSF
Thanks to Dom DeVetta of Shay & Blue and Ann Onukso of Indigo Perfumery the exclusive American Stockist we have a 30 ml natural spray of Watermelons for two readers in the USA and EU respectively. To be eligible please leave a comment with what appeals to you about Watermelons and where you live. Draw closes 3/9/2015
We announce the winners on our site and on our Facebook page, so Like Cafleurebon and use our RSS option…or your dream prize will be just spilled perfume