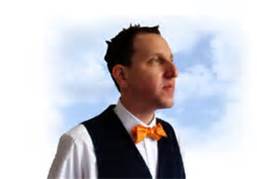 Natural Perfumer Hiram Green
Perfumer Hiram Green, the creator of Moon Bloom (which rocked the blogosphere with it's amazing technical and aesthetic beauty) has returned with his second offering, Shangri La, homage to Francois Coty's 1917 masterpiece of the same name.
Old Hollywood: Ronald Coleman and Jane Wyman in Lost Horizon 1937 film directed by Frank Capra (reimaged)
It is also a tribute to the mythical land of harmony somewhere nestled within the Himalayas. "You, my son, will live through the storm. You will preserve the fragrance of our history and add to it a touch of your own mind." So says the High Lama in James Hilton's Lost Horizon, to protaginst Hugh Conway, who is selected to rule Shangri-La after the benevolent leader dies.
The same message has been passed along from Coty to Green; Hiram Green is a chosen one to protect and perfect the cherished fragrance legacy. With many questionable restrictions on a natural perfumery- the very construct of a chypre has been threatened, and might fade into the mists. Thankfully, talented perfumers like Hiram Green, and other can use new technologies which have exponentially expanded the perfumer's palette so that in ten years Chypres will not be the stuff of myth.
Opening with the classic chypre's signature citrus burst, Hiram Green's Shangri La is at first intense, but just as quickly turns to what I will describe as "baby head" smell. I know parents understand, but for those of you, who do not, it is the beautiful scent of fresh flesh, peachy but not fruity, clean but somehow sweetened. Peach becomes almost aldehydic as it mingles in the heart with iris, and the also floral heart combination of rose and jasmine. .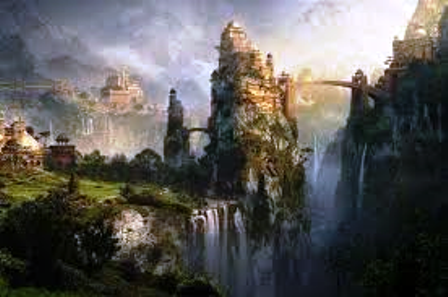 Shangri-La
Spices come to call as sparkling chimera- sometimes tickling, pointing out you are now somewhere exotic and warm. Adding to this sensation, a faint milky note bridges into the base, although certainly not suntan oil coconut- it is the akin to the milk of human kindness which nourishes the people of the peaceful valley Finally, the ingredient that is so integral to chypres comes to light- a pastel oakmoss, lovely and subdued- proving the talented Green can work within the raw material restraints of IFRA. Anchored by a vanilla-infused vetiver, we have reached the pinnacle of this aroma family's beauty. The next morning I awoke with a soft peach pit and violet musk whispering still.
As described by Hilton, the residence of Shangri-La are, "…a people who have an unheard of longevity." Hiram Green's Shangri La is no less so, nor is it shy about making its glory known- sillage radiates as sunshine peaking over the Himalayas at daybreak. It is a superior example showing natural perfumery in the 21st century doesn't have to be paradise lost but indeed can be paradise found. For those who seek the Lost Horizon, the vintage perfume treasures of a bygone era, Hiram Green's Shangri La honors and respects the mastery of Francois Coty so many years ago.
Notes: citrus, peach, jasmine, iris, spices, vetiver and oakmoss
–Einsof, West Coast Contributor
disclosure: Indigo Perfumery provided my sample for review
Note: Americans who sought out Hiram Green's debut perfume, finding Moon Bloom may have had some intitial difficulty- but rest assured, you did not need to scale any mountains. Ann Onsuko, the owner of Indigo Perfumery has found the lamasery for you:and is the exclusive US stockist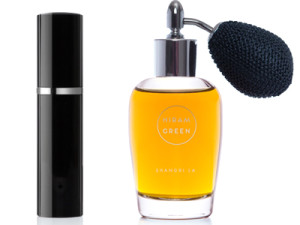 Hiram Green Shangri La Travel Spray and EDP
Thanks to the generosity of Anne we are offering two 5ml travel spray of ShangriLa to two CON ED US readers. To be eligible please leave a comment about what appeals to you about Shangri La, if you have tried Moon Bloom and if you have you seen the movie or read the book Lost Horizon. If you would like to have your comment count twice LIKE Indigo Perfumery on FaceBook or Tweet #ShopSmall Hiram Green ShangriLa #perfume @indigoperfumery @fifthsensenyc http://tinyurl.com/lqxrzxa. Or you can pin it or use instagram @cafleurebon. Draw ends December 1, 2014 BUT WAIT THERE IS MORE… SHOP SMALL AND SAVE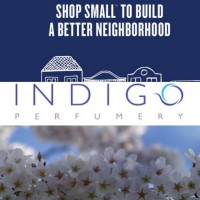 #shopsmall #savebig
Support Small Business Saturday November 29, 2014. #ShopSmall at Indigo Perfumery who is offering 20 percent off of any brand with any purchase of $100 + free shipping in the USA. The code at check out is CafleurebonSBS through November 30, 2014
We announce the winners only on site and on our Facebook page, so Like Cafleurebon and use our RSS option…or your dream prize will be just spilled perfume.