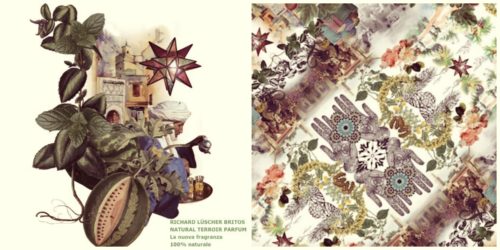 Illustrations of 30n08w Terroir de Marrakech courtesy of Richard Lüscher Britos
Switzerland's Richard Lüscher Britos has released their 6th Terroir perfume- 30n08w Terroir de Marrakech composed by Delphine Thierry. "Terroir (French) from 'terre', "land", is the set of all environmental factors that affect a crop's phenotype, unique environment contexts and farming practices, when the crop is grown in a specific habitat. "The 'Terroir' ingredients are born out of the interaction between climate, soil, landscape and local culture. These elements, when combined, portray something bigger than the sum of its parts: a unique place with a unique personality and character. "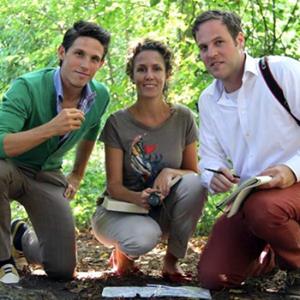 Malvin Richard is a perfume expert, Serena Britos is an ethno botanist and Lukas Lüscher is an art director
Richard Lüscher Britos is comprised of three friends: Malvin Richard, the son of perfumer Jean-Claude Richard and whose study in Grasse is found in his research on how local environments affect the botanical and ensuing raw material aroma. Lukas Lüscher, the son of a forest engineer, has studied the history and marketing of perfume and the quality of raw materials and Serena Britos, an ethnobotanist who studies not only the location and use of plants, but the wisdom of the indigenous people who live and thrive in each Terroir. Most importantly,Richard Lüscher Britos partners with local farmers, chosen for their deep understanding and commitment to their native lands and the skill at extracting aroma therefrom.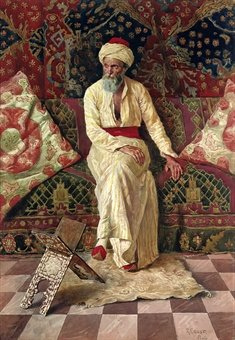 A Pensive Elder Rudolf Ernst French Austrian Orientalist
I once knew a Moroccan man, a chef in a restaurant where I had a menial position- but free food and an expanding education about the people of Northern Africa. As a Muslim, he would unfurl his prayer rug while I silently went about cleaning up around him. When I asked about his homeland, he taught me the people of the desert are not so interested in air conditioned reprieve as Westerners- clamoring for relief of symptoms. Conversely, Moroccans are experts in the art of refreshment and soothing the soul.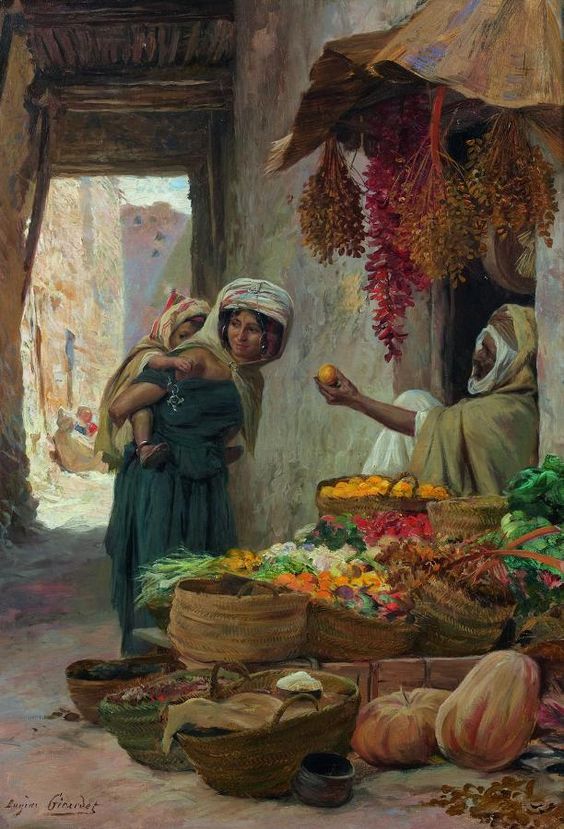 The Fruit Seller by Eugene-Alexis Girardet
They have studied hospitality to a fault (try leaving any Moroccan home without a gift), and the subtlety of ritual is high art. Gifts are only for giving, unless you've brought pineapple, watermelon or other hydrating fruits. We began to have tea at the end of the night- three cups, no more, no less.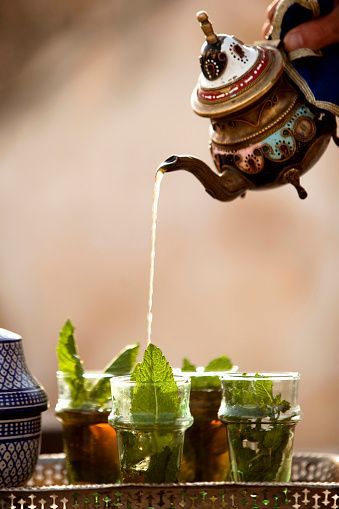 Fresh mint tea being poured, traditionally from a height, in Fes, Morocco. Getty Images
As our discussions ran more spiritual, he explained mint tea (in Arabic, شاي بالنعناع, shāy bil n'anā') is traditionally made by the eldest male (or head of household) and when made for guests, is an especially beloved sign of hospitality; to refuse would be scandalously rude. Three cups represent, somewhat, the idea of birth, life and death or perhaps one could frame this as maiden, mother, crone."The first cup is gentle as life, the second is strong as love, the third is bitter as death." (Mint tea, coincidentally, becomes more bitter the longer it is brewed' if the tea is not removed- by the time a third cup is poured, the tea will have become overly bitter).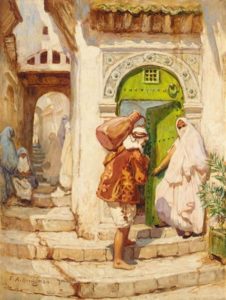 Frederick Arthur Bridgman – The Water Carrier
32°N 08°W is a most gloriously green water accord muted mint- not sugary and sticky sweet as the fabled drink. The feeling is as if one had spritzed away any left over sand and scald from the northern tip of the continent. Nuances of date and fig are present, not Turkish Delight, but Moroccan hospitality, again, offering fruit for the house guest.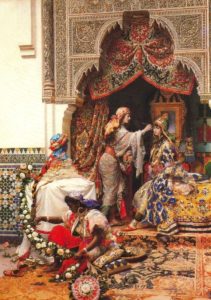 Henna Ceremony in Morroco unknown Italian Orientalist painter
Jasmine and the Moroccan rose sweeten a henna note; henna here being again only nuances as if somewhere someone were preparing paste for celebratory tattoos.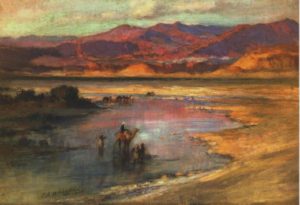 Crossing An oasis with the atlas mountains in the distance Morocco Frederick Arthur-Bridgeman
To bring 32°N 08°W to the Western world is to imbibe the traditions of a Moroccan Terror- effectively creating a soothing oasis in Midtown or the Midwest. Mint, being so universally recognized and washed of its sensory overloading characteristics, will be welcomed in any terroir, and on any skin.
Notes: mint, Hanan tea, watermelon, dates, fig, jasmine, Moroccan rose, henna, watery & green accords, Longevity is over 7 hours and sillage is modest which befits a natural perfume
*my sample was provided by Richard Lüscher Britos for review. Thank you
–Einsof, Natural Perfume Editor
Art Director: Michelyn Camen, Editor in Chief
Editor's Note: Richard Lüscher Britos won our CaFleureBon Best of Scent 2014 For Best Natural Perfume House Our review of 46°N 08°E – Switzerland here and 14°S 48°E – Madacascar here. Luckyscent sells 38°N 16°E – Italy – Bergamot and 14°S 48°E – Madacascar – Ylang Ylang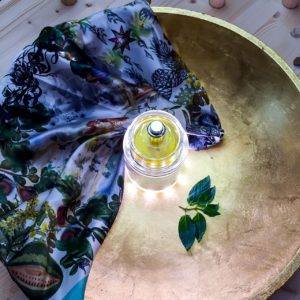 Richard Lüscher Britos – 32°N 08°W Terroir de Marrakech Photo by Ermano Picco at Pitti Fragranze 2016 for CaFleureBon
Thanks to Richard Lüscher Britos we have an avant premiere 50 ml bottle of 32°N 08°W for a registered reader in the US, EU and Canada

or a sampler of all six including 32°N 08°W, 46°N 08°E – Switzerland (Jean Paul Gigodot), 14°S 48°E – Madacascar – Ylang Ylang (Vero Kern), 04°N 74°W – Columbia – Gardenia (JeanClaude Richard) 38°N 16°E – Italy – Bergamot (Jean-Claude Richard) and 44°N 03°E – France – Wild Mountain Lavender(Andy Tauer)
Please leave a comment with why you would want to try 32°N 08°W Marrakesh, what you found intriguing about this review, where you live and your choice of either sampler or bottle should you win. Draw closes 10/15/2016
You can follow Richard Lüscher Britos on Facebook to learn more about the founders journeys and olfactive philosophy. Follow us both on Instagram @cafleurebon and @richardluscherbritos
We announce the winners on our site and on our Facebook page, so Like Cafleurebon and use our RSS option…or your dream prize wil be just spilled perfume