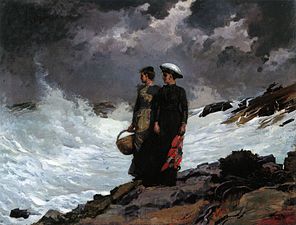 Watching the Breakers Winslow Homer
"If once you have slept on an island
You'll never be quite the same;
You may look as you looked the day before
And go by the same old name,
You may bustle about in street and shop
You may sit at home and sew,
But you'll see blue water and wheeling gulls
Wherever your feet may go.
You may chat with the neighbors of this and that
And close to your fire keep,
But you'll hear ship whistle and lighthouse bell
And tides beat through your sleep.
Oh! you won't know why and you can't say how
Such a change upon you came,
But once you have slept on an island,
You'll never be quite the same." -Rachel Lyman Field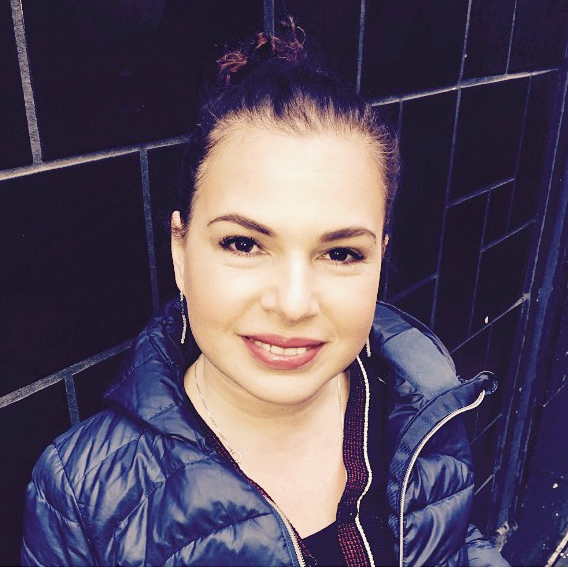 Irina Adam Natural Perfumer for Phoenix Botanicals
Inspired by winters walk along the beach, Phoenix Botanicals Vanilla & The Sea is the latest fragrance from natural perfumer and New Yorker Irina Adam, (a 2016 Art & Olfaction finalist for Peach Garden)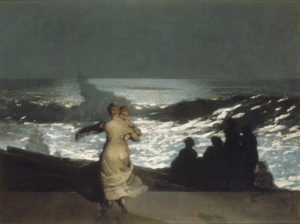 Winslow Homer Summer Night
Irina Adam's writes that Vanilla & The Sea is a "refreshing mandarin & neroli breezes dance away to reveal warm vanilla and tuberose, which turn into a musky amber. Lavender absolute is the salty sea spray onto a base of seaweed, moss, and deep ocean ambergris".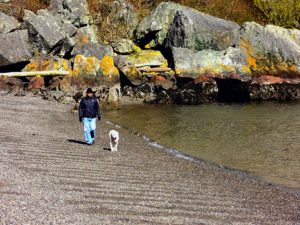 Robert and his dog Sadie on a winter walk on the beach (photo Ron Hall author's collection)
Living on an island, winter walks on the beach are part of my daily activities. The cold bite of the air, the smell of low tide and salt water, and the damp fabric of my coat all add up to create an olfactory goldmine that is quite frankly unforgettable. An oceanic floral amber, Vanilla & The Sea perfectly captures the idea of a waterside stroll, complete with the metallic tang of seaweed drying on the rocks, the petrichor smell of a chill winter rain hitting the sand, the warmth of sweaters, jackets, gloves, and hats replete with a whiff of overheated skin under layers of cashmere, cotton and wool. A beautiful dream of winter.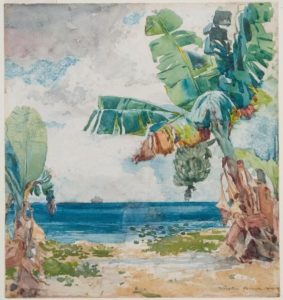 Winslow Homer Banana Tree – Nassau, 1885
The bluster of winter weather also brings thoughts of warm days on a beach, and for sun-seekers this fragrance does not disappoint; on the other side of this magical perfumed oil is a looking glass where I imagine a warm stroll on a Caribbean beach. Here you find the same aroma of a winter beach but now surrounded by blooming tropical flower scents of narcotic and languid tuberose, sweet, bright and zingy citrus and the smell of sun-kissed sand tinged with a dab of salt-water tide pools and a soupçon of sun tan oil.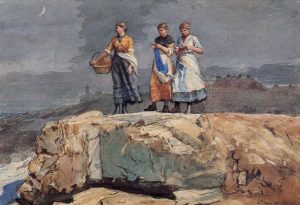 On the Cliffs (1883) – Winslow Homer
Same content, completely different context, and therein lies the magical beauty of Vanilla And The Sea. It contains that often elusive perfume quality that transports you to unexpected and surprising locales and discoveries by constantly morphing and shifting as you wear it.
Notes: Mandarin, Neroli, Tuberose, White Rose, Vanilla, Amber, Lavender, Seaweed, eco-friendly Ambergris, Sandalwood. Organic Jojoba oil.
Disclaimer: I received my sample from Phoenix Botanicals, thank you so much! The opinions are mine exclusively.
—Robert B. Herrmann, Contributor
Art Direction: Unless otherwise specified all art is from Winslow Homer, one of the greatest American painters of the 19th century. At one time he lived in New York City and he found inspiration for many of his seascapes in New York, New Jersey and Massachusetts –Michelyn Camen, Editor in Chief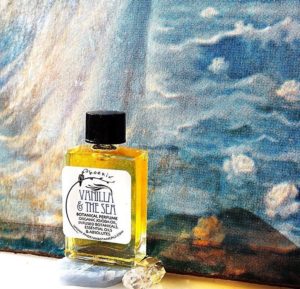 Vanilla & The Sea Collage by Irina
Thanks to the generosity of Phoenix Botanicals, we have 5ml bottle of Vanilla and The Sea for 1 registered reader anywhere world (you must register or your entry won't count). To be eligible, please leave a comment with what you enjoyed about Robert's review, where you live, if you like the beach in winter. If you have a favorite Phoenix Botanical perfume we would love to know (we have reviewed this line extensively; Lilac Rain won a Best of Scent 2016). Draw closes 1/25/2017
We announce the winners only on site and on our Facebook page, so Like Cafleurebon and use our RSS Feed…or your dream prize will be just spilled perfume.