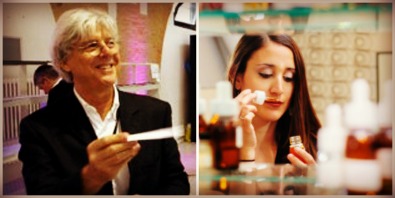 Cladue Marchal and Cécile Zarokian
This capricious, extravagant perfume is Cécile Zarokian's third for Creative Director Claude Marchal's beautiful luxe niche house Parfums MDCI. She created the sublime La Nuit Andalouse and Cio Cio San, a lychee-drenched floral wonder and one of my favourite scents of 2015. It is no secret how much I love Cécile's work, each new launch reveals just how sophisticated and adept she is at working with exquisite materials and complex briefs. And yet nothing is heavy handed or overplayed, she understands nuanced memory and frivolity just as much as sensuality and connection to the time and place of the olfactory story. Cio Cio San was of course inspired by the love-damaged geisha of Puccini's tragic opera and gave Céline the opportunity to create a exuberant and at the same time poignant floral bower that demonstrated her ability to balance high drama and petal-strewn pathos in scent.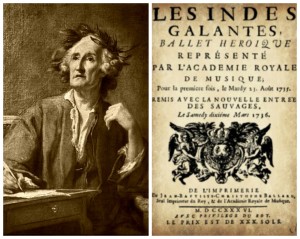 Jean-Philippe Rameau Les Indes Galantes
Now we have Les Indes Galantes (The Amourous Indies), described as an exotic gourmand and inspired by the opéra-ballet of the same name by French baroque composer Jean-Philippe Rameau (1683-1764). Rameau's work may be unfamiliar to some, but his influence on the world of French opera and in particular the harpsichord in undeniable. He was an important musical theorist for the early part of his life and published his most well-known work Traité de l'Harmonie (Treatise on Harmony) in 1722 to great critical acclaim. It was in his late 50s that he turned more seriously to composition and opera in particular. Les Indes Galantes was first performed in 1735; differing versions followed with the final piece consisting of a prologue and four separate stories loosely connected by the theme of universal love, a concept elaborated on in the prologue. The first story, Le Turc Génereux takes place on a far flung island in the Indian Ocean, the second, Les Incas du Perou in Peru, the third, Les Fleurs in Persia and finally Les Sauvages takes place in the New World, in Illinois. The final part of the quartet was inspired by the meeting in Paris of Louis XV in 1725 with Chief Agapit Chicagou of the Metchigamea tribe and other Chiefs who had travelled across the Atlantic from Illinois. They swore allegiance to Louis and delighted the king with traditional American Indian dances in the Théatre-Italien. You can hear the rhythms and oddity of these dances in Rameau's liquid and lively score for Les Sauvages.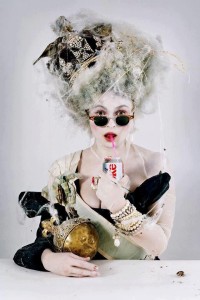 Helen Bonham Carter Photo Tim Walker
Baroque implies embellished, decorated, somehow a little excessive. I don't really see it like this at all, if you take the word back to its origin, whether applied to music, art or architecture, the word or concept takes on a different slant and visionary hue. The word baroque is derived from the Portuguese word barrocco, meaning misshapen pearl.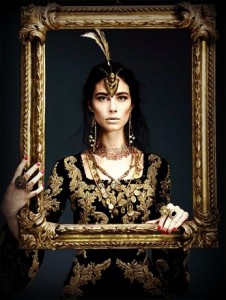 Vogue Italia 2012 Dolce & Gabbana Return to Baroque
If you think about the actual beauty of these extraordinary objects, glittering, lustrous and imperfectly, defiantly glorious, the word baroque becomes a highly charged description, implying beauteous divisive difference. Les Indes Galantes' baroque character is unveiled in Rameau's masterly mix of rhythms, styles, choruses, dances and witty vocal interaction. There is verve, cheek, repartee and flirtation. All of it held together by Rameau's eloquent and flowing score.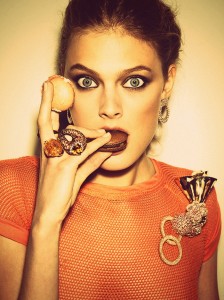 Constance Jablonski for Vogue Brazil
Les Indes Galantes is a triumphant gourmand, ambrosial and rich but composed with Cécile's usual delicacy and deftness of touch. I adore gourmands, but they abound these days in perfumery and it takes a very talented perfumer to really add something different to the template or create a satiated state of shimmering perfection with relatively straightforward materials. The notes in Les Indes Galantes are deliciously rendered and include orange, almond, raspberry, cinnamon and clove, geranium, vanilla and a warm triptych of frankincense, benzoin and labdanum in the base.
This golden triumvirate adds a subtle yet pervasive smoky leathered undertone to the gourmand proceedings. The bright, sweet orange opening is fabulous, mixed with the milky bitterness of the almond, giving the perfume a frangipane patisserie effect on the skin that I just love. A dusting of cinnamon throws the direction off whack slightly, mixed with a very subtle floral clove effect, the spices hint at the Persian tradition of sugared savouries, mixed sensations to surprise and intrigue the palate. As in Cio Cio San with that heavenly lychee, as it is here with a luscious, rather sultry raspberry note, the fruit reduced down to a dark, glistening syrup and trickled like bloody wine over the spices, resins and smoky powder.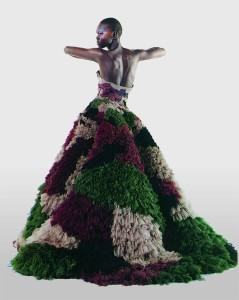 Alek Wek in Jean Paul Gaultier Dress, from Les Indes Galantes Collection Spring Summer 2000 Photo By Karl Lagerfeld
There is a wicked grandiosity to this lip-smacking work from Cécile and Claude, a glossy berry fumy juice that smells intoxicating on the skin. Like all of her work, it has tenderness, exquisite texture and a swathe of thrillingly arranged notes. But befitting the subtle splendour of Claude Marchal's MDCI line there is a gorgeous frisson of exotic mystery behind the gourmand magic to ensure loyalty and obsession.
Disclosure: Sample of Les Indes Galantes kindly sent by Claude Marchal at MDCI, opinions my own.
The Silver Fox, Guest Contributor
Editor's Note: Art Direction, MC Cécile Zarokian was a 2014 Best Perfumer of The Year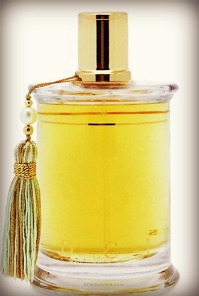 Thanks to Claude Marchal we have a draw for a 75 ml bottle of Les Indes Galantes for a registered reader anywhere in the world (you must do this or your comment won't count). Please leave a comment with what appeals to you about Les Indes Galantes from TSF review, if you have a favorite MDCI perfume and where you live. Draw closes 12/26/2015
We announce the winners on our site and on our Facebook page, so Like Cafleurebon and use our RSS option…or your dream prize will be just spilled perfume