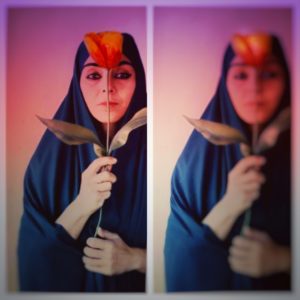 Untitled (1995) by Shirin Neshsat
'Do I grudge my lord the herb that will heal him, because another gathers it? No let him be healed.' From 'The Persian Boy' by Mary Renault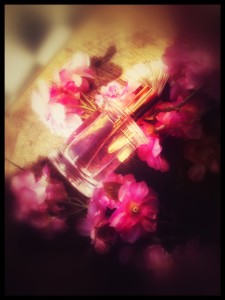 MDCI Cio Cio San by TSF
I am on familiar olfactory ground with Fêtes Persanes, the third volet de parfum in Claude Marchal and Parfums MDCI's romantic Silk Roads series of compositions, all of which to date have been authored by Cécile Zarokian. This will be my third MDCI review for Cafleurebon. I started with the poignant flutter of lychee-scattered sakura blossom in Cio Cio San, inspired by the tragedy of Giacomo Puccini's opera Madama Butterfly. I love the heady, plasticised ginger and tea drift of fruity petals and musk in Cio Cio San; it is airy and joyful, bursting with a cannonade of pink fragile blossom as the doomed geisha adorns her house with flowers at the happy news her American lover has returned to her and their son. The billowing beauty of the scent is offset by the memory of the geisha's destiny to die by her own hand, betrayed by the man she had idolised and loved for so long.
Cécile and MDCI followed up Cio Cio San with Les Indes Galantes, a sumptuous spiced gourmand with notes of raspberry, almond, orange, cinnamon, clove and vanilla. The sultry patisserie effect is counterpoised with a vibrant glow of resins and gentle smoky woods. It is the blooded raspberry note that pours out of Les Indes Galantes, syrupy and sweetly indulgent; under it however floats a triptych of benzoin, frankincense and labdanum imparting a delicious fumy soft leather facet I find myself hopelessly addicted to. This delicious scent was inspired by Jean-Philippe Rameau's baroque opéra-ballet Les Indes Galantes first performed in 1735. A montage of exotic locales including Peru, Turkey, Persia and the Americas provide the backdrop for Rameau's distinctive mix of stylised dance and ebullient baroque melodies.
Rameau Les Indes Galantes Les Fleurs
Now we have the third part of this luxurious series, Fêtes Persanes also inspired by Les Indes Galantes, more specifically Entrée III of the work entitled "Les Fleurs" that takes place in the gardens of Prince Ali in an imagined Persia. A typical fantasy of love, disguises, mixed identities and confusion ends with the Persians celebrating The Festival of Flowers. This frankly rather slender amusement has been fashioned by Cécile into a spiced floral of uncommon beauty, a careful rose eau de parfum spiked with the most fabulous blasts of pepper and cardamom.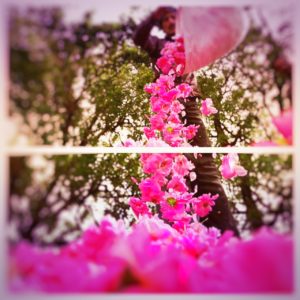 Iranian Rose Harvest TSF
My peripatetic childhood included travels in Iran, living in Shiraz and Bander Abbas on the Gulf coast. I have vivid memories of certain things; eating oily rainbow pistachios by an ice-cold swimming pool, shells piled into ashtrays like dead beetles, the air hazy with the scent of chlorine and white flowers and the pink dusted heat of Persepolis, vast and silent. I have a picture of me as a white-blond child walking down carved steps, running my tiny hands over the monumental carved friezes.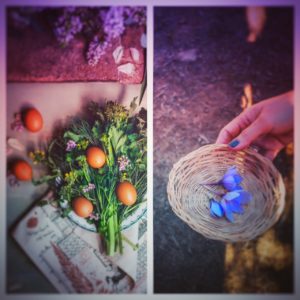 Persian Feast Herbs and Saffron TSF
Iranian or Persian food is incredibly delicious, suffused with the huge amounts of the fresh green herbs they love so much, delirious amounts of dill, parsley, coriander, mint, cilantro and basil. Savoury dishes flavoured with plums, pomegranates, quinces, apricots and raisins and desserts like bastani , ice cream with shards of clotted cream, flavoured with saffron, pistachios and rosewater.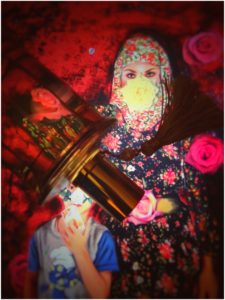 MDCI Fêtes Persanes flacon digitalized with The Roses Red by Shurooq Amin
Some of my memories and impressions of the past surfaced as I wore Fêtes Persanes, the creamy ice-cream oddity of Cécile's smoky vanilla flavoured so gently with that gorgeous spice-spiked rose and the warm reassurance of guaiac wood and a very subtle dose of patchouli in the softest of bases.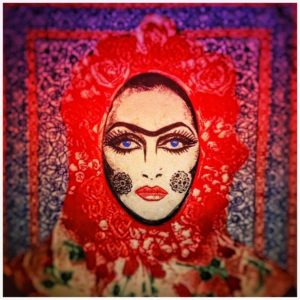 Khorshid Khanum (daughter of the sun) by Hushador Mortezaie
There is the loveliest mood of enveloping ease in this Zarokian trio of MDCI Silk Road perfumes, diffusing a sensual, moreish pull on the senses. Skin smells edible, lickable and also profoundly comforting in these perfumes, such is Cécile's adroit expert handling of her aromatic materials and impressionistic interpretations of Claude Marchal's thematics. The black pepper is a defining motif as the scent opens but this segues down into that silvered rosewater and piquant cardamom combo with bravura design. The fragrant lullaby sweetness in the later stages of Fêtes Persanes is one of soft leathered fruits: spiced dates, plums and raisins. They don't exist in the notes, but are subtly suggested to my nose by Cécile's woody vanilla, fumed by just the right amount of guaiac wood, a note that can taint and smother notes if used unwisely.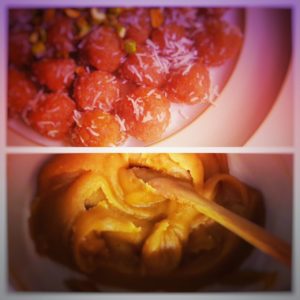 Persian Halva TSF
Fêtes Persanes is a delicate perfume, quiet but present, fragile almost but not less desirous for its tenderness and quiet nectar. I am reminded in the final stages of the drydown of halva, an iconic motif of my Middle Eastern childhood and beyond, the fragrant binding of silvered rosewater, cardamom, saffron, pistachios, cinnamon, sugar, butter and flour into an unctuous sweet aromatic paste, decorated with needles of green nuts and dusted sugar.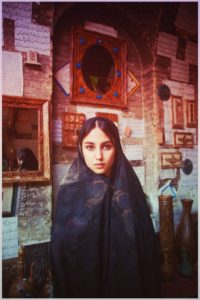 Young Girl in Shiraz (from the Atlas of Beauty) by Mihaela Noroc
In Rameau's tempestuous garden, mistaken identities and misunderstandings are swept aside for feasting and celebrating love and flowers. This is more contemplative scent than the indulgent berry-stained thrill of Les Indes Galantes; assembled by Cécile Zarokian with care and attention as to how the skin might exhale in low private light. A love letter to perfumed quietude, Fêtes Persanes demonstrates again Cécile's radiant talent and the beautiful work residing in Claude Marchal's exquisitely guided collection of MDCI Parfums.
Disclosure – Bottle of Fêtes Persanes very kindly supplied by MDCI Parfums, opinions my own.
Guest Contributor, The Silver Fox and the author of The Silver Fox
Editor's Note: Like TSF, the Middle Eastern confection Halva is a memory of my own childhood. My paternal grandmother would grind and roast sesame seeds into a tahini like paste, poured into a loaf pan,. let it cool and cut like fudge. She would keep bowls of this delectable treat in candy dishes throughout my grandparents' apartment.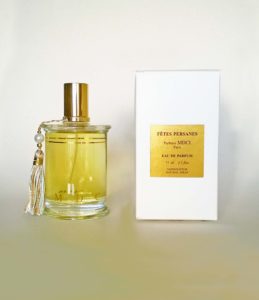 Thanks to Claude Marchal we have a draw for a 75 ml bottle of Fêtes Persanes for a registered reader anywhere in the world (you must do this or your comment won't count). Please leave a comment with what appeals to you about Fêtes Persanes from TSF review, a memory of treats from your childhood, your favorite Parfums MDCI perfume and where you live. Draw closes 6/9/2016
We announce the winners on our site and on our Facebook page, so Like Cafleurebon and use our RSS option…or your dream prize will be just spilled perfume