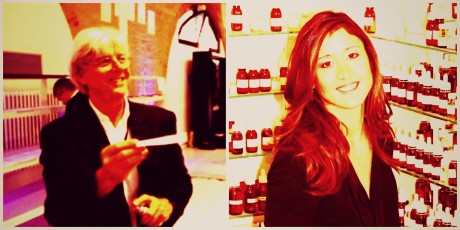 Claude Marchal Parfums MDCI and Cécile Zarokian (poster app)
Cio Cio San is Cécile Zarokian's second scent for Claude Marchal's oblique and rather mysterious niche house MDCI. Her first was Nuit Andalouse in 2013, an expertly constructed gardenia couture gown of a perfume with a floating train of shimmering white holiday-drenched salicylates. Monsieur Marchal likes to keeps a low profile, no pictures and few interviews; those he does do are very tightly focussed on MDCI. His passions are informed by Renaissance art, the de Medici family, the Sun King and a childhood growing up surrounded by objets d'art collected by his art-obsessed parents on their travels. This interest in aesthetics and art over the vulgarity of commerce led to the creation of MDCI (Marchal Design et Créations Indépendentes) and the launch in 2005 of Ambre Topkapi, the first MDCI perfume created by Pierre Bourdon, the Master Perfumer behind such mega sniffs as Davidoffs iconic Cool Water, the skantastic Kouros for YSL and the meltingly sublime Iris Poudre for Editions Frédéric Malle.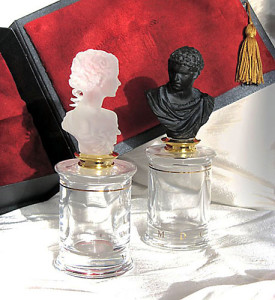 MDCI (Marchal Design et Créations Indépendentes) courtesy of M.Marchal
One of the most important tenets of MDCI is the quality of the formulae, achieved, according to Claude by placing zero limitations on budgets for raw materials; this freedom of olfactory expression is honed down through the weighing, balancing and harmonising of notes as the perfumes are slowly assembled. It is true that MDCI fragrances have a certain sense of devout atmosphere. They have weight and texture. He manages to entice exceptional work out of his collaborative perfumers. Cio Cio San is no exception. It is a scent of petal-thrown lightless and thought-provoking introspection. There is giddy joy and rainbow light whilst the settling brings a shadow of sadness, a portend of anguish.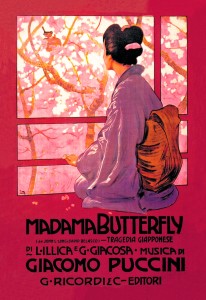 Madame Butterfly Poster
Giacomo Puccini's Madama Butterfly is one of the most well known operas in the world, the tragic story of Cio Cio San (Little Butterfly) a beautiful young Geisha in 1904 Nagasaki forsaken by a callous US naval officer. The standard 1904 version is in three acts. It is many ways an appalling tale of deception and xenophobia but for some odd reason our attention is held by the all-consuming idealism and rather naïve obsessional devotion of the eighteen year old Butterfly. She has become a geisha in order to provide for her family who have fallen on hard times. She marries Pinkerton when she is only 15, secretly converting to Christianity, which horrifies her family. He returns to America and promises to return. She waits and waits, convinced of his love for her, that he will return and live with her and the naysayers around her will be proven wrong. I used to find to find this devotion irksome and weird, but oddly now I find it rather shattering; it's hard to tell from a psychological stance how deeply Cio Cio San believes her own myth-making or whether she genuinely imagines Pinkerton will return to her and her blond son Dolore (which translates as Sorrow). I suppose if she ever let go of her dream she would fall to the tatami and shatter into a cloud of cherry blossom, white makeup and kimono silk.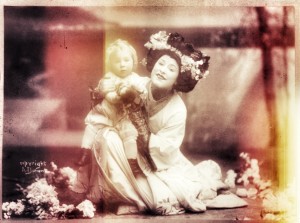 Soprano opera singer, Geraldine Farrar as Cio Cio San with Dolore 1904 (first performance of Madame Butterfly at the Met 1907)
When Pinkerton does return, it is with his American wife Katie. Their rather insidious plan is to adopt Butterfly's baby and return to the US. It is a callous move, cast into more shadow by Cio Cio San's delirious excitement that her husband has returned to her..'The house must be filled with flowers. Everywhere, as the night is full of stars.'
As with so much classical opera, the ending is tragic, the heroine dies having suffered love and misunderstanding. And yes it would have been easy to have done full blown drama in olfactory terms, but Cécile Zarokian is way much too subtle and talented a perfumer to take that that rather obvious route, instead she has chosen to do something more subversive: happiness as augur, a presage of things to come. It is perfection. It would have been impossible for Cécile to have been unmoved by the terrible pain of Cio Cio San and her movement towards death in her flower-filled house. The sudden symbolic shift from the scattering and decorative use of welcoming evocative bloom to sombre funereal offering is both perceptible and dreaded.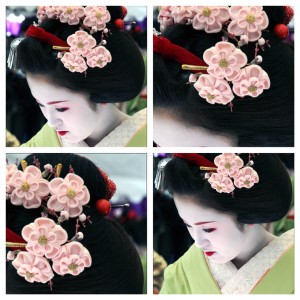 Geisha Montage TSF
Cio Cio San is in many ways a classic fruit-drenched floral, but this would be doing it a huge disservice. It has immense subtlety and a shimmering vibrancy that I found developed into a potent longevity. The opening delivers a potent shot of light from sweet lime and yuzu, the Japanese citrus fruit that has a protected national status and only harvested at specific times. The ginger facet is a palette cleansing addition of gari it seems to me, the thin slices of young ginger, pickled in salt sugar and rice vinegar, traditionally served with sushi. The smell is a piquant meld of sharp, saline and sweetly spiced; something I can really detect lying brightly against the limey opening salvo of Cio Cio San. It is the marriage of peony and lychee, two symbolically far Eastern style notes that form the heart of this lush formulation. Both accords will be synthetic, but again, created with great care and attention to the fluttering harmony of the overall composition. Lychee is an odd fruit, encased in its sandpaper casing, wrapped around its rather overtly large glossy seed. There are rosy, aquatic rubbered tones to the smell and sometimes, depending on ripeness, a phenolic, burned facet that some people really hate. Cécile has built a lovely lychee in Cio Cio San, airy, nuanced and blushing with juice, linking well with the ephemeral oolong tea she has coolly trickled around the floral fruity mix at the heart of the scent. Under the lychee, the peony has the feel of smudged make-up, a little post-party, still pretty, but in need of repair. The woods and musks are less interesting but still slow down the dispersion rates of the overall composition imparting Cio Cio San with some serious longevity.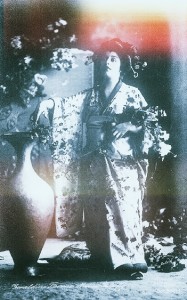 Geraldine Farrar as Cio Cio San Madame Butterfly at the Met 1907
It is the very giddy nature of Cio Cio San's florality that makes it so tragic; it is the moment when Butterfly defies her own sense of inner logic and the warning signs around her, filling her Nagasaki home with flowers, love and joy. Her beloved Pinkerton is back for her and their son. It is an intriguing moment to capture; generally it her tragic suicide that demands attention and terrible though it is, it is after all inevitable, foreshadowed by her father's seppuku dagger in Act 1. There is almost unbearable poignancy in the bright, piercing happiness of Butterfly's bloom-laden bower. Despite the ecstasy, the shadows to fall are terrible indeed.
Cécile Zarokian's masterful, sympathetic and let's not forget, feminine handling of darkening luminescence and obsessive devotion is divinely executed and demonstrates once again why she must be considered one of the most versatile and imaginative perfumers working today.
Disclosure – Bottle of Cio Cio San gratefully received from MDCI, opinions my own
–The Silver Fox, Editor and Editor of The Silver Fox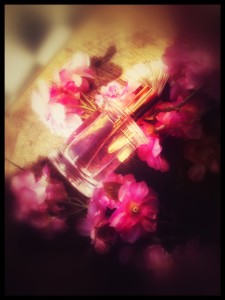 Parfums MDCI Cio Ci San image created by TSF
Thanks to Claude Marchal we have a special draw for a registered CaFleureBon reader worldwide of 75 ml flacon of Cio Cio San. To be eligible please leave a comment with why you would love to win Cio Cio San based on TSF review, if you have a favorite MCDI perfume and where you live. Draw closes 6/10/2015
We announce the winners on our site and on our Facebook page, so Like Cafleurebon and use our RSS option…or your dream prize will be just spilled perfume