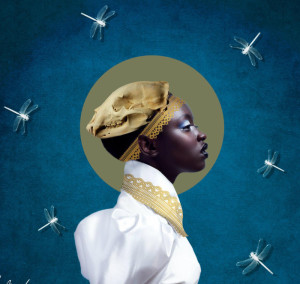 MeliyArt Graphik a.k.a. Melissa is a Graphic Artist, Art Director, and Model who lives and works in Paris, France.
One thing that is always appreciated in any art form is authenticity. The feeling that you are experiencing a work that could only have come from one source, and created in a bold enough way that no one else could have produced it. Authenticity in perfume is why I keep coming back for more new scents – that thrill of recognition, of ignition even, in the senses that can recognize vitality in a composition. .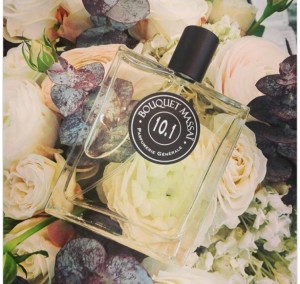 Bouquet Aomassi 10.1 courtesy of Pierre Guillaume
Such vitality can work wonders on my preconceived notions about my tastes in perfume as well. A well-made scent can contain accords and notes that I wouldn't dab on my wrist with a ten foot pole, but present them in new ways that open up fantastic new perspectives. Such it is with Parfumerie Générale new release, Bouquet Massai 10.1 – a fragrance that proudly contains notes of both peony and magnolia, which have not in the past been high on my list of scents I enjoy. Fiercely independent perfumer Pierre Guillaume has created an entire collection called Perfume Reworks where from time to time he revisits scents from his Collection Numéraire adding new facets. It is important to understand that his new release Bouquet Massai 10.1 is not a flanker, although there is common DNA to Parfumerie Générale's massive hit Aomassai (2006) – a perfume featuring bitterness and smoke combined with the sweetness of hazelnuts and caramel
MeliyArt Graphik a.k.a. Melissa is a Graphic Artist, Art Director, and Model who lives and works in Paris, France.
But in Bouquet Massai 10.1, those two notes are exactly what is needed to both sharpen the scent and also soften its edges, because this fragrance is based around a coffee/cashmeran accord, tolu balsam and sandalwood – plus a note of karo karounde (which is rather like an earthy, herbal jasmine.) The result is a sweetly bitter, perfectly rounded and exotically-tinged floral oriental scent that works fantastically on both sexes, in a way that is neither expected nor dull. The coffee/cashmeran accord pulses quite strongly and confidently in the heart of this scent, but it is only truly glimpsed through the prism of what surrounds it – mainly the floral aspects and the combined sweetness of the sandalwood and karo karounde.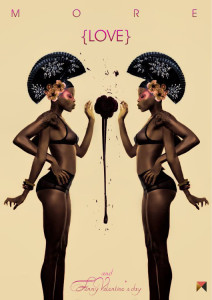 MeliyArt Graphik a.k.a. Melissa is a Graphic Artist, Art Director, and Model who lives and works in Paris, France.
There's a yin and yang tension embedded in this scent that is delicious – your nose encounters the tannic bitterness of the coffee accord, but it will also be pulled simultaneously into both lightly floating floral and dessert-sweet directions throughout its time on the skin.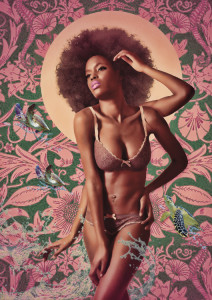 MeliyArt Graphik a.k.a. Melissa is a Graphic Artist, Art Director, and Model who lives and works in Paris, France.
Bouquet Massai 10.1 is indeed a floral ritual and I found myself fascinated by it. There's a sense of real discovery in Bouquet Massai 10.1 – Pierre Guillaume is an artist allowing his chosen accords to live different lives in parallel universes. In this instance, the unusual gravity of oh-so-proper peony juxtaposed with leathery tolu balsam, or the unexpected inclusion of an African shrub note that mimics jasmine, but with sharp, herbal edges. The sillage and the longevity are both average. The true power in Bouquet Massai is in how the notes are deployed and developed here in such unique combinations. This is not a perfume that needs get loud or go on for too long to tell you where you're headed.
All in all, Bouquet Massai 10.1 is a daringly original scent, and more than a meditation on a past perfume.It's a fragrance that begs to be worn.
Notes: Peony, magnolia, coffee, cashmeran, sandalwood, karo karounde, tolu balsam
Pam Barr, Senior Contributor
Disclosure: I received my sample from Parfumerie Generale
Art Direction Michelyn Camen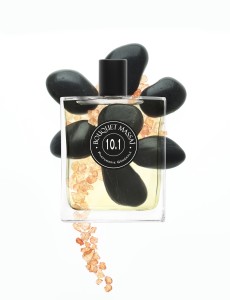 Photo: Courtesy of Pierre Guillaume
Thanks to Pierre Guillaume and Parfumerie Générale, we have a worldwide draw for 30 ml of Bouquet Massai 10.1 for a registered reader anywhere in the world. To be eligible, please leave a comment with why you would like to try Bouquet Massai 10.1 and if there is a favorite Parfumerie Generale scent you would like Pierre to revisit for his next Perfume Rework. Draw closes 2/20/16.
We announce the winners only on site and on our Facebook page, so Like Cafleurebon and use our RSS option, or your dream prize will be only spilled perfume.