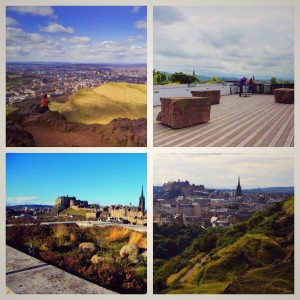 Arthur's Seat & Museum Roof Views-Edinburgh
A definition of panorama is that moment looking out over a view when suddenly you realise everything before you drops away from mere perspective, coalescing sharply into magnificence. Vista becomes unbroken awe. In my beloved Edinburgh there are two places, opposing in mood where this occurs, One is on top of Arthurs Seat, the remainder of an volcanic cluster on the edge of the city that offers soaring views across the city and beyond. The other is smack bang in the heart of the city, hidden away on the roof of the beautiful Benson and Forsyth designed National Museum of Scotland in the Old Town. I used to work there and when I was tired or just plain stressed out, I'd find my way up to the flat roof. Anyone could go, but people rarely did. I liked to find it empty except for maybe a security guard sneaking a cigarette, but it was always windswept, and oddly dry and chilled, angular with deliberate shadow. The 360º panoramic views across the city are jaw-dropping; everything seems amplified in detail and silent, close and yet so far away. Every part of the roof offers unique and uninterrupted aspects of fascination.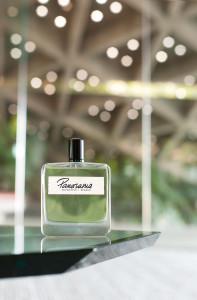 Panorama Photo: M Sandinha
Now, applying this sensation of place and outlook to scent may sound ambitious and somewhat grandiose, however, Panorama, the sensational new launch from Creative Director Céline Verlure's fiercely artistic niche house Olfactive Studio is a gloriously sharp and edgy attempt to do just that.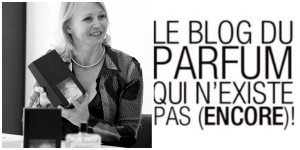 Céline Verleure et Le Blog Du Parfum Qui N'Existe Pas
I have come around to Olfactive Studio. It was not love at first sniff. I liked the concept and the story of Céline crowdsourcing with a 'Blog for a fragrance that doesn't (yet) exist' (Le Blog du Parfum Qui N'Existe Pas Encore) and pulling together a vibrant manifesto of interactive online community and dynamism.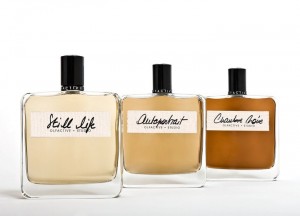 Still Life, Autoportrait and Chambre Noire Olfactive Studio
This led to the creation and launch of the house in 2011 with three fragrances: Auto Portrait by Nathalie Lorson, Still Life by Dora Arnaud and Chambre Noire by Dorothée Piot. The point of difference with Olfactive Studio is the defiant emphasis on collaboration and open artistic process. The fragrances are described are 'Perfumers proofs', a direct olfactive reaction by the designated nose to a particular photograph or image. Each Olfactive Studio scent is intensely bound up in its photographic provenance. The bottles are packed in boxes echoing old style print boxes with a copy of the photograph lying over the flacons when you open them up.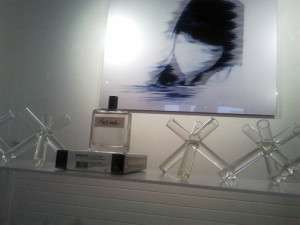 Flashback Photo: Olfactive Studio
It was Flashback by Olivier Cresp in 2013 that made me rethink my feelings about Olfactive Studio and their photo/scent approach which at times seemed a bit concept heavy, with the artwork and stories sometimes swirling like a haze around me. Cresp had come off the back of the success of Juniper Sling at Penhaligon's and seemed to be enjoying the relative freedom of niche and Flashback with its really crisp Granny Smith apple effect and radiant rhubarb memory was quite beautiful. Coupled with Laurent Segretier's fractured, digital smearing, the two sides seemed perfect fractured echoes of one another.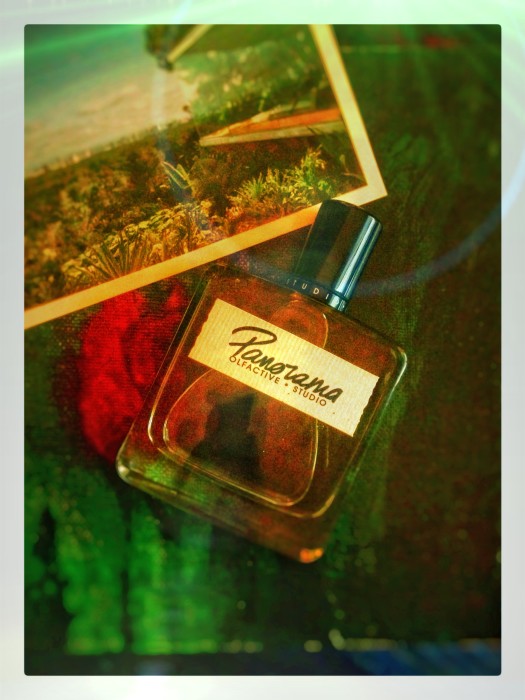 Photo of Panorama by TSF
I bought Ombre Indigo by Mylene Alran earlier this year, falling for its painted sensory shadows, resinous textures and addictive smoked tuberose but Panorama is shockingly different, a huge yelp of fabulous rebel green. It has been getting great reviews and was highly praised by our Editor in Chief Michelyn Camen at Esxence 2015 in Milan in her wrap up report. Rightly so, it is very special.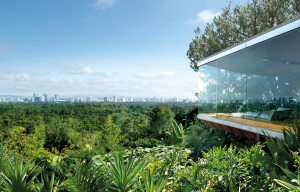 Miguel Sandinha's photo of the Sheats-Goldstein House In L.A.
Created by Clement Gavarry of IFF, Panorama was inspired by Miguel Sandinha's sci-fi image of the Sheats-Goldstein residence in Beverley Crest, Los Angeles, one of the most compelling houses in the world. The house was originally built between 1961 and 1963 for Helen and Paul Sheats and their five children. The eccentric James Goldstein bought the house in 1972 and worked with the original architect John Lautner to restore the property. Lautner went on to enhance everything both inside and out; furniture, fitting, lights, walls, carpets. When he died, the work was continued by Duncan Nicolson, who worked in Lautner's office. There are no 90º angles in the house and nothing is painted. Light is obsessively manipulated and everything harmonises with the tropical garden that surrounds the 4,500 square foot property. In many ways, the house is a modern cave, carefully and artfully built into modern hills. The views from the cantilevered platform lounge are indeed spectacularly panoramic.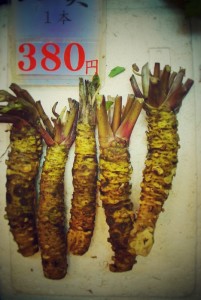 Fresh Wasabi-TSF
Panorama is a capture of this gasp of wonderment, the juxtaposition of verdancy with glassy transparency and woody invitation. M. Gavarry has used a wasabi effect in the top of the scent, mixed with bamboo leaf, fig leaf and lemon. This opening is quite superb, one of the best I've smelled in ages, dripping with real citric joy and a rubbed moist oddness like the trailing of fingers over leaves in a freshly watered glasshouse. Real wasabi is quite something and actually quite hard to come by, it's amazing how much so-called wasabi is just mustard, regular horseradish and green colourant. I used to buy mine at a framers' market, wrapped in damp muslin and shred it on a small, pearlescent ceramic grater. Real wasabi is cleanly hot, herbal and cleansing. This piquant fresh stalkiness is brilliantly replicated in Panorama, making you want to spray and spray and spray, just to savour that zesty fire. The mulchy creep of galbanum is quite noticeable in the heart of the scent but this is submerged in a powerful slash of violet leaf. This smells like someone has thrown coloured ink across a window, it's that powerful. A cut grass effect radiates out of the later stage, smelling like cold evening lawn. The base takes time, like shadows moving over glass, slow myrrh, a delicate fir balsam suggestion that adds a discreet sylvan charm. But really Panorama for me is about the opening and heart. The end trails into silence, but it's not really needed to triumph, just support and care. This odd mix of zingy urgency and quirky vegetal beauty really is remarkable. If you look carefully at Miguel Sandinha's image of the incredible jutting corner of the Sheats-Goldstein house and imagine yourself for a moment, standing there in silence as sun rolls over the glass. You look out over Los Angeles. All is quiet, the scent of leaves, water and earth surrounds the house. You can see forever. For a moment all is green in morning light.
Disclosure – Review based on a bottle of Panorama very kindly supplied by Céline Verlure of Olfactive Studio.
The Silver Fox, Editor and Author of The Silver Fox
Editor's Note: Ombre Indigo was a top five finalist in the 2015 Art and Olfaction Awards and is a finalist in the Fragrance Foundation Awards in the Indie category which will be held on June 17, 2015.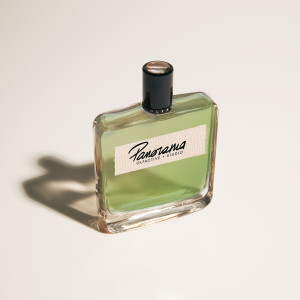 photo: Olfactive Studio
Thanks to Céline Verlure of Olfactive Studio we have a worldwide draw for a 50 ml bottle of Panorama for a registered CaFleureBon reader anywhere in the world. To be eligible please leave a comment with what appeals to you about Panorama, where you live and if you have a favorite Olfactive Studio Perfume. Draw close May 1, 2015
We announce the winners only on site and on our Facebook page, so Like Cafleurebon and use our RSS option…or your dream prize will be just spilled perfume