Winter Wedding Vogue 2011
Imagine your wedding day. Which season do you choose – a bright, shimmering summer's day, or perhaps one drenched in autumn's copper light? Or maybe, just maybe you have chosen the most intimate season of all – winter.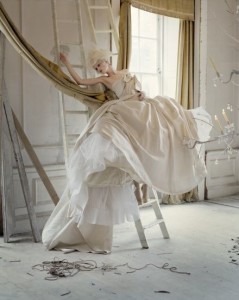 Stella Tennant photographed by Tim Walker for Vogue Italia. 'Lady Grey', March 2010.
Winter is a time when the earth and sky are silent conspirators in returning us to an introverted place, and draws us indoors to whisper our secrets with one another. What better season to wed? And now Art and Olfaction awardee indie perfumer Ellen Covey at Olympic Orchids has graciously provided us with White Cattleya, the seventh in her orchid series of fragrances. Unlike many orchids, the white cattleleya actually has a scent, and the fragrance was composed for her friend's nuptials. Now Ellen shares this regal, baroque and absolutely stunning scent to wear while approaching the altar or Chuppah wide open to every beat of the new bride's tempestous and trembling heart.
Ellinore Erichsen by Victor Demarchelier for Vogue Japan Wedding FallWinter 2013
White Cattleya begins with a citrus medley of neroli, citron and lemon, but instead of soaring right into squeaky clean brightness, this perfume shaves off the acidic tang and replaces it with an immediate foody gourmand hit of jasmine and heliotrope. This combination of almond and an outright decadent jasmine against what is typically seen as outright citrus cliché for top notes is devastating, as if you accidently walk into the bridal suite as she adjusts her garters.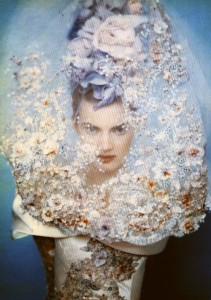 Guinevere van Seenus by Paolo Roversi for Vogue Italia
The innocence of bright citrus paired with a come-hither wallop of creamy florals and soft, earthy almonds is exactly the tone to set when standing with your husband-to-be while the ceremony unfolds around you.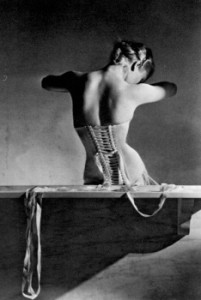 Helmut Newton Corset Photo
Of course, having said this, it cannot be denied that White Cattleya is also undeniably sexy, sexy, SEXY perfume. There is an immediate physical mystery present in the heart of this scent from the combination of sweet, gourmand florals and juicy citrus – the opening of White Cattleya invites you into a contemplative yet entirely sensuous state of mind which is perfect for a wedding day in winter. The orchid accord in the heart mirrors the steeliness in the air, and the cold.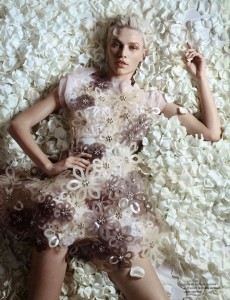 Aline Weber by Liz Collins for Numéro #132
White Cattleya also now becomes a duality in scent; it tells of the warmth that will lead you to the vulnerability of love's surrender, but also the restraint you will need to ensure you don't lose yourself entirely.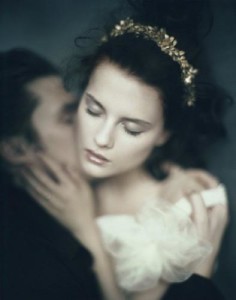 Fashion Photographer Paolo Roversi vogue.com
When the drydown begins, it smoothly transitions down from the citrus and deepens the sweetness that the jasmine and heliotrope so boldly announced. Musks and a lightly-deployed vanilla note begin to bring the warmth back from the orchid accord's reserved glance, while still keeping a decidedly sensual feel pulsing throughout the scent. White Cattleya throughout its development does what all delicious perfumes do, mainly, it keeps you wanting more: subtly, sensually, and with a great deal of sophistication. This scent is about thrall, and surrender, and yet inside of it is an enormous warmth and welcome.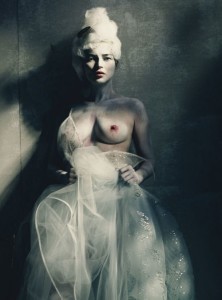 Fashion Photographer Paolo Roversi
We have experiencesd how adept Ellen Covey is with conveying a subtle but pervasive sensuality in her work. Earlier this year, she presented Mardi Gras, about which we said "It is both sweet and sweaty, and has enough sinful sillage and power to keep you up all night carousing in the streets." So perhaps Cattleya might be a nice wedding day bookend for the boisterous honeymoon to follow. Either way, Ellen Covey says of White Cattleya, that "the bright citrus coating is slowly peeled away to reveal the soft, sensuous, sweet and musky layers beneath." I couldn't agree more. White Cattleya is olfactive couture for a bride to wear on her wedding day, and for that matter well into the night, as the Do Not Disturb Sign is hung outside the hotel door. It is also instantly one of the best perfumes I've sampled all year, and one that should not be left at the altar.
Pam Barr, Senior Contributor
Art Direction: Michelyn Camen. White Cattleya is as high fashion a fragrance as I have smelled from an Artisan Indie perfumer. Thus the Editorial photos
Notes: lemon, neroli, jasmine, heliotrope, orchid accord, light vanilla, musks.
Editor's Note: There is an introductory offer of 20% off on White Cattleya through December 25 and 20% off sitewide for all other Olympic Orchids Fragrance but hurry that deadline in December 15
Thanks to Ellen Covey and Olympic Orchids, we have a draw as follows for two registered readers (You must do this pesky step or your comment is void).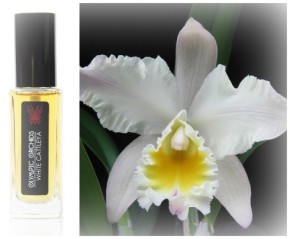 USA: 30ml of White Cattaleya
AND
A 5 ml sprayer for our international readers
To be eligible, you must be a registered CafleureBon reader (pesky we know) but otherwise your entry won't count
Please leave a comment with what appeals to you about White Cattaleya, where you live and if you have a favorite Olympic Orchids Perfume. We would love to know what you wafted on your wedding day (or night). Draw closes 12/17/2015.
We announce draw winners only on site and on our Facebook page, so Like Cafleurebon and use our RSS option…or your dream prize will be just spilled perfume.