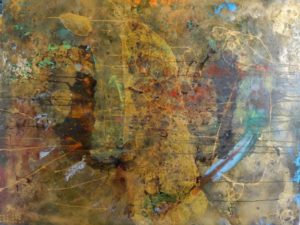 Palo Santo (Bursera graveolens) – the Holy Wood – is a small, drought resistant tree, related to both frankincense and myrrh, native to the dry tropical forests of the Yucatan, South America and the Galapagos Islands. Palo Santo is renowned for its healing, calming and protective properties. The incense resulting from burning Palo Santo wood is used to cure ear infections, to calm anxiety and panic attacks, to repel mosquitoes and as protection from dark or evil spirits. The essential steam distilled oil has these same calming and euphoric effects.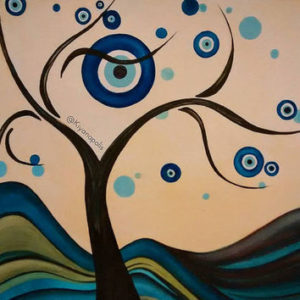 Evil Eye Tree Iranian Kiyana Madani kiyanapolis ©
The process of extracting the oil from this Holy Wood is surrounded by folklore and suggestions of magic. It is well known to collectors that fresh cut Palo Santo trees will not yield oil. The distillers believe that the trees must have died naturally and the deadfall must be at least 6 to 8 years old before oil can be extracted effectively from the heartwood. The fact that the natural death of the tree is necessary for the birth of the holy oil has been considered a metaphor for rebirth and resurrection. Also, significantly, the yield from the steam distillation changes with the phases of the moon. If distilled during the full moon the extraction is reported to double that of distillations done during the new moon. Palo Santo incense and essential oil are well known to remove negativity and attract good fortune. What better ingredient for a talismanic perfume than the essential oil of Palo Santo? Using Palo Santo in a perfume, however, can be very tricky.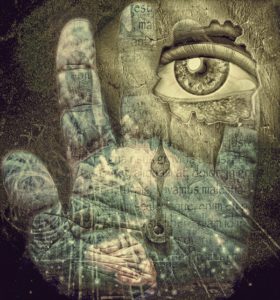 Artist Bruce Lipton Hamsa©
In the first place the oil of Palo Santo is so strong and pervasive that it can overtake just about any other note in a fragrance. The fact that it has its own interesting profile including (to my nose) citrus, mint, pine, fennel and perilla can make it more challenging to work with than many other simpler resins or woody oils. Also certain distillations of Palo Santo oil exhibit distinctive, clinging vegetal qualities (slightly sulfurous melon/garlic effects), others have mild musky or foxy odors. These aspects of the holy oil can be hard to ignore or disguise. It takes a very skilled perfumer to bring out the best of Palo Santo while still allowing the other notes in the composition to sing.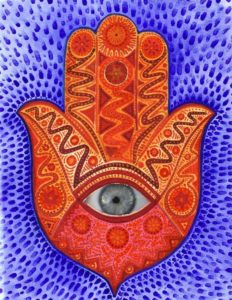 Hamsa Hand Beatrice Beatrice Baumgarten Cohen ©
Ellen Covey was able to do just that with her new fragrance Hamsa, created for the ÇaFleureBon's Project Talisman. The Hamsa, to quote Ellen Covey, is "a stylized hand-shaped symbol with obscure origins in the Middle East. It serves as a sign of protection in both Islam and Judaism, and often has an eye positioned in the center of the palm to deflect the evil eye."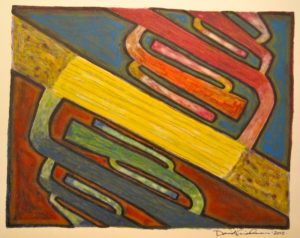 Fractal Aleph Bruce Friedman ©
When I first tried the Hamsa fragrance I applied it as I would Palo Santo oil, anointing my palms with just a touch and then putting my hands over my nose and mouth, inhaling the odor. Breathing into my scented palms, I came into contact with my own protective Hamsa.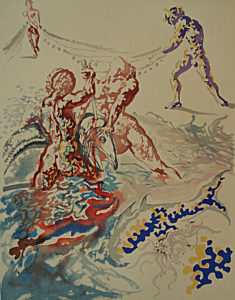 Aliyah The Rebirth of Israel Salvador Dali
Hamsa opens for me with the rich scent of cognac; colored with smoky incense, bright, tart citron and a pinch of bitter pith. As Hamsa warms with my skin and my breath the citron is replaced with drizzles of golden honeyed resins, mastic, liquidambar and sandalwood.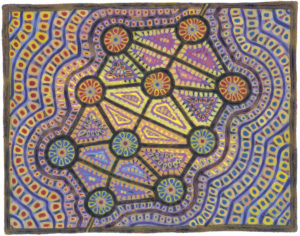 Bruce Friedman © Serifot 10
The overall effect is like a recollection of something ancient and deeply meditative. On the Orchid Scents Boutique website and on ÇaFleureBon, Dr. Covey describes this effect of Hamsa in relation to the ten Sefirot of the Kabala. About 30 minutes after application, Hamsa begins a dry down to a luscious apricot nectar, sandalwood and something akin the sweetest and fruitiest of Cambodian ouds married to a breath of Palo Santo. This phase remains in place for several hours, eventually leaving my skin suffused with an aura of sacred oils, holy woods and incense, lingering until morning. The perfumer describes the end result as " a combination of the hard and the soft, the bitter and the sweet, tangible and the intangible."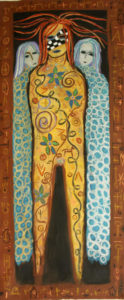 Despite the preponderance of resins and woods (and considering the Palo Santo), the sillage is never overwhelming or pervasive. Hamsa is primal and relaxing, at once arcane and esoteric, a glimpse into another world and another time. When I wear this perfume I feel peaceful and protected. Hamsa is truly a talisman for me.
Notes: Olibanum, sandalwood, Palo Santo, cognac, mastic, liquid ambar, myrrh, citron, oud and apricot.
Disclaimer: Many thanks to Ellen Covey and Olympic Orchids for the sample of Hamsa. My opinions are my own.
–Gail Gross, Editor
Art Direction: Michelyn Camen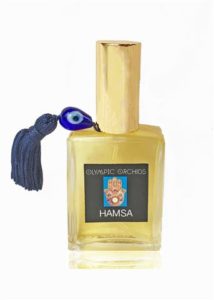 Thanks to the generosity of Ellen Covey and Olympic Orchids we have one 30ml bottle of Hamsa for one registered reader worldwide (be sure to register or your comment will not count). To be eligible, tell us where you live, what appeals to you about the new Hamsa fragrance from Gail's review or your favorite perfume by Olympic Orchids. Draw closes 3/31/2017
We announce the winners only on site and on our Facebook page, so Like Cafleurebon and use our RSS feed…or your dream prize will be just spilled perfume.