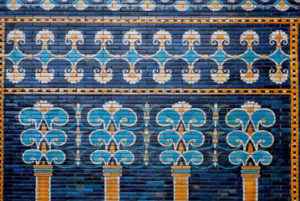 Detail from Ishtar Gate, Pergamon Museum, Berlin
"'O Gilgamesh, will you not be my lover?
Give me that fruit the tree of man yields to woman.
I will give you myself as wife: you shall be my husband!
For you I will give a chariot made of lapis-lazuli
Yes, too, and of gold!
Its horns – they shall be of brilliant brass.
Storm demons I will hitch to it for your mules!
There shall be a great fragrance of cedar
On the occasions when you enter our house" — The Epic of Gilgamesh, Book VI, translated by Robert Temple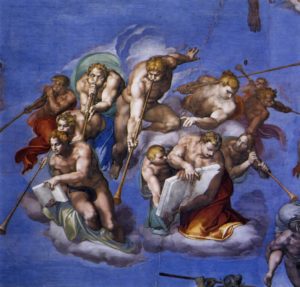 Detail from the Sistine Chapel, Michelangelo, 1508-1512
The rapturously swirling evening of Van Gogh's Starry Night and the reaching azure of Michelangelo's Sistine Chapel are imbued with the semiprecious stone lapis lazuli, which creates the profound blue of their skies. It is fitting, then, that the 12th perfume in Olivier Durbano's Pierres de Poemes series is named for the stone that for many hundreds of years painted heaven.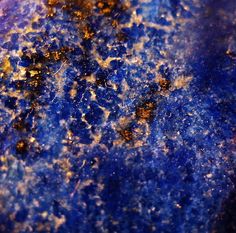 Lapis Lazuli
In its natural state, lapis lazuli is a saturated blue often fraught with gold pyrite or white calcite streaks, like sun breaking through cloud. The stone has many cultural meanings dating back thousands of years, including uses in sacred amulets and for cylinder seals in Egypt and Assyria, respectively.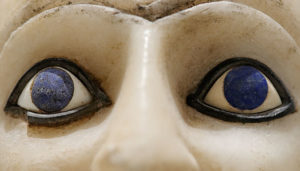 close-up of the lapis lazuli inlays in the 25th-century BC Statue of Ebih-Il Louvre
It is also one of the first gems associated with poetry. In The Epic of Gilgamesh, the world's earliest surviving literature, the half-man, half-god hero is offered lapis lazuli by the goddess Ishtar. In Sumerian myth, Inanna, goddess of love, wore a lapis lazuli necklace as she entered the underworld and it is said Cleopatra used powdered lapis as eye shadow.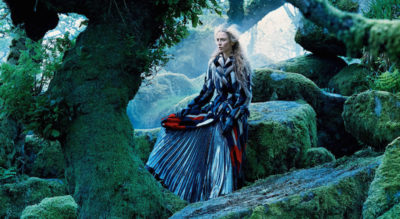 Raquel Zimmermann by Mikael Jansson for US Vogue, September 2015
As its subtitle "Pierre du Ciel" or "sky stone" implies, Lapis Lazuli is a scent of contradictions where airy and earthbound elements poise against each other. The opening is intensely mineral, damp and cool with artemisia and tea tree. Within a few minutes, a dark cypress note rises up. Shadowy is the word Lapis Lazuli summons at this stage, the crooked cast of trees against a hillside or the long darkening streaks of filtered sunlight on the forest floor. A camphorous note breaks into composition here, which I take to be the clove, though it is not immediately identifiable as such. But stepping away from the fragrance for a moment, the clove note becomes warmer, and the perfume more herbaceous.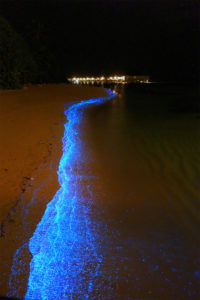 Bioluminescent bay, Maldives, photo by Will Ho
The second stage of Lapis Lazuli is resinous and woody, very much of the earth, as vetiver comes to the forefront along piney elemi and with more woods. Cedar becomes more pronounced and there is smell of wet earth. But it is the woody notes that dominate here, the trees that reach skyward.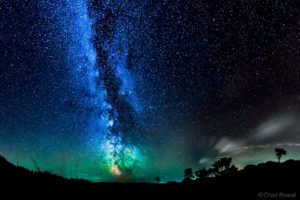 Lapis Sky Photo by Chad Powell
As it dries down, Lapis Lazuli does something unusual: the moist, arboreal notes begin to warm, become comforting, perhaps from the balsamic tolu and ambergris in the base. It is as if the forest of Lapis Lazuli is being tempered by the sun. The sky of Durbano's perfume is the cerulean canopy that peeks through these trees.
Notes: artemisia, cypress, tea tree, clove, rose oxide; thyme, plant milk, spelt, iris; vetiver, cedarwood, elemi, ambergris, musk and tolu.
— Lauryn Beer, Editor
Disclosure: I received my sample from Olivier Durbano, merci beaucoup!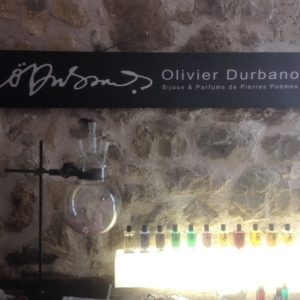 Editor's Note: Recently Olivier opened a new store in Grasse where his perfumes, jewelery and shawls are sold. You can read about it here. Olivier Durbano exhibited at TRANOÏ Paris Parfums September 30-October 3, 2016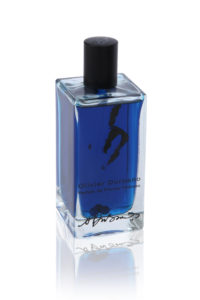 Thanks to the generosity of Olivier Durbano, we have a 15 ml bottle of Lapis Lazuli for a registered reader worldwide. To be eligible please leave a comment with what appeals to you about Lapis Lazuli from Lauryn's review, where you live and if you have a favorite Olivier Durbano perfume. Draw closes 10/06/16.
We announce the winners only on site and on our Facebook page, so Like Cafleurebon and use our RSS feed … or your dream prize will be just spilled perfume.