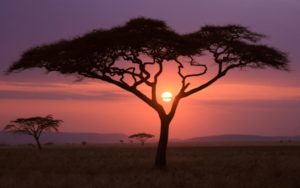 African savanna, photo National Geographic©

"The hot straw smell of lion grass,
 the cool green smell of the hidden water hole,
 the great rusty smell of animals,
 the smell of dust like a red paprika in the hot air.
 And now the sounds: the thump of distant antelope feet on grassy sod,
 the papery rustling of vultures.
 A shadow passed through the sky."  -- Ray Bradbury, "The Veldt," from The Illustrated Man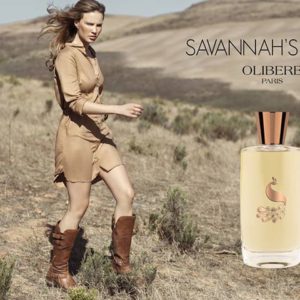 Promotional shot for Savannah's Heart by photograper Chris Ladewig
My vision of Africa as a child was delineated by Ray Bradbury's virtual reality playroom in The Illustrated Man, where two children imagine the African Veldt with such intensity that it becomes real. While I was fascinated by the conceit of the story (written many years before virtual reality existed), what drew me most was the extraordinary way Bradbury made the enervating heat and the parched, wild aromas of the vast expanse of African grassland seem present, as if I lifted my head from the page and would find myself under a great baobab tree, lions feeding in the far distance. When I smelled Savannah's Heart, the latest fragrance from 2-year old French House Olibere, I felt a pang of memory, though of something that had never happened. I smelled Bradbury's veldt.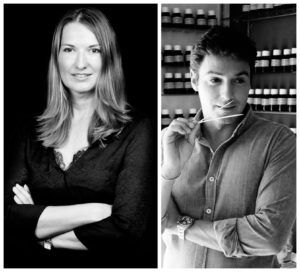 Creative Director Marjorie Olibere and Perfumer Luca Maffei
2-year old French House Olibere got off to a flying start with 5 perfumes created by stellar noses Bertrand Duchaufour and Amélie Bourgeois. Now, with Savannah's Heart, Luca Maffei joins this illustrious roster. Maffei's has a talent for melding soothing and sharp notes, which he did to great effect in Jul et Mad's Secrets de Paradis Rouge and Nobile 1942's 1001. Savannah's Heart opens with a puckery top note – rhubarb combined with the astringent zing of bergamot – through which a warm, sensual rivulet of coffee winds through.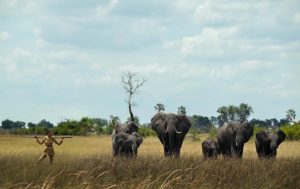 African Love fashion editorial, photo by Nico Bustos for Vogue Spain, March 2016 ©
The coffee here is unusual: not the sweet, creamy brew of New Haarlem or Ava Luxe Café Noir, but the aromatic smell of medium roasted grounds, with acidic and savory aspects cutting through the bean's inherent richness. The interplay between that sour note and the coffee continues for some time, and creates an olfactory a tromp l'oeil of aridity. I would almost swear there is vetiver in here although it is not listed, so potent is the dried grass note of the perfume's early stage.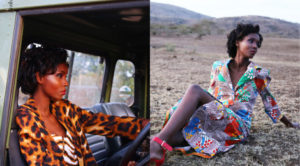 Glamour in the Savanna fashion editorial, photo by Shellina Ebrahim, FAS magazine, Mar 2017
Savannah' Heart softens considerably in the middle stage, which comes some time after the tart opening. The coffee becomes more prominent, taking on some sweetness now, amplified by the subtle emergence of vanilla. It is joined by a harmony of woods, which lend depth and smooth out the sharpness of the tangy fruit notes, and an increasingly noticeable mineral-clay note, like baked rocks.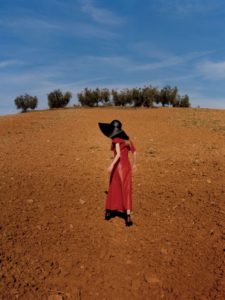 Rianne van Rompaey by Harley Weir for Document Journal, Spring-Summer 2015
The dry-down adds the earthy savor of labdanum and some musk. Stepping back and inhaling Savannah's Heart now, I can almost feel the heat rising. As I close my eyes, I see Bradbury's veldt again. In the arid crackle of late afternoon heat, a faint breeze rustles the long, dried grass. Heat ripples in the air, as you look towards an endless horizon of no fixed point. An aroma rises in the torpor: a tang of animal sweat, of living hide, of muddy water, of baked, wizened earth and the parched wood of the acacia trees that sway softly.
Notes: Bergamot, rhubarb, ciste labdanum, coffee Arabica, pure jungle essence, karma wood, sandalwood, cashmere wood, vanilla, musks.
Disclaimer: Sample provided by Olibere at Esxence – many thanks. My opinions are my own.
— Lauryn Beer, Senior Editor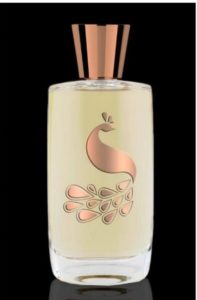 Savannah's Heart Eau De Parfum
Thanks to the generosity of Olibere Paris we have an avant premier 50 ml bottle of Savannah's Heart (available in July) for one registered reader int the US, Canada or the EU. You must register here. To be eligible, please leave a comment saying what appeals to you about Savannah's Heart based on Lauryn's review, and if you have ever read Ray Bradbury or have a favorite perfume by Luca Maffei. Please Like Olibere Paris on Facebook. Draw closes 6/19/2017.
Follow us on Instagram @cafleurebon @olibereparfums
We announce the winners only on site and on our Facebook page, so Like Cafleurebon and use our RSS Feed … or your dream prize will be just spilled perfume.