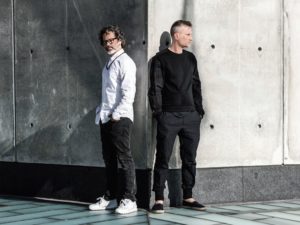 Carlos Quintero and Karl Bradl of Nomenclature New York
Creative directors Karl Bradl and Carlos Quintero created Nomenclature in 2015, and continue to shatter and re-invent traditional perceptions of classical perfumery, using neo-sexy synthetic aroma-chemicals."Nomenclature celebrates design in perfume chemistry by showcasing today's most inspiring, exclusive molecules—so exclusive that some, known as "captives," are zealously guarded by fragrance companies.Through a series of sheer and streamlined compositions, Nomenclature explores their complex facets and their potential for protagonism. Demonstrating that these man-made hybrids of poetry and science have a beauty all their own. The beauty of modernity."
The inaugural collection featured five fragrances composed by perfumers Patricia Choux of Mane and Frank Voelkl of Firmenich. For 2017, Nomenclature's has turned their sights on rei-nventing violets, going past ionones which have been used in perfumery for over a hundred years (since 1893) to add sweet and powdery floral nuances to fragrances. Violet gets a fantastic (or is it phantastic) 21st century upgrade in Nomenclature's newest, Lumen_esce, which uses an overdose of the aroma chemical Violettyne©, the sin-qua-non violet-presenting molecule created and patented by Firmenich, 17 years ago.

Digitalized fractal image, Frank and Lumen_esce collage
Editor-in Chief Michelyn Camen asked perfumer Frank Voelkl about Violettyne© , and he told her, "The molecule I'm using for Lumen_esce is in fact very different from Ionones.

The ionones best represent the floral part of the Violet and are also used in my fragrance. But the Violettyne© is a product that is more representative of the Violet leaves and to me Is sort of laser sharp and almost fluorescent in its expression".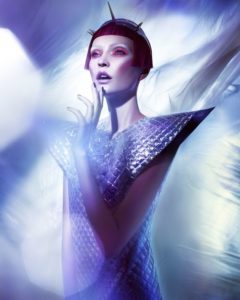 HOKUS POCUS for 74 Magazine
So if you are a reader who sees the word "violet" and shy away immediately thinking of Victoriana, the Duchess of Parma or candied perfumes for tween-agers, this is a perfume that is very adult and very 21st century. Lumen_esce is NOT demure, retiring or anything you might associate with any preconceived notions. Robert envisions Jane Jetson before sitting down for a manicure, drinks, and soap operas with her housekeeper Rosie the Robot. Perfect for a 25th Century girls nite-in, Lumen_esce is a space-age violet that shines and glows with a futuristic inner neon light and knife-sharp edges. Named for the measure of light (the lumen), Michelyn believes it is not predictable; a green violet, very green…and as Frank Voelkl notes, leafy rather than flowery.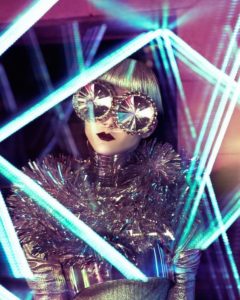 Vice Germany Magazine
You do sense a slight powder, but it is more explosive than old-fashioned, energized by an electrifying bouquet of florals and magnetized by a base of Patchouli-Prisma, a non-traditional natural note that has been turned upside down, distilled, disassembled and put back together to provide an extra jet-fuel strength blast of woodiness.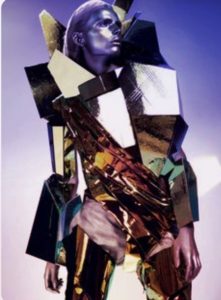 Dazed and Confused 2011
Lumen_esce breaks barriers, glass ceilings, and any other preconceived notions of what violet based perfume s are and sets the bar for what they can be. Michelyn calls it a "power perfume that commands respect and takes no prisoners be it in a boardroom and bedroom". Lumen_esce is to fragrance what streaming Netflix and Amazon Prime on your tablet is to the days when are to days when there was only three major networks dominate T.V.
Roses are red and violets are fractal.
Notes: Violettyne©, violet leaves, freesia, jasmin-sambac, bergamot, patchouli-prisma.
Karl Bradl and Carlos Quintero are the recipients of CaFleureBon's Best of Scent: 2015 for Creative Direction.
Disclaimer: we received our samples from Nomenclature. Many thanks! Our opinions are our own.
— Robert Herrmann, Contributor and Michelyn Camen, Editor in Chief
Art Direction: Michelyn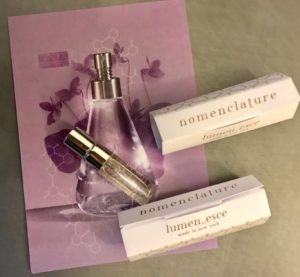 Thanks to the generosity of Nomenclature, 3 registered readers in the USA only for three sets of 5 Lumen_esce .3 oz deluxe sample sprayers Right now Lumen_esce is available for preorder here. To be eligible please leave a comment with what appeals to about Lumen_esce based on our review, if you have tried any Nomenclature perfumes and your thoughts on neo-synthetic fragrances. Draw closes February 3, 2017
We announce the winners only on site and on our Facebook page, so Like Cafleurebon and use our RSS Feed…or your dream prize will be just spilled perfume.