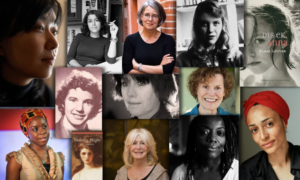 Women writers, collage from anna-stroud.com©
"Tell on," quoth the King, who chanced to be sleepless and restless and therefore was pleased with the prospect of hearing her story. So Scheherazade rejoiced; and thus, on the first night of the Thousand Nights and a Night, she began … "– Anonymous, 1001 Tales from the Arabian Nights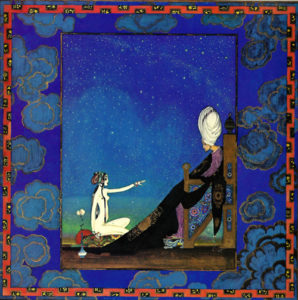 Scheherazade, illustration by Léon Carré for Tales of the Arabian Nights
Prologue: For 1001 nights, a story ended and began as Scheherazade, that greatest teller of tales, spun a fantastic tapestry of djinns, grand viziers, carpets that flew, thieves who hid in oil jars and brave heroes whose names have been memorized by generations of children: Ali Baba; Sinbad; Aladdin. The power of the female narrative to move, to charm, to seduce, even to win life from death, was the inspiration for Nobile 1942's newest fragrance, 1001.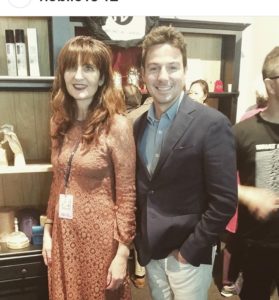 Stefania Giannino Nobile 1942 and Luca Maffei via instagram
Nobile 1942 creative director Stefania Giannino relates: "Nobody gives a better idea of the power of seductive story-telling than Scheherazade, the heroine in Arabian Nights, who managed to enchant the man who wanted to kill her with her 1001 tales. It was this very book, which I adore and which I discovered in the original language during my studies of Arabic at L'Orientale University that gave me the input for 1001." In the hands of perfumer Luca Maffei, 1001 is a modern oriental featuring papyrus as a central note.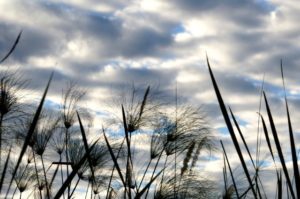 Papyrus plants, photo by Travel with Intent©
Papyrus is sedge that grows wild along the banks of the Nile and other waterways, used as far back as 3,000 B.C. as material for writing. As Scheherazade's story begins, Maffei draws out the plant's fresh greenness. Then, as her narration ebbs, and 1001 dries down, the papyrus softens into the dried pithy wood of the scroll; vanillic, slightly tannic, soothing.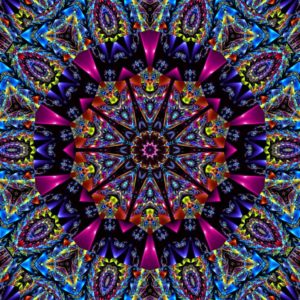 Color me Vivid Kaleidoscope by TastesLikePurple, DeviantArt
The exposition: 1001, which I first encountered at Esxence in March, unfolds with a sharp, spicy blast of bergamot and pepper. But hold your wrist to your nose and breathe in slowly, deeply. An amalgam of vivid notes will surface moment by moment, melding with and pulling away from each other like the images in a kaleidoscope: I can distinctly smell the ginger, elemi, saffron and rose all tumbling over each other before separating out and then coming together. The ginger is green, juicy, soapy-fresh; the rose luscious; the elemi bosky and balsamic.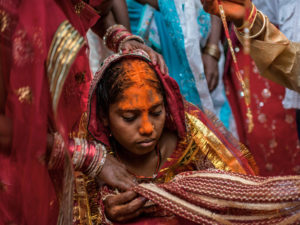 Bride dabbed with turmeric paste, India, photo by Lynsey Addario for National Geographic©
The denouement: In the second stage, the dusty, terracotta smell of saffron moves forward and acts as a bridge to the emerging central middle note of turmeric (a note gaining popularity in perfumery this year). Turmeric's aroma is redolent of turned earth, with the sweet rootiness of carrot and a blunted spiciness that parallels saffron. 1001 gradually becomes woodier, earthier, elemi and sandalwood providing a bolster for the spices.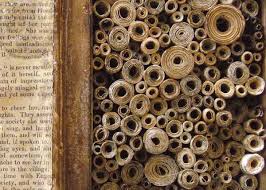 Papyrus scrolls, image from crystallinks.com©
The ending: The more I wear 1001 on my skin, the more it gets under it. Over time, the piquant and spicy and notes settle into each other, as the ambery-woody base and the woody-vanillic scent of aged paper begins to replace sharp greenness in the papyrus. In the end, 1001 wears like a favourite novel – equal parts comforting and provoking, and just a tiny bit mysterious.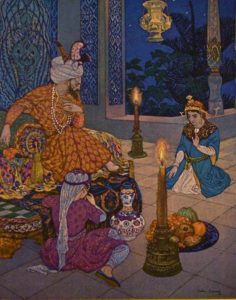 1001 Tales from the Arabian Nights, illustration by Kay Nielson, 1922
Epilogue: The 1001 Tales from the Arabian Nights were written not by a lone pen but by numerous authors over many years, mingling different voices like many harmonies riffing on a well-known melody. It is unknown whether any of its authors were women. But in Nobile 1942's creation, it is Scheherazade who has the byline. Notes: Bergamot, red tea, ginger, elemi resin, pink pepper, papyrus, Turkish rose absolute, jasminum grandiflorum absolute, iris, saffron, turmeric absolute, patchouli, sandalwood, amber, vanilla, musk.
Disclaimer: sample provided to me by Nobile 1942 – many thanks. My opinions are my own.
— Lauryn Beer, Editor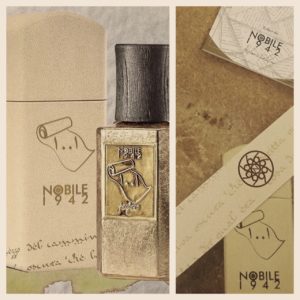 Nobile 1942 1001 perfume collage by Michelyn
Thanks to the generosity of Nobile 1942, we have a 10ml avant premier bottle of 1001 for one registered reader in the U.S, Canada or Europe. Please register here or your comment will not count. To be eligible, please comment on what appeals to you about 1001 based on Lauryn's review, if you have read 1001 Tales from the Arabian Nights, and if you have a favorite woman writer. Explore Nobile 1942 perfumes here. Draw closes June 3, 2017
In the USA, Nobile 1942 can be purchased at Luckyscent.com
We announce the winners only on site and on our Facebook page, so like Cafleurebon and use our RSS option … or your dream prize will be just spilled perfume.