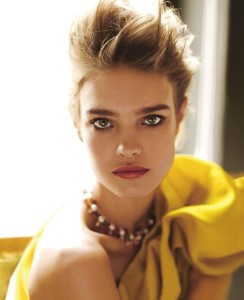 Natalia Vodianova
I don't know about you, but orange blossom can be kind of moody and more than a little screechy on me; a bit of a Drama Queen, so to speak. I much prefer her calmer, cooler sister lemon blossom. You get all of the beauty with less of the histrionics, and I think it's just a little more chic, relying as it does on substance, rather than just sheer prettiness. So I was so delighted to see lemon blossom included on the list of notes for Citrine, the newest release by NEST Fragrances, which was released on March 21st.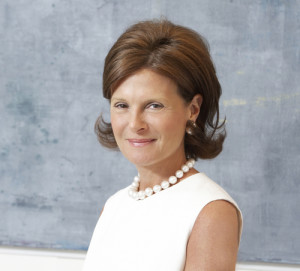 Creative Director Laura Slatkin
Cecile Hua and Claude Dir from MANE collaborated with Creative Director Laura Slatkin in the making of Citrine and I think maybe one, if not all, of them loves lemon blossom as much as I do, because it's used beautifully in this fragrance; as a vibrant opening, and as a complement to the floral heart and woody base.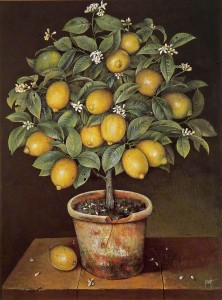 Lemon Tree Painting Jose Escofet
Citrine opens with a very realistic lemon blossom, and reminds me of the many years I lived in Southern California, where almost every house we lived in had a lemon tree in the backyard, left over from a time when much of North Orange County was covered in citrus groves.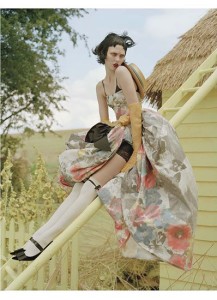 Karlie Kloss by Tim Walker
The ad copy for Citrine references sparkling citrus; I would also add invigorating and playful to the description, as well as a warning that it's almost impossible not to smile at first sniff. The floral heart warms up after about 20 minutes on skin. I get more lotus flower than freesia, and it adds juiciness to the lemon blossom. This is enhanced by what must be the dew drop accord, because there's a definite watery effect for another 10 minutes or so, that blends with the soft freesia. It's subtle, but very pretty, and I am once again back in L.A., marveling at being surrounded by flowers in January. The heart is a great accompaniment to the lemon blossom, which remains prominent throughout the life of the fragrance.
Season's Riches by Camilla Akrans for Harper's Bazaar Sept 2011. Fashion Editor Brana Wolf. Model Bette Franke
The woods in the base are fairly dry, but somehow infused with this lemon blossom I'm so crazy about, like a wooden cutting board after cutting dozens of lemons for the garden party lemonade. This woodsy, citrusy goodness remains on the skin for hours; I could still smell it the next morning. Lasting power on me is well above average and sillage is also strong. (The sillage is also where I caught the most floral aspects) The radiance is powerful; just standing still filled up my entire kitchen with scent. My skin really amps up woods; if yours does, too, I'd be careful wearing this one to work, but it was not near as potent on my mother.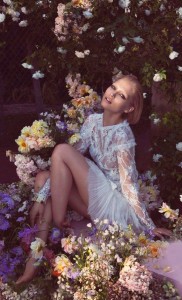 Hana Jirickova Blooms In 'Peach Blush' By Camilla Akrans For Vogue China March 2014
Sprayed from the bottle, it's much more feminine, not because of the florals per se, but because the soft rendering of the notes comes across as rather dainty. Citrine a season-spanning fragrance; bright enough for brisk days and crisp enough to cut through summer's humidity.
I think there's also a chance this could span genders. When applied from the rollerball, very little floral notes came through; it was mainly juicy lemon blossom and woods, and it was pretty darned amazing on my husband, although he was uncomfortable with the amount of thrown it had.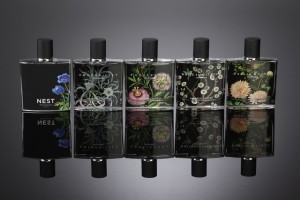 Of course you can't talk about Nest perfume without mentioning the incredible, award-winning bottles with their original artwork inspired by Mary Delany. This is the first one I've seen in person (I live Beyond the Middle of Nowhere) and it did not disappoint. It is absolutely gorgeous, and I don't see how I can possibly live without all of them. Dahlia and Vines and Midnight Fleur are especially calling my name, but everyone of them looks stunning and Citrine can stand proudly among them.
Notes: Lemon Blossom, Lotus Flower, Freesia, Dew Drop Accord, Precious Woods
DISCLOSURE My review was based on a full bottle as well as a rollerball provided to me by the incredibly generous NEST Fragrances
Tammy Schuster, Contributor
Art Direction: Michelyn Camen
Editor's Note: Citrine will be sold exclusively at Sephora , Sephora.com and nestfragrances.com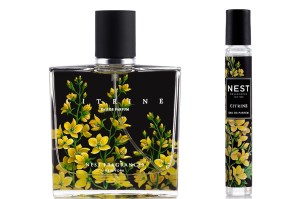 Nest FragrancesCitrine EDP 30 ml and 10 ml
Thanks to Nest Fragrances we have a draw for two registered readers in the USA ONLY for a set of a 50 ml bottle and a 10 ml rollerball. To be eligible please leave a comment with what you enjoyed about Tammy's review , why you would like to win and if you have a favorite Nest Fragrance. Draw closes April 4, 2016
We announce the winners only on site and on our Facebook page, so Like Cafleurebon and use our RSS option…or your dream prize will be just spilled perfume