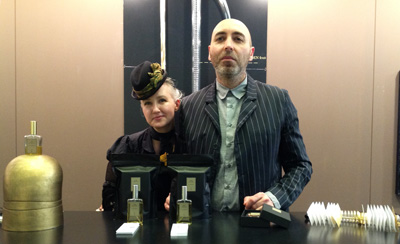 Naomi Goodsir and her partner Renaud Coutaudier
When I was at Esxence, the Scent of Excellence, I was intrigued by a lovely, milky-skinned woman with interesting hats. She was Naomi Goodsir, an Australian living in France, who besides helming her fragrance line is also an accomplished high-couture milliner. I approached her booth when I noticed that perfumer Bertrand Duchaufour was also there, and was given a sniff of the new perfume he created for Naomi Goodsir Parfums, Or du Sérail. The perfume is based around a golden tobacco, and is right in my wheelhouse. I think M. Duchaufour enjoyed seeing my eyes close in pleasure as I held the paper mouilette to my nose.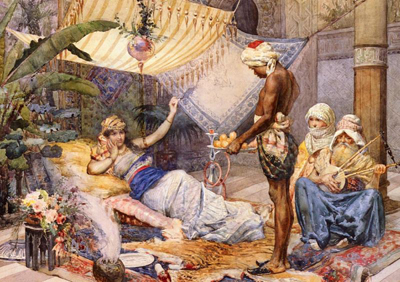 In the Harem by F. Fasce
Or du Sérail means "gold seraglio", and this perfume does conjure images of the fantastical interpretations of the royal harems of the Middle East. Alongside the pungent tobacco are notes of dried figs and ripe dates, imparting a sweet succulence. Golden amber aromas, followed by slightly animalic musk and wood notes, create a haze of lounging in desert heat in opulent rooms full of warm bodies and textured cloth saturated in smoke from a hookah.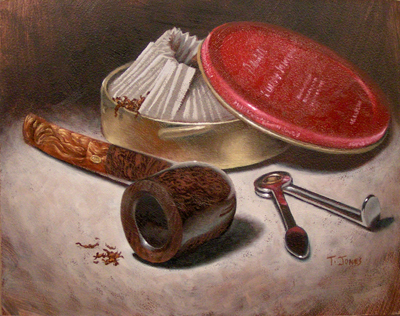 GBD Topaz by Timothy Jones
More realistically, this perfume makes me think of the pipe tobacco my father used when I was a kid. Many of those tobaccos were infused with various fruity aromas, but my dad tended toward less cherry-soaked and more honeyed, not quite as adulterated by candy. The smoke was sweet, but still undeniably tobacco. I have a strong emotional attachment to the smell of tobacco, obviously, and always love finding a perfume that takes me to that place.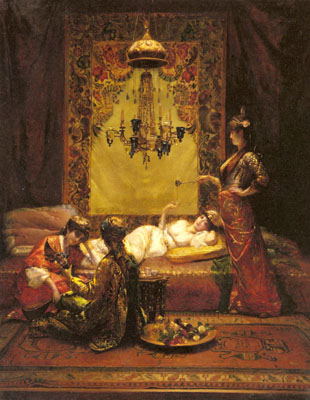 In the Harem by Edouard Frederic Wilhelm Richter
Ultimately, for me, this perfume is comfort with an aura of the exotic. The drydown brings out the sweetness of the desert fruits along with soft woods. M. Duchaufour composed this fragrance as adeptly as we are accustomed to experiencing with his scents, but for me this is exceptional. I liked all of the fragrances from Naomi Goodsir; they are atmospheric and rich, and Or du Sérail fits right in.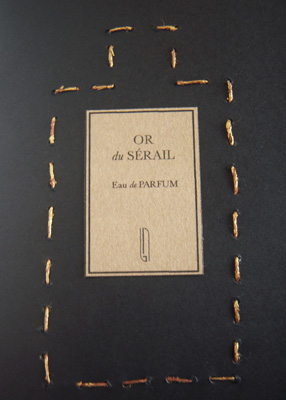 A true notes list was not available but the description on the hand-sewn booklet I received says "A gourmand & textured perfume, evocative of a golden tobacco. An ambery, woody, musky & greedy composition."
My sample was given to me by Naomi Goodsir Parfums. Or du Sérail will be available starting in May at Naomi Goodsir Parfums stockists.
Tama Blough, Managing Editor