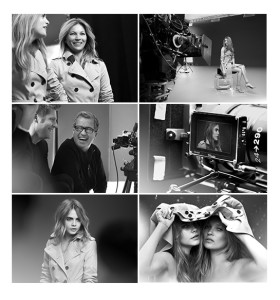 My Burberry Perfume ad Campaign shot by Mario Testino and featuring Kate Moss and Cara Delevigne
It's hard to ignore a Burberry perfume launch; Christopher Bailey, CEO and his team throw some serious cash about when it comes to olfactory PR and marketing. So, as predicted, on a truly lovely (but enormous) wave of Testino-lensed publicity we have My Burberry, a radiant and graceful floral by Francis Kurkdjian encapsulating the eccentricity and reserve of Burberry and more specifically the iconic charm of the classic Sandringham trench coat, one of the mainstays of a stylish wardrobe.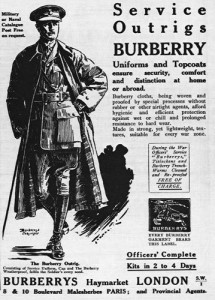 Vintage Burberry ad from World War I
The trench is made from gabardine, a form of densely woven worsted twill with more warp to weft originally invented by Thomas Burberry back in 1879 and patented in 1888. It is the brand's signature garment and has never gone out of fashion.
Humphrey Bogart in a Burberry Trench Coat
I have wondered for years why, with so much money to play with, Burberry have not produced better scents. I think the answer is, it is easier not to. Now however, with the luxury market becoming ever more cutthroat and demanding, it is not enough anymore for brands with the global status of Burberry to throw out generic copycat perfumery and hope the money comes rolling in. Let's be honest, up until now, for the most part, the Burberry fragrances have been an avalanche of duty free style mediocrity. Body was a teeny tiny move in the right direction but not far enough. My Burberry is a HUGE advance in style and execution.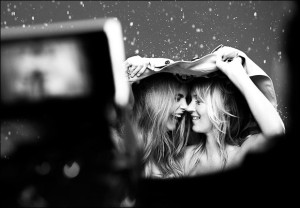 Kate Moss and Cara Delevigne Photo; Mario Testino
There is joyous sisterly chemistry between Kate Moss and Cara Delevigne in Mario's undeniably gorgeous campaign. The carefree pics of the models laughing naturally on set, under artificial rain, naked under tightly belted trench coats made the imminent release of the perfume much more desirable. Both women are unconventionally alluring, rebellious and unpredictable and yet seem utterly down to earth.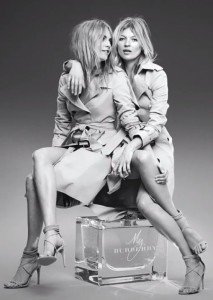 Kate Moss and Cara Delevigne Photo; Mario Testino
The campaign captures a moment of perfect poise and status as befits the Burberry brand; a glimpse of sophisticated thigh, the glint of sex under carefully styled trenches. The shoes catch my eyes, the girls' ankles bound in leather straps, a counterpoint to the folds and gloss of hair and gabardine. It is a knowing campaign, but the awareness of these maverick women, held still in monochrome is a statement of surface versus the glory of juicy reality.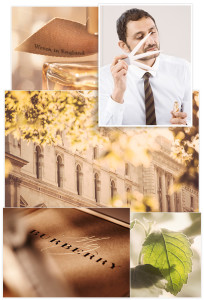 Photo: Francis Kurkdjian French Vogue
Paying homage to the trench is something I'm actually surprised Burberry hasn't attempted earlier. But in Francis Kurkdjian, the smooth and talented French/Armenian perfumer they have exactly the right nose for the brief. This scent had to smell as close to classic as possible, grand, bright and capable of huge generosity of spirit. A little touch of eccentricity and naughtiness would be nice of course. Being a British floral, it couldn't be too reserved. Rather like Cara and Kate; sublime and knowing in the campaign, but you know that booze, fags and dirty laughter aren't too far away.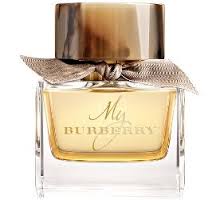 The bottle is delightful, an oversize faux-horn top a witty homage to the trench buttons and I particularly like the cute gabardine bow, integrated into the neck; this is a delightful and proper reference to Thomas Burberry's original trench fabric. A lot of effort has gone into making the flacon this effortlessly stylish. The trademark Burberry check is limited to a discreet knocked back ochre & olive rendition on the inside of the grosgrain textured box.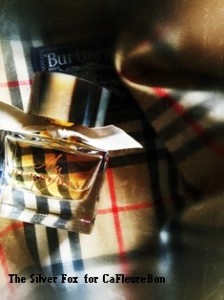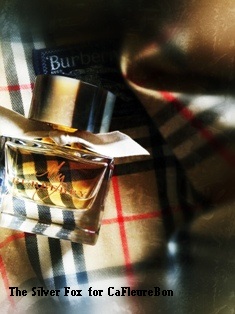 The Silver Fox's vintage Burberry trench coat and My Burberry Perfume
This is gorgeous rain soaked floral; it smells pretty damn perfect to me. The concept of having a fave old trench you can pick up and throw on, wear with anything is very alluring. It speaks volumes about iconic clothing. Burberry, Christopher Bailey and Kurkdjian have approached the creation of the scent in a similar way I think, attempting to formulate a perfume that can be worn with anything, bestowing an instant sense of timelessness. The principal floral motif is sweet pea, slightly creamier and less flounced than the one Kurkdjian used in his Carven Le Parfum. The bergamot is delicate and has the effect of raindrops on urban blooms. Above all, this is deeply reassuring perfumery, air after rain clean, notes sparkling as they open, making me smile.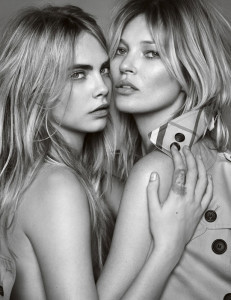 Kate Moss and Cara Delevigne Photo; Mario Testino
The scent returns to the concept of the trench, in the wearing and the settling, the notes like the trench itself, become familiar and mould to the body. The crispness and oddly uptight cluttered sweet pea and freesia duo soften up and become beautifully malleable with time. Everything breathes and flows with the body beneath the trench. My Burberry smells timeless, skin smells expensive and sexy, you could argue a lack of originality, I would argue that simplicity, innate form and style will always have a place on the skin of a perfume lover.
–The Silver Fox, Editor and Editor of the Silver Fox
Editor's Note: Wired magazine recently interviewed Christopher Bailey about his transition from Creative Director of Burberry to CEO. I found it fascinating reading. Here is the link. My Burberry is available in the USA at a wide selection of stockists including Sephora, Macy's, Neiman Marcus and Saks Fifth Avenue. I bought a bottle. It is a standout in a sea of fruity floral designer fragrance sameness. The retail for 1.6 oz is $95 and if we were doing end of year awards today this would take Best Designer Fragrance-Michelyn Camen, Editor in Chief