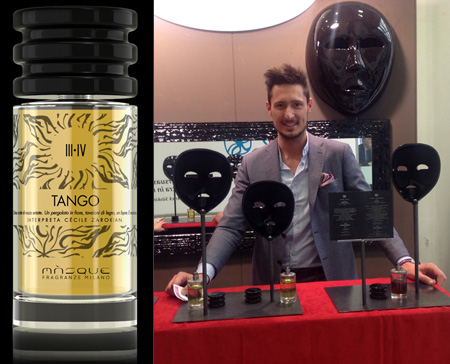 Masque Milano Co-Founder Riccardo Tedeschi
Masque Milano Fragranze was started in 2013 as an additional component to Masque Milano Cosmetics, which was formed in 2010 by two friends with a common dream, Allesandro and Riccardo. Their first three fragrances, Terralba, Montecristo, and Lucie ed Ombre, were introduced last year at Esxence, and this year their fourth fragrance, Tango, by perfumer Cécile Zarokian, made its debut at Esxence as well. Each fragrance represents a different act and scene in an opera, and Tango is Act III, Scene IV, described thusly:
"Whispers all around you, the party is merry. The soft music in the background gets gradually louder. A crescendo. A glass, another glass. Ron y miel. Inebriating, amber nectar. Inebriating as the smell of the blooming jasmine, carried along by the warm summer gusts. A crescendo. You meet her gaze – she whispers a couple of words. You spot it – it is Lunfardo. Your forehead drenched with sweat. Salt melts in the sugar of the liquor. The shuffling Gotan rhythm makes you brave, the night and the tango are on your side. A crescendo. Deafening summons. The air gets even hotter. You are aware it will hurt you. Yet you can't resist. You stand up and head towards the dance floor… her face lights up with a smile that brightens the night… That is all you long for, now."*
Mme Zarokian was given the task of creating a scent that would start softly and then build to a crescendo, which is no mean feat, plus be an ambery Oriental perfume with a Latin sensuality.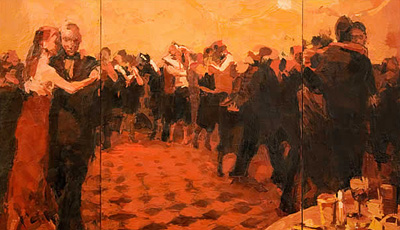 "Anhelo Yearning" Inside View of Quincunx by Willow Bader
Tango does open fairly modestly, with a softly spicy, warm aura. Before too long, though, it starts to smell a little dangerous. The scenario that unfolded in my mind is similar to the description above, but with my own perceptions involved. Imagine being in a softly lit room that has red walls covered in unusual, decadent art, with vases of flowers in full bloom set on heavy sideboards. The dim room is full of dancing revelers and is a bit overheated and stifling from body heat, the smell of everyone's perfume and the flowing liquors. Feeling woozy, you step outside onto a nearby balcony flooded with moonlight, to find that you are surrounded by the scent of blooming jasmine. Unable to resist, you finally succumb to the heady fragrances that surround you and float back into the party, meeting the eye of an exotic stranger who whisks you onto the dance floor, pressing your body to theirs in the sultry embrace of the tango.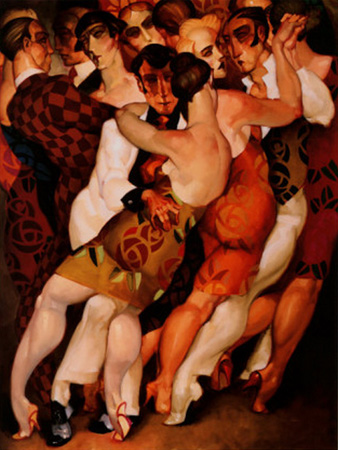 "Tango Room" by Juarez Machado
Perfumes that are deep and dark and sensuous always make me sit up and take notice. Finding one that meets my rather rigorous expectations is always a treat, and this one does. It verges on overwhelming, and I can't imagine wearing it on a warm day. I would wear it if I planned to be trapped in a sultry room with exotic people doing tango, though. It is sexy as all get-out, but not carnal in an animal-smell way. It is the heat of the fire, of sweat, of ripe blooms, rich liquor, and dangerous attraction. The far drydown is exquisite, with a sweet richness that really satisfies me. I will enjoy this fragrance in cold weather, and anytime I want to feel especially sensuous.
Notes: Bergamot, black pepper, cardamom, Sambac jasmine absolute, Damascena rose oil, cumin, patchouli, vanilla bean, tonka bean, melilot (sweet clover) absolute, amber accord, leather accord, benzoin, muscs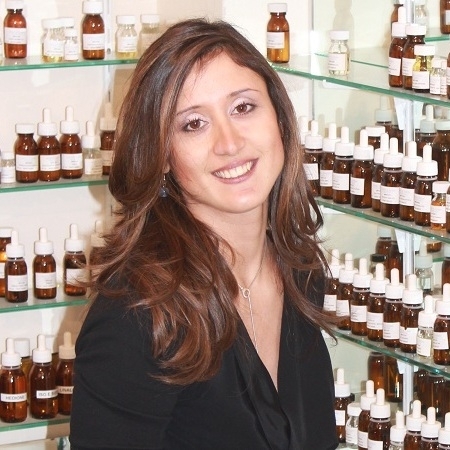 Perfumer Cécile Zarokian
The founders of Masque want to only make perfumes that are daring, artistic, and passionate. They always meet their perfumers in their labs first, to find a relationship and experience the work. Their collaboration with Mme Zarokian, who had several launches at Esxence this year, was definitely successful, in that she was able to bring their vision to life in the best way possible. I will definitely have my eye on this brand.
I received my sample from Riccardo Tedeschi of Masque Milano. Tango is available from Twisted Lily Fragrance Boutique and Apothecary in New York, $240 for 100 ml.
Tama Blough, Managing Editor
Thanks to the generosity of the folks at Twisted Lily, we have a draw for a sample for two readers in the US. Please let us know what appeals to you about this perfume or your favorite tango dancer or song. Draw ends May 2, 2014.
Note: We recently reviewed another fragrance that Mme. Zarokian launched at Esxence, Jul et Mad Acqua Sextius.
*Lunfardo is a slang developed by convicts, that spread to Buenos Aires, particularly lower classes. It has spread through the usage of it in tango lyrics. "Gotan" is the Lunfardo version of "Tango" (I also recommend the modern tango music from the Gotan Project). Ron y miel is a honey rum.