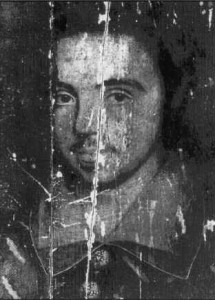 Christopher Marlowe Portrait Cambridge 1585
Christopher 'Kit' Marlowe, playwright, provocateur, rumoured spy, heretic, rake and sensualist died at the age of 29, stabbed to death in a bar brawl in Deptford, London in 1593. A somewhat sordid end for a young man of vibrancy and incandescent talent. His attributed works include Dido, Queen of Carthage, Tamburlaine the Great, Edward the Second and arguably his masterpiece, Dr Faustus; Marlowe's retelling of a scholar's bruising encounter and pact with the devil. He was a contemporary of William Shakespeare and much has been made over the centuries of their parallel existences, work, rivalry and even accusations of plagiarism and ghostwriting on either side. Marlowe's life was boisterous and lived in fierce shadows at a vivacious, perhaps destructive pace. He seems a perfect subject for scent, edgy, ambiguous and distant.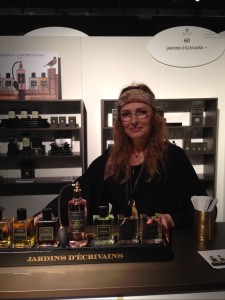 Anais Biguine at Esxence 2015 Photo: Michelyn
Anais Biguine at Jardins d'Ecrivains has done just that. Following her tradition of literary inspirations – Junky (William Burroughs), George (George Sand), Orlando and Wilde; Marlowe is her latest release, a shared eau de parfum in her trademark square bottle with black and gold label. One of the most striking things at first glance is the glossy chestnut brown colour of the juice, tinted or not, it suggests the abstracted 'dried flowers' note in the heart of the parfum.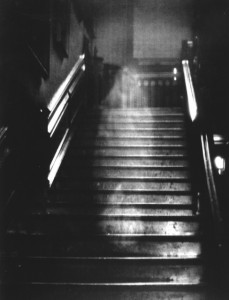 Ghost Photo Tower of London
Now I will say that this is not the 'heady, feral and theatrical' scent as described on the press card, which is a little disingenuous. I am a huge fan of Anais' work, George and Junky are outstanding scents and I love the oddity of Marlowe, but it is not quite the scent the notes and blurb suggest, it is altogether more subdued and haunted, a ghost scent, a Tudor house where dust is barely moved by the presence of fretting deluded residents.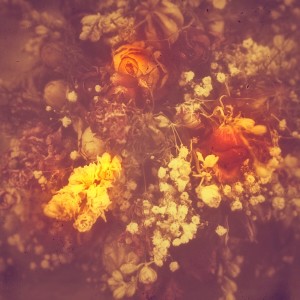 Bridal Posy By TSF
As for Marlowe being a unisex scent, I would say not, dandified perhaps, but this is a floral bouquet, a nosegay, albeit one of offbeat decay and fade. But a floral nonetheless. However I suggest people try the scent and make up their own minds. To me, Marlowe smells resolutely old-fashioned, littered with Lux soap and make-up tones. The swell of powder as it settles is huge, recalling the erotic ablutions of Anais' wonderfully atmospheric Dame aux Camélias. 'Feral'? Hardly. But I don't always want feral and sexed up. I happen to like the careful floral romance and bittersweet draft of clean that runs through much of the Jardin d'Ecrivains line.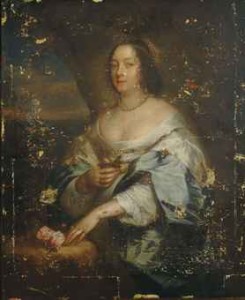 Portrait of Diana Cecil Countesss of Oxford – holding a flower ( A Van Dyck, court painter to Queen Elizabeth)
The notes for Marlowe include tuberose, osmanthus and elemi in the top. Now these are characterful elements but are quite hard to individually discern as it opens; they coalesce into a slightly sepia toned smoky bouquet from the bottle. It trails a certain poignant oddity in the gentle resinous blur of the heart notes. The listed 'dried flowers' note is actually quite weird and binds the slightly out-of-focus structure together. During hauntings, people often report smells and noises, sensory triggers that seem to come from nowhere, but throw them out of sync or suggest another time or place. I imagine a faded posy of dried blooms, held in translucent hands, a silent face weeping, moving restlessly from room to room, century after century. Occasionally her precious wedding posy throws its gaudy, stale powder through time and it catches a modern wanderer who turns suddenly, caught by a movement, a shift of dust and the whimsical aroma of haunted flower.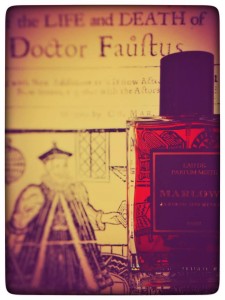 Doctor Faustus and Marlowe perfume TSF
Kit Marlowe understood death and the fleeting nature of life and love. His own was violent, erudite and convoluted. He was a man in tune with his own cruel and explosive age.
'Hell hath no limits, nor is circumscribed
In one self place, for where we are is hell,
And where hell is must we ever be.' (From Dr Faustus)
This perfume does seem at odds with the chaotic rebel image of Marlowe and this is not really helped by the slightly over-enthusiastic press copy. But this aside, Marlowe is another one of Anais Biguine's fascinating essays in retro-literary olfaction that once again demonstrates she carved out a very particular and imaginative niche for her romantic work in a crowded niche marketplace.
Disclosure – Review based on a bottle of Marlowe, kindly sent by Jardin D'Ecrivains.
-The Silver Fox, Editor and Author of The Sliver Fox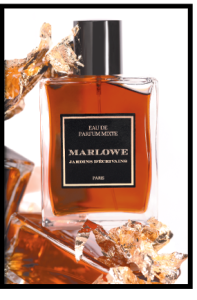 Thanks to the generosity of Anais Biguine of Jardins D'Ecrivains we have a 100ml bottle of Marlowe for a registered CaFleureBon reader anywhere in the world. Please leave a comment with what you enjoyed about TSF's review, where you live and what literary figure or character would you like to see interpreted in the Jardins D'Ecrivains line of fragrances. Draw ends April 27, 2015.
We announce the winners only on site and on our Facebook page, so Like Cafleurebon and use our RSS option…or your dream prize will be just spilled perfume