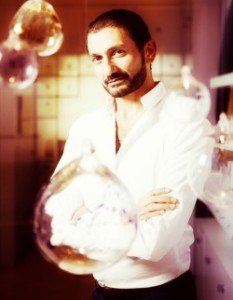 Master Perfumer Francis Kurkdjian (image Francis Kurkdjian)
Master perfumer (Francis Kurkdjian) new release (as of January of this year) entitled Rouge 540 Baccarat, was created on commission from the fabled French house of Baccarat to celebrate their 250th Anniversary.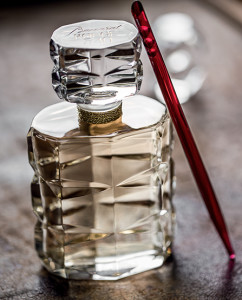 Baccarat flacon for Rouge 540 courtesy of us.baccarat.com
Originally released as a limited edition of 250 pieces in 2014, with bottles created by Baccarat and priced at $4000, Maison Francis Kurkdjian decided to release this scent under its own house name as well, after the demand for the fragrance outgrew the original launch. This is great news for fans of this line, as Rouge 540 Baccarat (the 540 being the temperature needed to create the lustrous red tones Baccarat employs in its crystal creations) is in my opinion, one of the best, if not THE best fragrance MFK has put out to the public.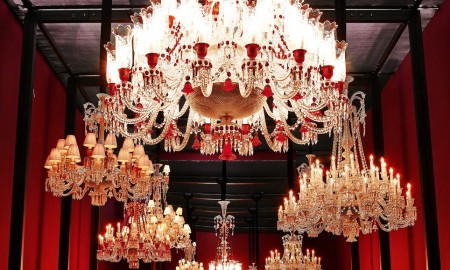 Baccarat Chandelier 250th Anniversary us.baccarat.com
Rouge 540 is a taut, bright perfume that has the same slightly mesmerizing effect on the skin that fine crystal has on the eyes. According to Maison Francis Kurkdjian, the listed notes are saffron, jasmine, ambergris and cedar, but these four notes add up to a far richer composition than they would otherwise suggest. (The Baccarat site also lists lavender, white oak moss, sage, blood orange and woods comprising the original limited release.) Francis Kurkdjian said of this scent that he wanted to capture a "luminous, dense but transparent and intense" feel, and I think this is true of Rouge 540 Baccarat.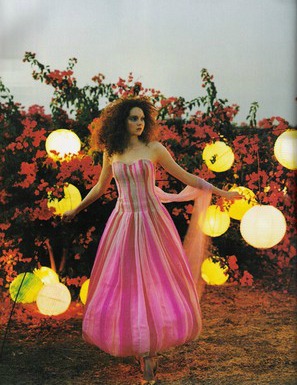 Tim Walker Lily Allen
Rouge 540 opens with a quick shot of blood orange and jasmine that quickly settles into the ambergris and saffron in the heart notes. This opening is absolutely delicious and a far cry from the usual lemons and oranges one usually encounters in the Maison Francis Kurkdjian line for top notes. I loved the opening and wish it had lasted longer before the ambergris/hedione feel of the heart kicks in – I would have liked to stay happily sunning myself in the Mediterranean with the blood oranges for quite a while longer.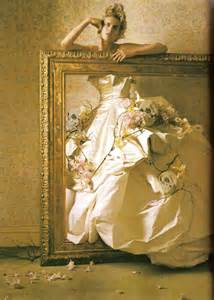 Dream and Magic Tim Walker
The saffron here is a delight, however – normally I shy away from this note and its inherent swarthy, sweaty feel – but here it provides a sharp kick to the ambergris and the friction between the airiness of ambergris and the earthiness of saffron work very well together. One of the best qualities in Rouge 540 Baccarat is how the notes in each phase of its development are paired so perfectly together – your nose is happily and curiously entranced throughout the wearing of this fragrance.
Rouge 540 drops out of the spicy airiness of the heart into a much drier third act when the cedar arrives, but again the transition here is subtle and engaging. There is a hidden lightness pulsing through this perfume in all phases that mimics in scent what actual light does when reflected through crystal glass – a wondrous, prismatic quality that swirls through it and sustains it. It's as if all of the notes were working as a whole to make you realize this – they step forward and carry the wearer to a point where a bright, shining golden aura surrounds your senses.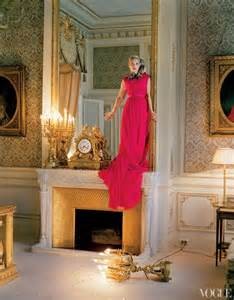 Hotel Ritz Paris Kate Moss Tim Walker
The sillage and power are above average also – you will be noticed wearing Rouge 540 Baccarat in the best possible way. That golden aura is a fantastic way to enter a room without knocking everyone else over; instead they will approach you to ask what you're wearing. And this is true for either a man or a woman – there is a buoyancy to this perfume that allows either sex to wear it with confidence.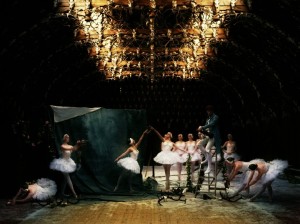 Patrick Wolf, singer-songwriter, with the cygnets of the Ballet West, in the Stag Ballroom of the Mar Lodge Estate, Braemar, Scotland. Tim Walker for Vanity Fair 2007
Rouge 540 Baccarat is a departure from what is usually offered from Maison Francis Kurkdjian in my opinion, so much so that I wish this house would attempt launches like this more often. But with Rouge 540, we are treated to a visionary perfumer fashioning a wondrous perfume of golden, dancing subtlety – an actual visual metaphor in scent to honor another house whose stock in trade is the celebration of light. I believe it to be the best fragrance you'll find from Maison Francis Kurkdjian and it has become an early choice for Best of 2016 so far. Don't miss this one.
Pam Barr, Senior Contributor
Art Direction MC I used the fashion photography of Tim Walker who is not affiliated to Maison Francis Kurkdjian, as they spoke to me, as well as images from Baccarat
Disclosure: I received my sample from Europerfumes, the USA distributor.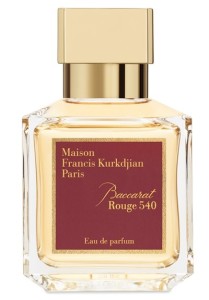 Thanks to Europerfumes, we have a bottle 60 ml draw for US registered readers. To be eligible, please submit a comment below with why you want to try Rouge 540, or what intrigued you about Pam's review and your favorite MFK fragrance. Draw closes 2-22-16.
We announce winners only on site and on our Facebook page, so Like Cafleurebon or use our RSS option….or your dream prize will be only spilled perfume.