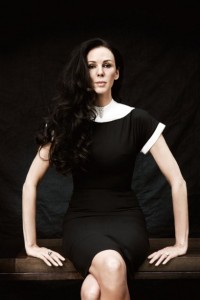 Designer L'Wren Scott
Fashion designer, model, and Hollywood stylist L'Wren Scott has teamed up with perfumer Ralf Schwieger (Lipstick Rose for Frederic Malle and Eau de Merveilles for Hermes) and launched her first fragrance, exclusively on sale at Barney's New York. Her self-titled debut is a spicy chypre with a floral heart that, much like Ms. Scott, is multi-faceted and can't truly be categorized. The opening of absinthe and star anise, two accords which, to me, often suggest an air of mystery and fantasy, feel rather welcoming and comfortable in this composition. They herald the arrival of marigold, tuberose, jasmine and geranium. There is a thick, creamy sweetness to the florals, making me think of pink sugar flowers atop a wedding cake. Never too sweet (never too anything), each component is skillfully balanced. Though there is no vanilla listed in the notes and this is clearly not a gourmand, there is a hint of that aforementioned wedding cake in the opening and heart of the fragrance. Perhaps it's because I am a newlywed myself, this fragrance conjures images of a couple's big day. It's not too formal, this affair is elegant, but relaxed and playful. The church or hall is classically adorned with flowers and draped with linens, but the wedding party dances in, a' la YouTube, accompanied by the now-legendary "Forever" by Chris Brown.
"It's like I've waited my whole life for this one night.
It's gonna be me, you and the dance floor…"
Sir Mick Jagger rocks a purple suit at daughter Jade's wedding (Press Association)
Coriander, curry and clove dance in, too, adding some unexpected spice and a little bite. Each of these accords is difficult to isolate, they simply add a "spicy flower" feel without fully revealing their identities. Patchouli and leather ground the fragrance and keep it perfectly unisex, though it will probably be favored more by the ladies. The couple who shares this fragrance are young enough to take some risks, but wise enough to know which risks to take. The fella who wears L'Wren Scott is the fella who occasionally wears a suit, but perhaps he might choose the purple suit. His hair is perfectly combed, but that darn cowlick just won't stay down. Amber and moss round out the composition, re-planting the bouquet in the backyard garden. It never becomes an amber fragrance, or a floral fragrance, or a leather fragrance. Each note is just a member of the family, dancing around the couple in love (Ms. Scott seems to know a lot about love, having captured the heart of rock-legend Mick Jagger). A hint of musk joins the patchouli and leather, turning things downright sexy as the wedding day turns into the wedding night.
"Feels like we're on another level
Feels like our loves intertwined,
We can be two rebels breaking the rules."
L'Wren Scott's fragrance has slightly-above-average longevity and stays fairly close to the skin. As Ms. Scott told Women's Wear Daily on the subject of perfumes: "I don't think they should wear you, just enhance who you are." Her debut is being called a limited edition and rumor has it that a new L'Wren Scott fragrance will be introduced annually.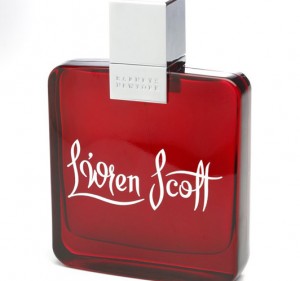 A 100-milliter bottle of L'Wren Scott sells for $195.00. Is it worth the high price tag? Only you, your nose and your wallet can determine that. Dance on over to Barney's and experience it for yourself. Do I think it's a classy, sexy, quirky, likable fragrance? I do.
Disclosure: this review is based on a sample provided by Barney's New York.
Thanks to Barney's we have a sample to giveaway. To be eligible leave a comment about your favorite wedding reception song or fragrance by Ralf Schwieger. The draw will close on December 24, 2012.
We announce the winners only on site and on our Facebook page, so Like Cafleurebon and use our RSS option…or your dream prize will be just spilt perfume.
–Michael Devine, Contributor