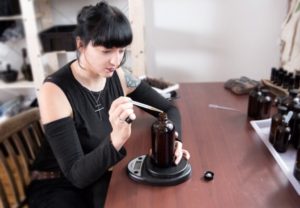 April Lea of LVNEA Perfumes
Montreal based Lvnea ([lou – nay] – (n) the moon's day; day of the moon), founded in 2013 and formulated by photographer and perfumer, April Lea. Originally hailing from Philadelphia, April now develops high resolution yet hauntingly ethereal portraits of the natural world. Her 2016 debut EdP, La Forêt Dormante (The Sleeping Forest), is a fetish in the traditional sense: a semi-hallucinogenic reminder for me of the formidable power of pure plant perfume.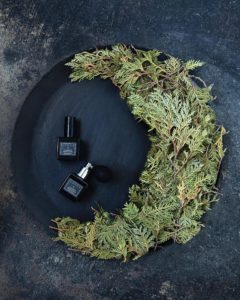 La Forêt Dormante Natural Perfume via LVNEA instagram
Total immersion is inevitable once the black, classic Lvnea bottles have released their shamanic stories, bringing with them landscapes familiar and estranged: 'Into the woods' was never a better beginning as La Forêt Dormante awakens us to a forest at night.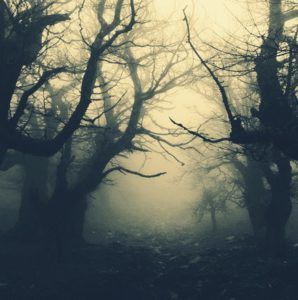 From LVNEA pinterest digitalized
The density of the woods suddenly surrounds you as if but one step in- you are three steps deep- so skin shape shifting is La Forêt Dormante. Galbanic piñon white woods herald the call into darkness familiar in the fougère and towering formation of trees. Breaking through the canopy, a noble stillness of requisite lavender, made regal by rose de mai- slips through the velveteen of violet leaf.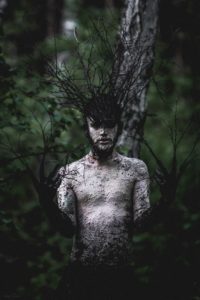 The Greenman via LVNEA pinterest
Falling further into the forest, to find the mossen ground thick with olbanium and patchouli; mosaic tiles of resin light dancing through the labyrinth of fern and foliage below the needled air. The perfume of Gaia or Greenman, a fougère is the equilibrium of bawdy and beneficent- an oakmoss drenched strength which saturates moments of supposed stillness when things are budding and breathing in the moments before dawn; Lvnea has been brought to light.
Notes: cypress, olibanum, violet leaf, oakmoss, rose de mai, bergamot, piñon pine resin, plant extracts, floral hydrosols
I received my sample from April Lea, Thank you
-Einsof, Natural Perfume Editor
Art Direction:Photos from LVNEA Perfume pinterest and instagram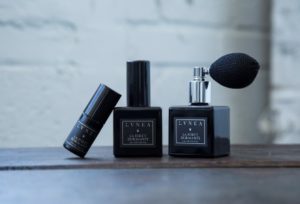 LVNEA La Forêt Dormante
With much gratitude to LVNEA, we have a 50mL bottle of La Forêt Dormante* for a registered reader in the USA and Canada. To be eligible please leave a comment with why you would like to win La Forêt Dormante, and a memory of a forest at dawn or dusk. Draw closes 10/10/2016
*Comes in your choice of a black glass bottle (50ml / 1.7 fl oz) with a standard plastic spray cap /or an aluminum cap with puffer spray. Please specify in your comment
Follow us on Instagram @cafleurebon and @lvnea
We announce winners on site and on our Facebook page- so like Cafleurebon and use our RSS feed option or your dream prize will be just spilled perfume