Stills from Parfums Quartana Films on Youtube Bloodflower, Lily of the Valley and Poppy Soma
Nocturnal librarians erotically scrubbing human blood into their scalps.
A black wraith in stilettos haunts a rocky outcropping.
A woman with fiery red eyes reclines on a divan, as a dancing slave waves a pink fan that looks suspiciously like a taut breast with erect nipples.
This is not a new collection of horror stories, but a new collection of perfumes.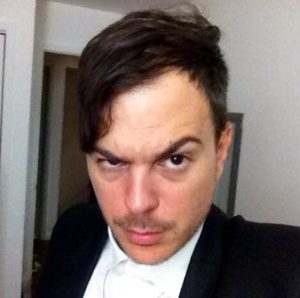 Joseph Quartana Creative Director of Les Parfums Quartana and Six Scents looking like the mad scientist he is (photo Joseph Quartana)
Joseph Quartana, founder and genius behind both the Fragrance Foundation Award Winning Six Scents and the fashionable Seven New York has come out with Les Potions Fatales – nine Eau de Parfums that each have poisonous notes as their inspiration.
These parfums are like nothing I've ever sampled before – but for the sake of brevity, I will go into detail about Wolfsbane (composed Phillippe Paparella-Paris) by only for this review. Collaboration with Symrise perfumers, they are all worth investigating, and best if sampled as a group.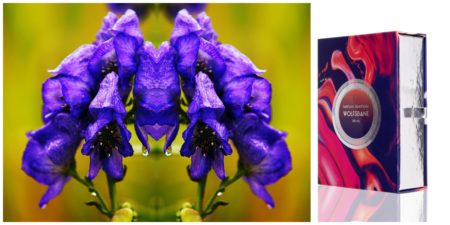 Wolfsbane photo digitalized MC
Now, for those who curious, wolfsbane is a lovely, purple mountainous flower that happens to contain a substance known as pseudaconitine, which if ingested, kills you slowly after a serious bout with all sorts of Exorcist-level stomach discomfort. It's not exactly what one would expect for a source of perfumed inspiration, but thankfully Parfums Quartana version is safe enough to wear.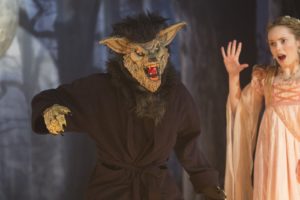 Scene from Penny Dreadful Demimonde 2014
In fact, it's amazing. One thing that immediately jumps out at the wearer with this line is how subtly the poisonous vibe is inserted as it dries on the skin. Each one of Les Potions Fatales has something distinctly off about it – but in the most mysterious and enthralling way.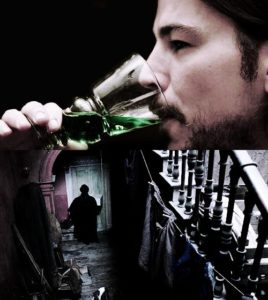 Ethan Chandler of Penny Dreadful is a werewolf, here drinking absinthe, conflicted but ultimately good
Each blend is wrapped up in an interior strangeness that gives each offering its own unexpected vibe, and a little hit of fear. Les Potions Fatales is notably different from most releases in that these perfumes don't adhere to any established family well – you'll recognize the notes, but how they are all arranged is arresting and absorbing to the nose.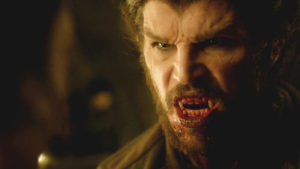 Josh Harnett as Ethan Chandler Penny Dreadful Finale
The opening for Wolfsbane in particular is a sharp, bone-dry and cutting combination of ginger and angelica root, with cumin and fig leaf adding high and low notes. The accords are all done extremely well, they marry together in an insinuating, vaguely psychotropic way that will delight fig fans especially.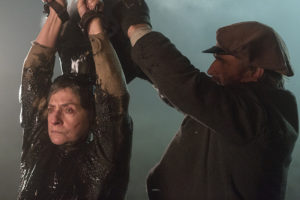 Patti LuPone as the Cut Wife in Penny Dreadful (season 2, episode 3)
The heart notes get into dusty absinthe and patchouli territory, with cedar and tuberose very evident also. Wolfsbane is earthy stuff – more than once while I wore this, I felt the card sample should have been suspended from the ceiling in some dodgy herbal apothecary, right next to the birdcage containing a loud crow. The dry down is a mix of sweet resins and woods married to vetiver, castoreum, and some black truffle to bring the nose right down to the soil level. The sillage is average and the longevity is quite good – a few sprays will last easily six hours or more.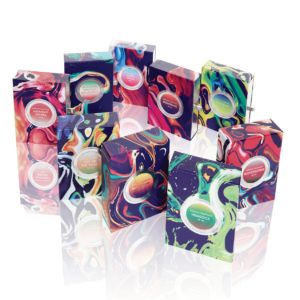 The packaging for this line is also vividly presented. The interior of the discovery samples is awash in a whorl of hallucinogenic colors, while the covers spell out the name of the perfumes as if you were travelling through a time portal to use them. I loved all aspects of this launch, from its daring inspirational sources, to the way the accords came together in unusual and odd ways, to the trippy packaging. Joseph Quartana has done some of the most original work I've ever come across with Wolfsbane, and I highly recommend you seek out the others in this line as well. If this is poison, friend, pass me my wine and leave me to drink it all.
DISCLOSURE: I received my sample from Parfums Quartana, opinions my own
Notes: angelica root, ginger root, cumin, fig leaf, absinthe, patchouli, cedarwood, tuberose, tobacco flower, castoreum, benzoin, sandalwood, prunol, vetiver, deer tongue, black truffle.
Pam Barr, Senior Contributor
Art Direction: Michelyn is a die-hard Penny Dreadful fan, which is a drama/horror/goth series on Showtime set in Victorian London. Ethan Chandler, an ex pat American living in London, who also happens to be a werewolf is the poster boy for this fragrance, which leans masculine, animalic balanced with sweetness. In fact i would love to scent the cast with Les Potions Fatales…
Follow Parfums Quartana on Facebook here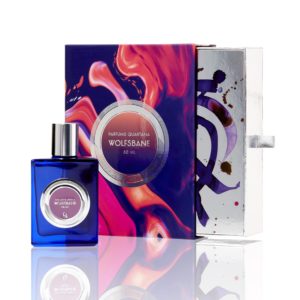 Thanks to Joseph Quartana , we have an international draw of a bottle of Wolfsbane for a USA reader
OR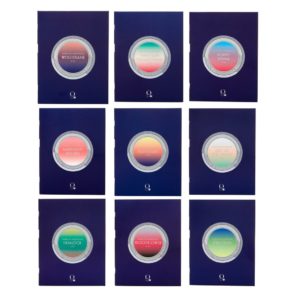 A discovery sampler (Les Petite Morts) of all nine worldwide for ANY registered CaFleureBon reader including the USA (do this register or you can't pick your poison). To be eligible please leave a comment with why you would like to try Wolfsbane, which other Potions Fatale appeal to you, where you live and your choice of fragrance. Draw closes 7/23/2016
We announce the winners on our site and on our Facebook page, so Like Cafleurebon and use our RSS option…or your dream prize will be just spilled perfume.