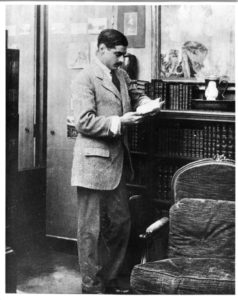 Arthur "Boy" Capel
Last month, in the USA, the venerable house of CHANEL released its 12th addition to the Les Exclusifs line, Boy CHANEL. This new fougere is named in honor of Arthur "Boy" Capel, who was the love of Coco Chanel's life, a man who took Coco from being a precocious cabaret singer to being the absolute icon of high fashion; if fragrance was a book, BOY is the prequel to Misia, which was based on the life of Misia Sert, who comforted Mademoiselle after Boy Capel died in a car accident in 1919.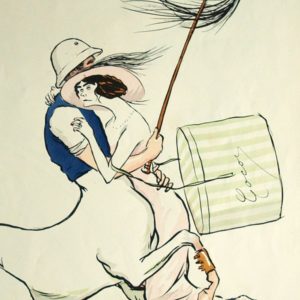 1913 Coco Chanel in the arms of Boy Capel by the artist SEM.
It's being billed as "a masculine fragrance with a feminine facet", or a "feminine fragrance with a masculine edge." CHANEL's new house perfumer Olivier Polge (son of Jacques Polge) takes the traditionally masculine fougere style and coyly reworks it so that both sexes can wear it equally well. Boy CHANEL is a fragrance for all you women who secretly covet your man's colognes – now you can have a scent to share.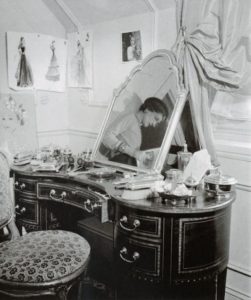 Coco Chanel Vanity Mirror Rue Cambon
Boy CHANEL starts out with a heavy masculine hit of aromatic, super-clean lavender, which after a few moments begins to show a decidedly green facet with rose geranium starting to send up shoots around the edges. This opening shows the clever genius of Olivier Polge, as the texture of Boy Chanel initially scans "Traditional Masculine", but there is also a strong, powdery undertone here which has an equal claim to a woman's vanity mirror. Also supporting the lavender in the opening is a hazy watercolored citrus rinse of lemon and grapefruit.
Boy Capel with Coco Chanel in bathrobes 1903
The heart of the fragrance begins to open up into orange blossom and rose, which continues the bright, powdery feel that the top notes announced. Boy Chanel's main signifiers are a light, powdered, nearly regal tone. This is definitely a barbershop kind of scent, but think more barrister's wig than mid-1950's barber shop. There's a reserve to it, a properness that almost goes against the edgy, gender fluidity that the launch is trying to present to the public.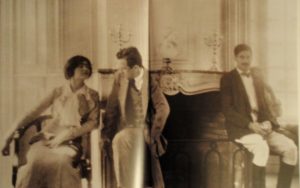 1919 Chanel with Etienne Balsan and Boy Capel Collage
The drydown begins to move away from the aromatics and more into a sweetness of sorts, with heliotrope, vanilla, sandalwood and white musk anchoring the base. The effect is almost madeleine-like, or even close to a lightly toasted biscuit on my skin. The sillage is very quiet (this is CHANEL, after all, and they don't DO loud, darling.)
Boy CHANEL is also the first Eau de Parfum issued in the Les Exclusifs line, so those of you who may have had longevity issues with the previous EdT offerings will be much happier now. And while Boy CHANEL is no powerhouse on the skin, you should be able to wear it for about five or six hours.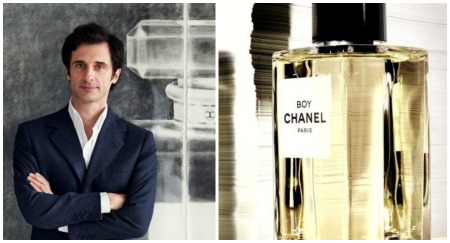 © Chanel Olivier Polge and BOY CHANEL Paris
Boy Chanel is a worthy addition to the Les Exclusifs line, and Chanel perfumer Olivier Polge is proving his mettle as the successor to his father as Master Perfumer for this iconic house and the recent winner of The Fragrance Foundation Perfume Extraordinaire Award for Misia.
GABRIELLE "COCO" CHANEL AND BOY CAPEL IN FRONT OF CHANEL'S DEAUVILLE BOUTIQUE
Boy CHANEL is a wry, unexpected take on a classic men's style, presented in the immaculately prepared manner CHANEL is known for worldwide. This light, green, powdery, bready scent will carry you through the summer in perfect style, and maybe ladies – your man might come to you for a change to borrow something to wear for an evening out.
Notes: lavender, geranium, lemon, grapefruit, rose, sandalwood, heliotrope, vanilla, white musk
Disclosure: part of my collection
Pam Barr, Senior Contributor
Art direction: Michelyn Camen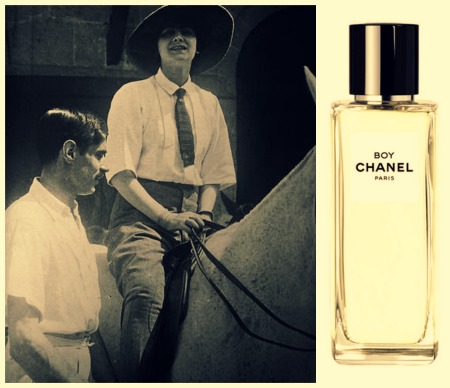 Boy Capel with Coco Chanel wearing men's trousers, tie and shirt at Longchamps
Editor's Note: Boy Capel took a great interest in Coco Chanel's fashion business and he bought her a millinery boutique in 1913 as a gift. At the LongChamps horse races, Mademoiselle would wear his clothing, tailoring them to fit her slight figure. Although a woman wearing trousers was shocking, she was a trend setter and in the Roaring 20s women embraced men's attire as their own. His influence on her life and legacy cannot be overstated. Over a hundred years later later, Arthur Boy Capel inspired perfume, The Boy Bag and CHANEL lipsticks
Contributor Steve Johnson's powerful review 'The Redolence of Remembrance-CHANEL Misa' was one of six finalists for Scent Stories in the 2016 Perfumed Plume Awards.