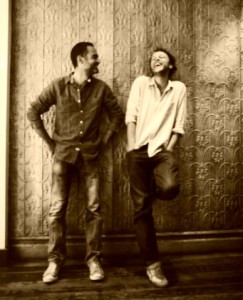 Fabrice Penot and Eddie Roschi of Le Labo
Founded in 2006 by Creative Directors Fabrice Penot and Eduard Roschi of Le Labo — the lab, was a game changer. With the scenting apothecary as a point of inspiration every fragance is carefully built to formula.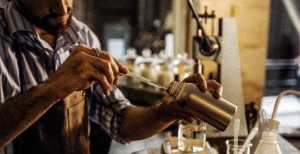 Photo: Preparing a Le Labo fragrance
And every scent, is hand blended and prepared, on site,with both the name of the preparer as well as the recipient on the plain white label of each bottle. Le Labo is known by for its exacting standards, the fragrance alternative to the farm to table movement.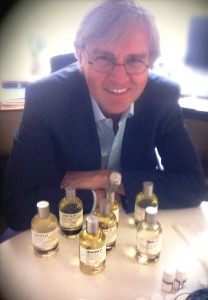 Photo of Frank Voelkl of Firmenich (Michelyn)
There are some who might be skeptical of the House's first venture post acquisition by corporate powerhouse Estée Lauder. Would this be a mainstream varietal? Fear not: Thé Noir 29, composed by Frank Voelkl of Firmenich , (the de facto perfumer for Le Labo for a few years now, and whose first fragrance for the House was Iris 39 in 2006) is a worthy addition to the House's Classic Collection.
The name suggests that the principal essence is black tea and the highest concentration of the 29 notes in its composition. It is not to my nose. This should come as no shock to those who know Le Labo. The names of their fragrances often belie the outcome of the scent on skin. After all, the cult Rose 31 is famous for its strong cumin note. Black tea or not, this fragrance is pleasing; there is a translucent quality that may not seem "noir"… at first.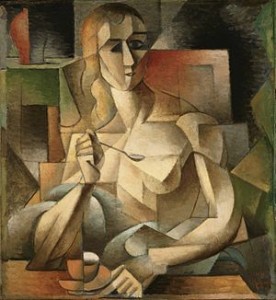 Le Gouter Jean Metzinger (1911)
With Le Labo Thé Noir 29 prepare yourself for the sensual pleasure of a "conceptual" tea ritual. As Marcel Proust, wrote in Swann's Way: "She poured out Swann's tea, inquired "Lemon or cream?" and, on his answering "Cream, please," said to him with a laugh: "A cloud!" And as he pronounced it excellent, "You see, I know just how you like it." This tea had indeed seemed to Swann, just as it seemed to her; something precious, and love has such a need to find some justification for itself, some guarantee of duration, in pleasures which without it would have no existence and must cease with its passing." It is a transitional moment, hiding behind the mask of the ritual but heavy like a morning after. It is ripe with regrets yet open to the possibilities which might come".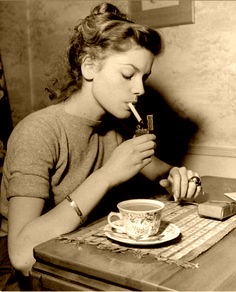 Lauren Bacall smoking and drinking tea at Joe Allen's Restaurant in the Theater District NYC 1940s
Bergamot jumps right out and dances about. This sweet, high note flirts with you while it slowly allows the fig and bay leaves to reveal themselves and yes a tannic quality, as if the teabag has been steeping for a few minutes in your cup. It's fleeting; tea time is a short one. The dry down comes pretty quickly, and with great intensity, as Frank Voelkl's signature woody finish settles on the skin. Vetiver, cedar wood, a whiff of hay and musk give way to swirls of cigarette smoke. Just as Proust wrote about his tea, Le Labo Thé Noir 29 tells a story of the moments in life where we might experience the unexpected. It is also the fragrant equivalent of smoke and mirrors as it lingers on your skin and, hours later, reminds you of why it is actually there at all, before it finally fades…and leaves you wanting more.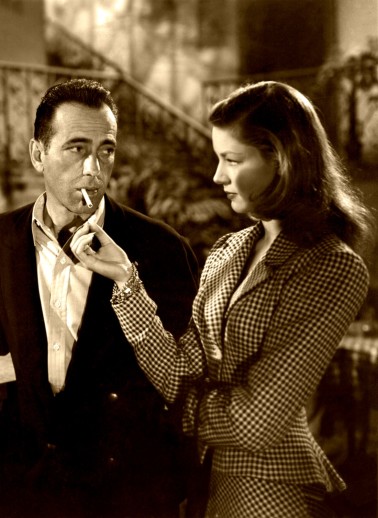 Lauren Bacall and Humphrey Bogart in "To Have and Have Not" 1948
Le Labo Thé Noir 29 is the To Have or Have Not of Le Labo's Classic Collection, the duality of strong masculine woods and sultry smoke. For me it's more Bacall than Bogey. The femme fatale cigarette both Slim's seduction prop and her husky voice coming from an unlikely slender frame.. Wearing Thé Noir 29, "You don't have to say anything, and you don't have to do anything. Not a thing. Oh, maybe just whistle"
Disclosure: I received my sample from Le Labo, opinions my own.
Liza Wade, Contributor
Art Direction -Michelyn with digital Le Labo-izing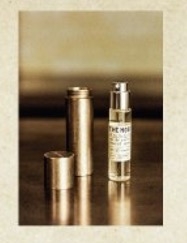 Thanks to our friends at Le Labo we have a 10 ml sprayer for a registered reader in the USA, Canada or the EU (you must do this or your comment won't count). To be eligible please leave a comment with why you would like to win Le LaboThé Noir 29, where you live and your favorite Le Labo Fragrance. Draw closes November 1, 2015
We announce the winners only on site and our Facebook page, so like CaFleureBon and use our RSS option…or your dream prize will just be spilled perfume