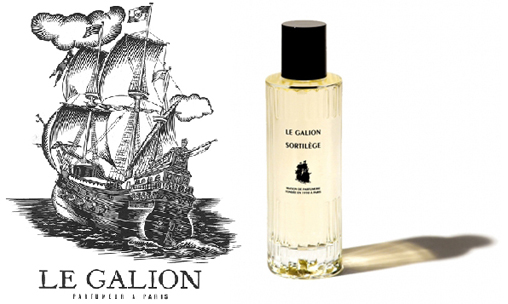 Illustration by Louis Ferrant
One of the biggest buzzes when I was at Esxence was the relaunch of a once-popular perfume house, Le Galion. Originally founded in 1930 by Prince Murat, it was sold in 1935 to perfumer Paul Vacher*, already well-recognized for creating Arpège with André Fraysse in 1927. With his direction and perfumery skills, he created the iconic Sortilège, the signature scent of The Stork Club in the 1930s, until Le Galion fell into decline in the 1980's, (after the death of M. Vacher in 1975). Thankfully, about two years ago, Creative Director and new owner Nicolas Chabot resurrected this once great House, and nine of the original 24 perfumes.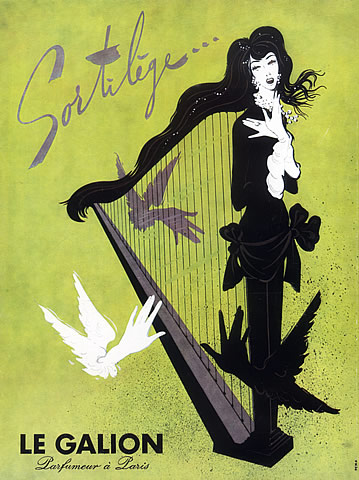 Sortilège Ad by Claude Maurel
I was able to obtain a sample of the reborn classic Sortilège, and it is lovely. I am a little funny about actual vintage perfumes. I like some of them, of course, but either they smell terribly dated or the big-gun floral aldehydes and chypres are just more over the top than my lifestyle. When I apply a fragrance that makes me feel like I should be wearing opera gloves, I don't feel comfortable in my skin. I have never smelled vintage Sortilège, but this version hits a really nice spot for me. I gave Sortilège a full wearing on a warm day, when I had to work, so was wearing a basic tee-shirt and cargo pants kind of outfit. What the perfume did for me was make me feel elegant in my own skin, in my own way.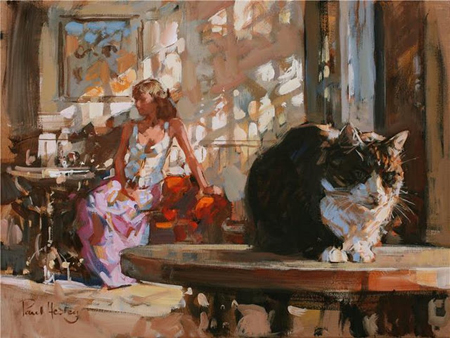 Painting by Paul Hedley
Opening with a subdued, powdery cloud of flowery aldehydes, I immediately sensed that this perfume was anything but a powerhouse. I was enveloped in a feminine cloud, with a distinctly vintage aura. The floral blend is exquisite and cannot be picked apart. The aldehydes serve to give the bouquet lift and buoyancy, dancing on my skin like a prima ballerina in multi-layered pink chiffon. As I went about my day, I would occasionally huff my wrists or down my shirt, and was happy with my scent every time. Even after a day in an overheated office, I could still smell the beauty of the fragrance on my wrists. There is something especially pleasing about a perfume that is ethereal but still has enough bones to stand up to a tough day. "Sortilège" translates to "sorcery" or casting a spell. This perfume casts a spell of beauty and easy elegance. I'd love to have a bottle.
Notes: lily, lilac, ylang ylang, aldehydes, Egyptian jasmine, mimosa, narcissus, Turkish rose, iris, sandalwood, vetiver, labdanum, musks, amber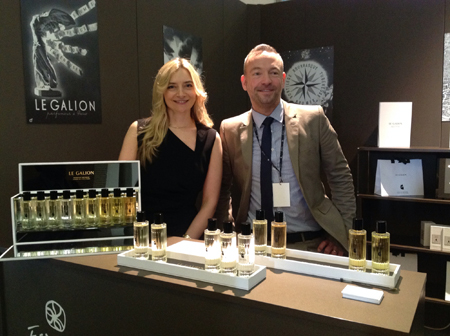 Nicolas Chabot and his assistant Elizabetta at Esxence 2014
I will be looking forward to an opportunity to wear and review more fragrances in the collection which includes nine perfumes that retain the history of the House but are formulated for modern sensibilities. The Le Galion line is currently available in Europe.
Tama Blough, Managing Editor
We have an extra sample of Sortilège to give to one lucky reader in the US. Let us know if you have heard of Le Galion and what appeals to you about this new Sortilège perfume that is available only in Europe. Draw ends May 30, 2014
We announce the winners on our site and on our Facebook page, so Like Cafleurebon and use our RSS option…or your dream prize will be just spilled perfume.
*Note: Paul Vacher was also a perfumer for Dior during the time he owned Le Galion, creating Miss Dior in 1946 and Diorling in 1963.
Editor's Note: Other fragrances in the newly revised line include 222, Eau Noble, Iris, La Rose, Snob, Special for Gentlemen, Tubéreuse and Whip – Michelyn Camen, Editor-in-Chief