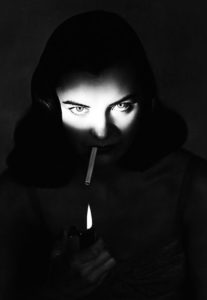 Ella Raines, 1940s
Nerotic, the newest fragrance from Laboratorio Olfattivo and the first in the "Laboratorio in Nero" line, is a reel of dark notes, an olfactory film noir: shadowy, oblique, invoking all of its moniker's implications: blackness, seduction, strangeness. Composed by Cécile Zarokian under the Creative Direction of Roberto Drago, Nerotic, (named one of Cafleurebon's Best at Pitti 2016), is a Philip Marlow hero and heroine rolled into one: neurotic and erotic, hard-edged and purring, a high pitch of bright fruit and sharp spice against a blurred backdrop of tar and smoke.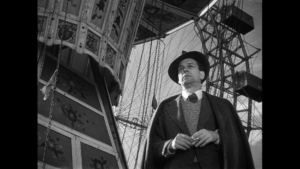 Joseph Cotton in The Third Man, 1949
Nerotic's first moments are like those skewed Dutch angles in The Third Man: a nighttime tilt-a-whirl flinging a dense mineral note against a bitter citric slash of bergamot and grapefruit. The effect is a little unsettling. I recognize amber, but it does not smell like the warm resin I am accustomed to. It is hardboiled, a tough guy in a square-shouldered suit – dry, half opaque, like smelling the inside of petrified wood.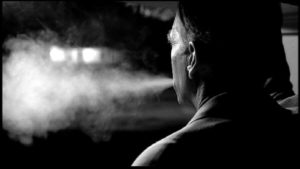 Billy Bob Thornton in the film The Man Who Wasn't There, 2001
As the perfume heats on the skin in the next few minutes, the mineral outlines color in, and Nerotic's amber taking on some of its familiar warmth while soapy green coriander is just detectable. In another few minutes, the notes separate out a bit more, revealing a secret: the dry mineral effect is created by interplay of citrus, peppery geranium and weathered cedar jumping on and off the amber.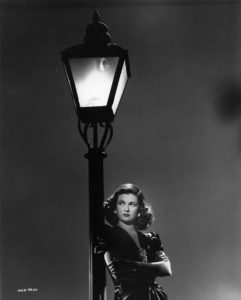 Joan Bennett in the film Scarlet Street, 1945
A strangely incorporeal second stage, in stark contrast to the hard-boiled opening, takes over. Nerotic's off-key opening starts to dissipate into the smudgy edges of smoke, like a femme fatale obscured by fog. Nerotic softens, losing its angular profile, and ducks into murky shadows against alley walls, steam rising from obscure city streets. Wet smoke mingles with tarriness that is slightly sweet, like a just-smoked cigarillo stubbed out on rainy pavement.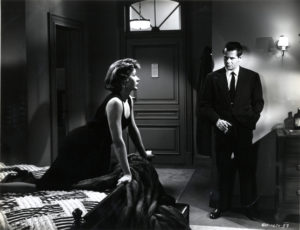 Gloria Grahame and Glenn Ford in The Big Heat, 1953
The dry down slows down to a different tempo. The blaring trumpet of the opening shifts to the low strings of a double bass. Nerotic becomes darkly erotic, leaving its asphalt and soot for an interior shot, a late night rendezvous. The smoke remains but mingles with dusty saffron and soft, worn leather — a joe's jazz club or a broad's hotel room. An undercurrent of unidentifiable sweetness plants a kiss and then is gone.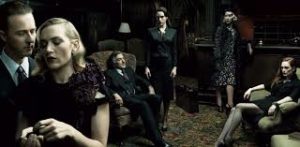 The Big Shoot, photo by Annie Leibovitz for Vanity Fair, Mar 2007
Nerotic takes me to place where dames in trouble seek trench-coated men with a past. Where black stilettos clatter on a wet city street as steam rises from manholes. Nerotic is dark, provocative, addictive, edgy, noir.
— Lauryn Beer, Editor
Notes: Bergamot, grapefruit, red fruits, geranium, coriander, saffron, woody dry ambery accord, sandal, leather accord, smoky notes. Longevity and sillage are exceptional.
Disclaimer: I received my sample from Laboratorio Olfattivo – many thanks. My opinions are my own.
Editor's Note: 2014 Patchouliful and 2013 Kashnoir are also signed by Mme. Zarokian. 2016 was a particularly good year for the House with the debuts of Nun and MyLo (Luca Maffei)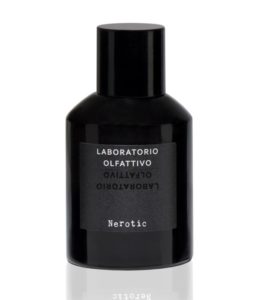 Nerotic, photo Laboratorio Olfativvo
Thanks to the generosity of Laboratorio Olfativvo, we have a 100 ml bottle of Nerotic for a registered reader in the US, Canada or Europe. To be eligible please leave a comment with what appeals to you about Nerotic based on Lauryn's review, where you live if you have a favorite Laboratorio Olfattivo fragrance or and if you have a favorite film noir. Draw closes 12/24/2016.
We announce the winners only on site and on our Facebook page, so Like Cafleurebon and use our RSS feed…or your dream prize will be just spilled perfume