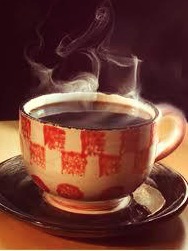 Steaming Coffee apped by MC
Can you imagine what a scent looks like as it travels through air? In my mind's eye I see tendrils of odors swirling and curling toward me – just like in the old cartoons – pulling me along, powerless to resist, on a fragrant magic carpet ride. I follow wraiths of cinnamon, vanilla and coffee through back alleys and busy streets into shops and bakeries where I whiff up the thick, warm, sweet atmosphere. I wasn't surprised to learn, a few months ago, that the old animators were very close to illustrating the unseen. Recently scientists, in an effort to give robots a sense of smell, discovered that smell travels through a medium in much the same way as do those tendrils and filaments pulled from the animators' imaginations.
Kerosene Follow courtesy of John Pegg and photo courtesy of John (apped)
Cult favorite artisan perfumer and former Youtube reviewer John Pegg of Kerosene Fragrances has a new perfume named Follow. Launched early October 2016, Follow is a coffee fragrance with a strong visual presence that has captured me, like those old images of scent, and given me a new take on the coffeehouse and patisserie experience.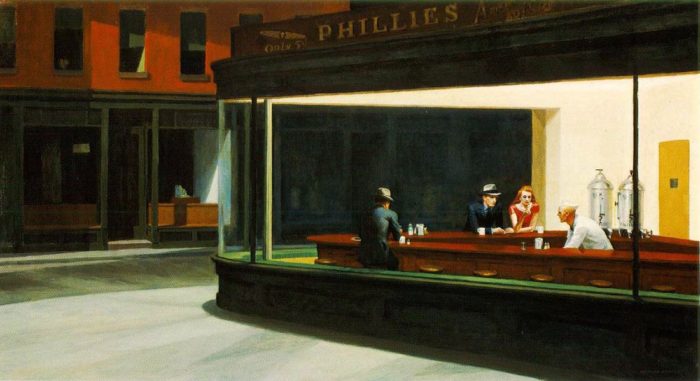 Nighthawks Edward Hopper 1941
I love the taste and fragrance of coffee – from the finest fresh ground and roasted Kona coffee beans to the smell of freeze dried decaffeinated. But as much as I love the smell and the flavor I can't drink the stuff. I love coffee but coffee just doesn't like me at all. That being said, I can still enjoy coffee whenever I want to – as a fragrance instead of a beverage.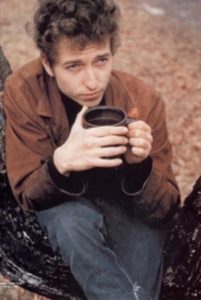 Bob Dylan Drinking Coffee 1960s
In another study researchers determined that the smell of coffee (yes, just the smell) has similar effects to drinking the real caffeinated thing. I have several coffee fragrances that I partake of from time to time, notably DSH Café Noir and Olympic Orchids Café V, among others. Until last week I really believed that I didn't need another brand of coffee. Then I sampled Follow.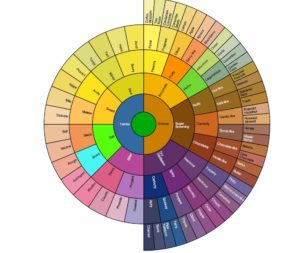 Coffee Tasters Flavor Wheel via Coffeebooks.com
What sets Follow apart from my other favorite gourmand/oriental coffee perfumes? Well, for the first five minutes or so, Follow smells more like a real cup of rich, sweetened, dark-roasted coffee than any other fragrance I've tried. I would probably want it just for that effect, but there's a lot more to Follow than that morning cuppa. After lingering over this warm, rich brew for five minutes I find myself tasting a hint of maple, cinnamon and fruity spice.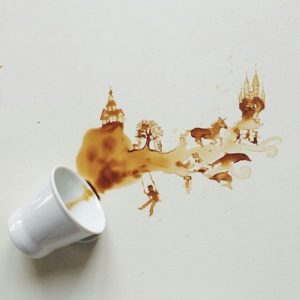 Giulia Bernardelli via instagram @bernulia creates art "accidently by spilling coffee
Every few years, in mid winter, I decide to tap our big leaf maple trees. I make maple syrup (a very time and energy consuming project that I don't recommend as a fun hobby). I also use the maple water – the sap, fresh from the trees – to make coffee and tea. This same ever so slight breath of maple-y goodness is what I smell in Follow. After an hour or so the coffee scent flows into vanilla, cream, tonka bean and amber with a hint of evergreen trees. Follow leaves a dark and strong initial impression. For the first ten minutes or so there is definitely enough sillage to attract nearby coffee lovers and have them following YOU! Follow also lasts a long time. I was still enjoying the vanilla and the full-bodied coffee fragrance six hours after my first "sip".
The perfume's listed notes include roasted coffee beans, vanilla, benzoin, tonka bean, maple sap and amber. John Pegg has brewed a fine cup in Follow and a new favorite fragrance for my husband, my son and me.
Gail Gross – Sr. Contributor
Disclosure: I received my sample of Follow from Indigo Perfumery, opinions my own…Thank you Ann!
Art Direction: Michelyn Camen, Editor in Chief
Editor's note: If you would like to watch Contributor Sebastian Jara's brief interview of Looking Feeling Smellling Great with John Pegg click here John was featured in our Profiles in American Perfumery series here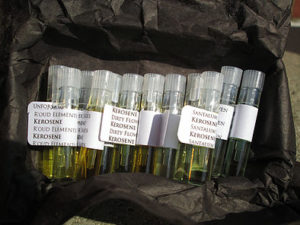 Thirteen plus samples in a tin case
Thanks to the generosity of John Pegg of Kerosene we have a draw for a US registered reader (you need to do this) for a sampler set of ALL THIRTEEN of his (1×13) perfumes including Follow PLUS bonus samples of Blackmail and Canfield Cedar. To be eligible, please leave a comment with what you enjoyed about Gail's review of Follow, if you have a favorite coffee blend and your favorite Kerosene fragrance. Draw closes 10/27/2016.
We announce the winners on our site and on our Facebook page, so Like Cafleurebon and use our RSS feed…or your dream prize will be just spilled perfume