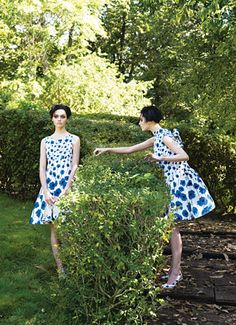 Garden of Delights Steven Meisel Vogue 2006
Certain Spring days are so perfectly beautiful that even a die-hard perfumista like myself will skip fragrance. The first few days warm enough to leave the windows open are days I never wear perfume; pure, fresh air is all I care to smell. When my lilacs and Korean spice bushes are blooming, no man-made fragrance can compete.But some perfumes seem as though they were made just for sundresses and soft spring breezes, and Jo Malone Nashi Blossom Cologne is one of them.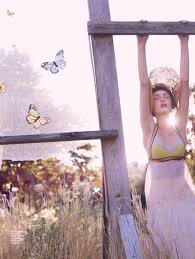 Fairyland Andressa Fontana by Amanda Pratt for Karen Magazine
Composed by Fabrice Pellegrin of Firmenich, and released in May, 2016, Nashi Blossom Cologne is the newest Limited Edition fragrance from Jo Malone London. Nashi is also known as Asian pear, and In East Asia the tree's flowers are a popular symbol of early spring. Jo Malone London describe the fragrance as playful, radiant and efflorescent, and they are spot-on.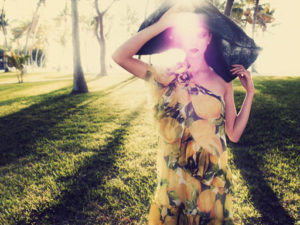 Rosie Tupper by Andreas Sjodin for Elle Sweden May 2011
Lemon as bright as spring sunshine greets you straight out of the bottle, and immediately sets that playful tone. The lemon is fairly substantial, not the typical fleeting citrus top note. It remains throughout the duration of the fragrance, adding zestiness to the crisp apple and sweet pear that soon join it.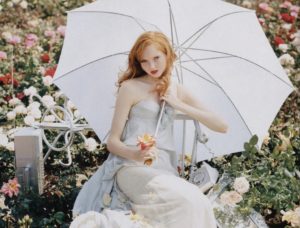 Vogue UK 2004 Lily Cole
M. Pellegrin did a wonderful job creating a blossomy feel to the pear and apple; I have never smelled Nashi blossom, but the effect here is definitely more of a floral with hints of fruit, very much like standing in an orchard in full bloom, with hints of the fruit soon to ripen. A hint of rose peeks out in the drydown, and to my nose, there's also a good bit of wood, although it isn't listed in the notes. The lovely bright lemon and pretty blossoms eventually meld into a cloud of soft musk, delicate but still sparkling and noticeable for 10 hours on my skin.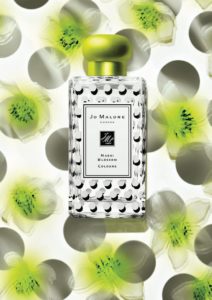 Jo Malone Nashi Blossom 100 ml bottle
This newest release continues the brand's tradition of celebrating petals and blooms each year with a limited edition, blossom-based fragrance. The bottles are always gorgeous and Jo Malone London have outdone themselves this year. Inspired by the speckled Nashi blossom itself, they adorned the bottle with black and white polka dots, and further enhanced it with a metallic chartreuse lid. It is guaranteed to put a smile in your face.
NOTES: Pear, apple, lemon, rose and softest white musk.
DISCLOSURE: This review is based on a bottle sent to me by the incredibly generous folks at Jo Malone London. It was the first time I had the pleasure of experiencing a Jo Malone fragrance and I can't thank them enough!
Tammy Schuster, Sr Contributor