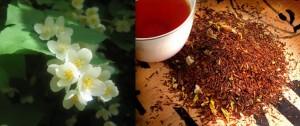 "In the Beginner's Mind, there are many possibilities. In the Expert's Mind, there are few." Shunryu Suzuki
There is something special about learning about perfumery, falling down the rabbit hole some call it. Nothing compares to the wondrous times when you're still learning the notes, the houses, and the noses while you train your palate and build your collection. It can be enormously difficult unless you are a perfumer to isolate individual ingredients and it can take a long time for your nose and brain to recognize certain notes, and even then, perfumes tend to twist and turn at the whims of their creators.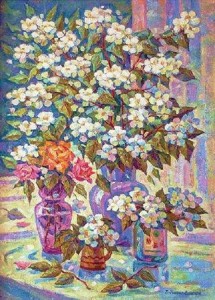 Tatiana Bogonina Vlasova- A Still Life with Jasmine
This is why discovering the work of Parisian perfumer Rania Jouaneh, and her Rania J. line of scents is so exhilarating. She creates scents whose compositions are largely based around one stunning heart note in each fragrance, so the wearer can luxuriate in their fullest expression. For instance, her Jasmin Kama is based around a luscious, deep jasmine absolute; the Rose Ishtar around a full Damask rose.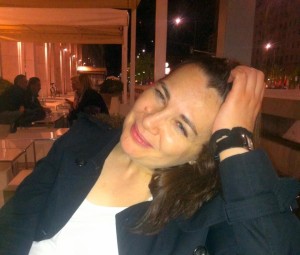 Rania Jouaneh of Rania J
She received her formal training in perfumery at the Cinquième Sens School of Perfumery in Paris, and the textures and fullness of these scents cannot be understated. Rania Jouaneh's style is very forward, lush and penetrating without being overbearing or noisy. The warmth and power here is devastating in its generosity to the wearer. There is an absolute confidence here in the excellence of her raw, natural materials and their ability to tell a finely-detailed story without use of subtle blending tricks or funhouse mirror distractions.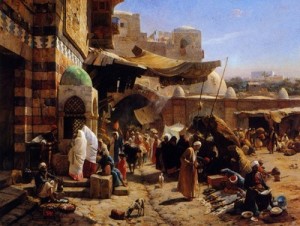 Gustav Bauernfeind Market At Jaffa
Rania Jouaneh's inspiration stems from her time growing up in Africa and the Middle East, and being surrounded at a young age by the many lush and exotic scents from market bazaars, souks and spending days underneath wildly redolent jasmine trees. Her grandfather was a spice merchant, and the line reflects this in its boldness and emotional power. Many perfumers like to build stories around the "exotic locales" their perfumes are meant to describe – Rania J's scents instantly stamp your passport and usher you through into a mysterious, heady Middle Eastern market bazaar. This may be the only scent I've ever tried where as soon as I applied it, ancient music rang in my head and I could hear the buyers and sellers haggling in the hot bright afternoon sun.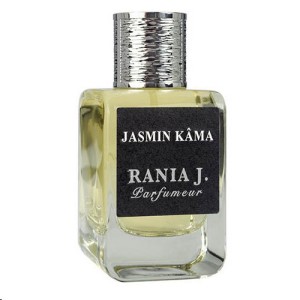 Rania Janoeuh also takes pains in her art to procure materials that are eco-conscious, and procured from vendors using traditional methods of extraction and only from sustainable sources. Her line eschews extraneous packaging and uses recycled materials whenever possible. I found this enormously refreshing, especially in a field where packaging melodrama is not only expected, but embraced. Rania J's perfumes are built in such a way that they'd suffer from overly theatrical presentation – there should be nothing distracting you from how fully these perfumes bloom on the body.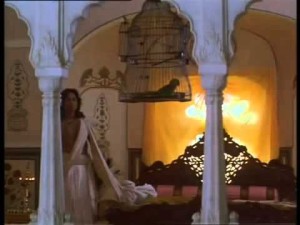 Movie Still from Tales from the Kama Sutra The Perfumed Gardens (2000) Gigi St. Blanque
Jasmin Kama is definitely one of the standouts from the line. It begins with a light burst of bergamot and Damask rose, but the top notes feel as if they are not meant as a traditional introduction to the scent. They act like a bright flash of color, like the fleeting glimpse of a sari disappearing around the corner of a market stall before the sweeping embrace of the Egyptian jasmine absolute in the heart envelops the senses.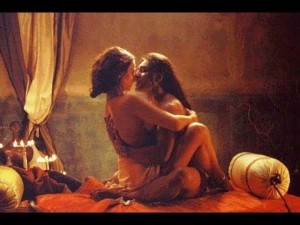 Indira Varma and Naveen Andrews Kama Sutra: A Tale of Love (1996)
Her limbs, entwined in yours like tendrils of fragrant jasmine creepers- Kama Sutra
Jasmin Kama is named for the Indian God of Love, and aptly so. The jasmine in this fragrance will make your knees tremble, your heart race and it makes no attempt to hold back its affection. It will bury you in its bosom for hours – a jasmine note discovered in the Kama Sutra. The drydown seems again to be a coda of sorts, to let you catch your breath from the intensity of the blazing heart in these perfumes. The patchouli, sandalwood and musk combine with vanilla and heliotropine to simultaneously provide some bite and an earthy/herbal edge to the jasmine's outer fringes.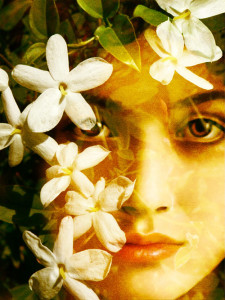 Jasmine by Izzard
The power and sillage in this line is strong – I could smell what was on my wrist while it was still at my side, so be prepared. They last several hours on the skin, with fantastic longevity and presence. But as generous as Rania J's perfumes are, they are "Jumping Labrador puppy" generous, so go easy.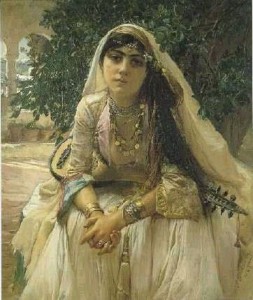 Algerian Girl 1888, Frederick Arthur Bridgman
Rania describes her offerings as "jewelry for the skin." I will go further and say to anyone who is new to perfumery that they are wondrous, exotic gifts. If you know someone who is new to discovering perfume, or about wearing individual notes, give them Jasmin Kama – the God of Love will set them free forever.
Notes: Bergamot, Rosa Damascena, Egyptian Jasmine Absolute, Patchouli, Sandalwood, Heliotropine, Vanilla, Musk
Steve Johnson, Editor
Art Direction-Michelyn Camen, Editor in Chief
Disclosure: I received my sample from Twisted Lily Fragrance Boutique and Apothocary in Brooklyn
We have a draw of three samples of Rania J Jasmin Kama for three USA readerswhich is exclusive to Twisted Lily Boutique in the USA. To be eligible you must be a registered ÇaFleureBon reader. Please leave a comment with what appeals to you about Rania J Jasmin Kama and how far along are you on your own perfume journey. Draw closes 4/30/2015.
We announce the winners only on site and on our Facebook page, so Like Cafleurebon and use our RSS option…or your dream prize will be just spilled perfume.