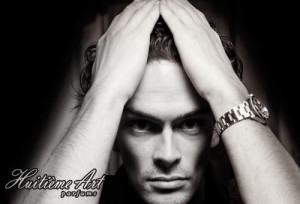 Perfumer Pierre Guillaume
Pierre Guillaume is one of my most favourite perfumers; his work for Parfumerie Générale never fails to dazzle me. His Phaedon line (recently lovingly overhauled) is inventive and stylish. Liqueur Charnelle is the latest addition to his oblique and oddly mysterious Huitième Art Parfums Collection, housed in the distinctive ceramic bottles with lids like abstract owl-heads. Like many of us, Pierre considers scent as art and has explored some complex and imaginative facets in his olfactory endeavours.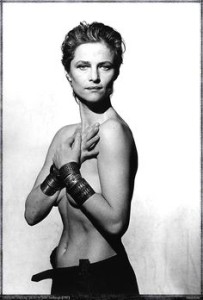 Charlotte Rampling:Hotel Nord Pinus II by Helmut Newton, 1973
Interestingly, the carded sample of Liqueur Charnelle has a quote by John Ruskin, the celebrated and controversial art critic and polymath inside: "Fine art is that in which the hand, the head and the heart of man go together". But in light of the Ruskin quote, it is the melding of hand, head and heart that often sets Pierre Guillaume's work apart from that of his contemporaries. This is an exceptional scent, one of the loveliest, throatiest things I have sampled in a while. The Huitième Art line is built on the concept of sparseness; each formulation constructed from a minimal selection of exquisitely chosen effects, accords and materials (a favourite of mine is Poudre de Riz, a huge cocooning of sweet powder that slides and shifts on the skin with an alluring ambiguity).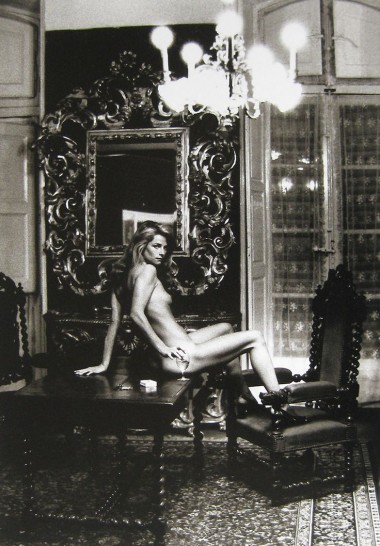 Charlotte Rampling:Hotel Nord Pinus II Arles by Helmut Newton, 1973
Liqueur Charnelle pays homage to the bouquet of cognac. I love the name. It's like a 80s French porn star name… 'ahhh oui, j'étais Liqueur Charnelle, une grande vedette des années 80s… (ahhh yes, I was Carnal Liqueur, a superstar of the 1980s). Ha. But seriously, this is beautiful perfume making with spices, a cognac accord, white tobacco and powdered woods listed as ingredients. This is typically Huitième Art. Behind these somewhat tenuous opaque notes lies impressive and complex assemblage from Pierre. Nosing cognac is different from wine and whiskies, the adjectives err on the sweeter, fruitier side of things: apricot, caramel, vanilla, prune and orange. Pierre has created a perfumed mirror of this ephemeral concept, presenting it in a clear and shimmering formula that seduces the senses as soon as it touches skin.
I smell crushed, frozen raspberries as the scent opens the arctic blush of shattered fruit and the stillness of evaporated ruby syrups on so many chilled jars and bottles. As the more dulcet tones of the cognac accord begin to spread out, the whole fragrance becomes increasingly richer and more indulgent. Many years ago, drunk in a Paris bar I watched a woman exhale boozy smoke into a lipstick-smeared brandy ballon. As the tendrils curled slowly into the sooty bar air, she closed her eyes and lay her head down wearily on the damp metal bar. For some reason this image surged into my head as I sat in bed, inhaling Liqueur Charnelle off the inside of my tattooed arm.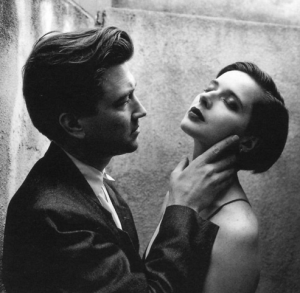 David Lynch & Isabella Rosselini by Helmut Newton
There are echoes of Avignon Rouge, my favourite Phaedon scent in this new Huitième Art. Avignon Rouge is a mix of murky, papal stain and wine-dashed stone. Incense shrouds sin in shadow. There is something a little confessional and haunted in Avignon Rouge, a sense of danger in the sweet, smoky darkness. Liqueur Charnelle shares this sense of sensual exigency, only this time the danger is so much closer to home; loving, kissing, and sharing skin before watching the sweet poison take effect.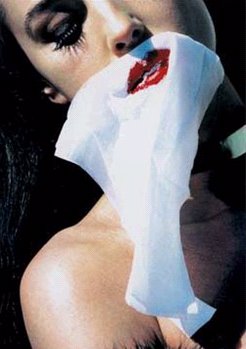 Monica Belluci by Helmut Newton
I imagine the poise of a scarlet woman, lacquered and softly powdered gently removing her lipstick traces from a tumbled glass, radiating her boozy amber allure into the air as her lover/victim fades into the night. The final moments of this lush scent are strangely abrupt, sad even, a scented door closing on traces of vanillic cocktail charms and berry dreams. Liqueur Charnelle is the perfect name for a scent so imbued with siren intent. Buy it. Wear it. Drown in it.
–The Silver Fox, Editor and Editor of The Silver Fox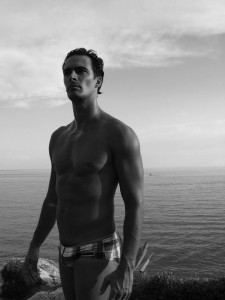 Photo: Courtesy of Pierre Guillaume
Art Direction: Michelyn Camen, Editor in Chief (Note: The Silver Fox sent me Helmut Newton's nude image of Charlotte Rampling at Hotel Nord Pinus II and then it occured to me that was the photographic path to follow in bringing Liqueur Charnelle to life. I have seen many photos of Pierre Guillaume, which are almost always black and white. There is a provocative erotically charged intensity to how Pierre is styled in each of his portraits that is strangely reminiscent of Helmut Newton's photography.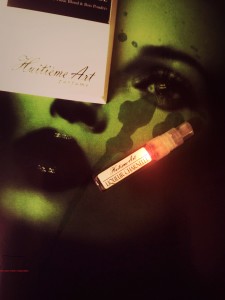 Photo: The Silver Fox for CaFleureBon sample of Liqueur Charnelle superimposed against an image of Kate Moss
Thanks to Pierre Guillaume we have a 2ml carded sample of Liqueur Charnelle to give to one reader in the USA or thanks to our friends at the Bloom Perfumery in London, we have a sample for a EU reader (please note due to postal rules, they cannot take responsibility if it is confiscated). To be eligible please leave a comment with where you live, what entices you about The Fox's perfume review and if you have a favorite perfume composed by Pierre Guillaume. Draw closes 9/10/2014.
If you will be attending Pitti Fragranze Sept 12-14, 2014 be sure to stop by the Parfumerie Générale Booth
We announce the winners only on site and our Facebook page, so like CaFleureBon and use our RSS option…or your dream prize will just be spilled perfume.