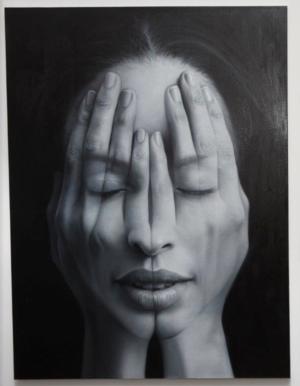 Mirror IV, painting by Tigran Tsitoghdzyan, 2013©
"But whenever eyes designing
Cast on thee a sudden spell,
In the darkness lips entwining
Love thee not, but kiss too well:
Shield thee, love, from evil preying,
From new heart-wounds—that it can,
From forgetting, from betraying
Guards thee this my talisman." — Alexander Pushkin, the Talisman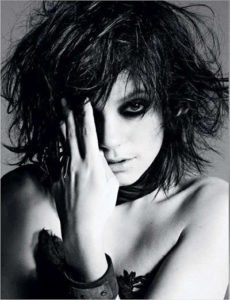 Lily Allen, photo by Alan Gelati, Harper's Bazaar Russia, Jan 2010©
If you look deeply into a person's eyes, it is said you see into their soul. Eyes are the gateway to our secrets, the keeper of our fears, the oracle of our desires. They can give us away even when words contradict.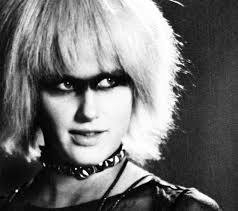 Pris, played by Darryl Hannah, Blade Runner, 1982
Obscuring the eyes with darkness has long been thought to ward off evil in many cultures, such as the black-bordered eyes associated with hieroglyphics. Even today, rimming the eyes with darkness is a self-defensive act in some parts of the world, finding its way even into Western popular culture. Remember Pris from the sci-fi classic Blade Runner? She spray paints a black mask across her eyes to prepare for her final showdown.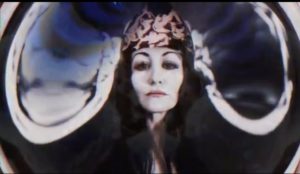 Christi Meshell still from her video of Antimony
The material used by the ancient Egyptians was the mineral antimony, the inspiration for House of Matriarch's Christi Meshell. Antimony is her contribution to a special series named Project Talisman to commemorate Cafleurebon's 7th anniversary, in which seven perfumers imagined scent as talismans.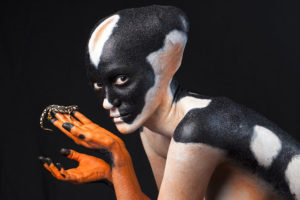 The Metamorphosis, photo by Robin Moore©
Antimony, a relative of lead, is, in its purest form, heavy and impenetrable. It is unsurprising that ancient civilizations would have regarded it as an effective substance to keep malevolent spirits at bay. Christi Meshell's Antimony, with a dense construction recalling its namesake, also has a chameleon nature. It changes constantly, smelling of smoke one moment, burnt woods the next, crushed, ashy flowers moments later. Move towards it, and it will smell of embers; move away, and it is resinous unguents.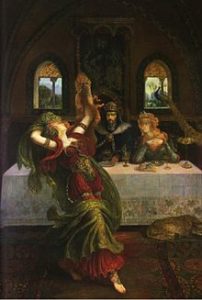 Dance of the Seven Veils, Armand Point, 1898
Christi Meshell's formula contains an astonishing 111 notes, with names that sing of civilizations long past: kewra, mitti, copal, kadam, frankincense. This could have made for a perfume as thick and muddy as the Nile. But Antimony bares itself in layers, like Salome's Dance of the Seven Veils, each seam uncloaking another charm. It opens in a cloud of temple smoke: smoldering wood embers, dusty sandalwood and, yes, charred frankincense, bitter and smoky. As the smoke recedes, kewra – a potent Indian/Pakistani extract with aspects of honey and hyacinth –is joined by the terracotta-spinach aroma of henna. These plant notes take over from the incense and woods in the second stage for a brief time.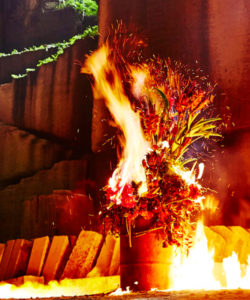 Burning Flowers, Azuma Makoto, art installation
Warming on the skin, the piney-lemon note of Palo Santo comes forward, but the burnt woods return, this time accompanied by ashen flowers. At one point, Antimony turns medicinal, as oud surfaces. But hold your arm away, and Antimony changes her colors again, turning to scorched flowers, rose one moment, jasmine another.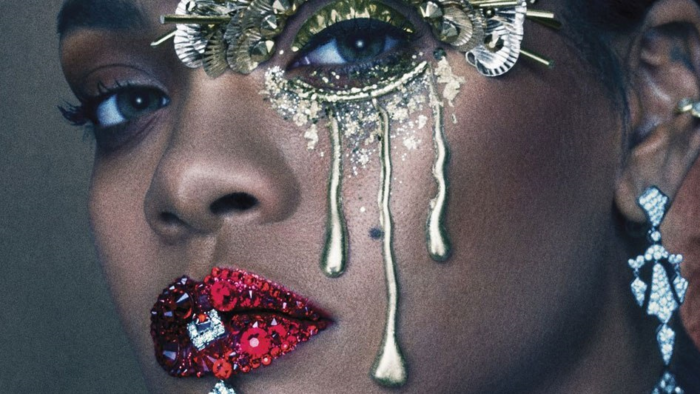 Rihanna, photo by Steven Klein, W Magazine, Sept 2016©
The later stages have a quiet, faceted glow, like a topaz glinting in firelight. Something mildly spicy, possibly nasturtium, joins the woods and flowers, each taking center stage for a few moments before stepping back. As it dries down, Antimony summons the classical world as its strangely beautiful blend of attars; resins and woods rise like an echoing chorus. Yet it is quite modern in its changeability; as if Meshell had found and translated runes detailing an alchemist's formula, but then put her own spin on it.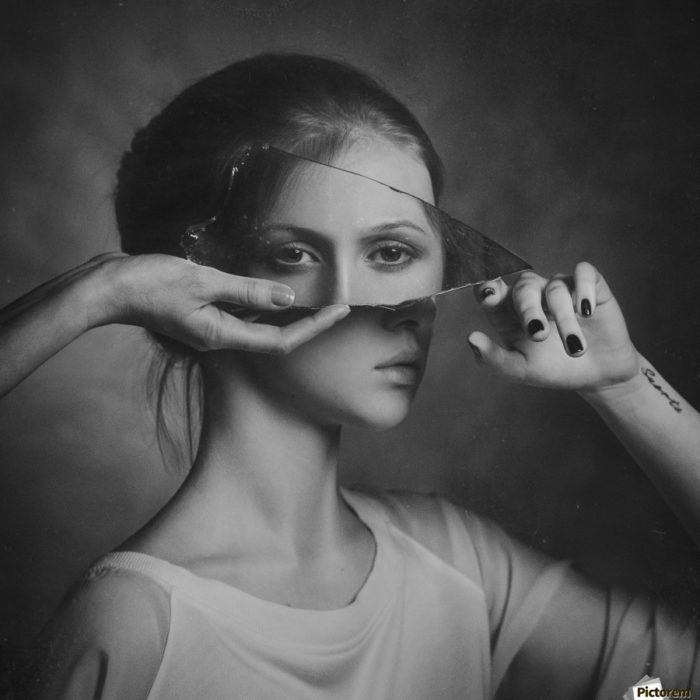 Invasion, photo by Paul Apal'kin©
Our world is disordered, magnificent in both its beauties and its tragedies. Its chaos requires an amulet that can adapt to its bewildering challenges. Protean Antimony is modern camouflage for a shifting world.
Notes: charred frankincense, kewra, henna, Palo Santo, nasturtium, juniper, galangalsandalwood ashes, spikenard, ghee, copal, oud precious attars of mitti, kadam and rose.
Disclaimer: sample provided by House of Matriarch – many thanks. My opinions are my own.
— Lauryn Beer, Editor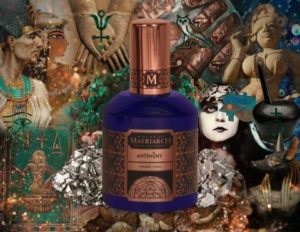 Antimony Talismanic Khol Perfume
Thanks to the generosity of House of Matriarch we have a15 ml flacon of Antimony for 1 registered reader anywhere in the world. To be eligible please leave a comment with what appeals to you about Antimony based on Lauryn's review, a famous person or someone you know who rims their eyes with khol, and where you live. If you have a favorite fragrance from HOM please let us know. Draw closes 3/24/17.
Editor's Note: Since I was 13 and began to wear make-up, I always rimmed my eyes with khol (I think it was Madeleine Mono) . I still do… beauty as talisman, who knew?. This is a limited edition and will sell quickly.
We announce the winners only on site and on our Facebook page, so Like Cafleurebon and use our RSS FEED…or your dream prize will be just spilled perfume