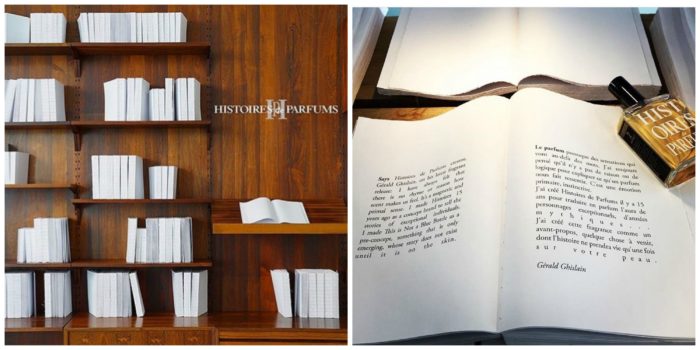 Histoires de Parfums Library Perfumes (Photos: Gérald Ghislain)
George Sand, Casanova, Eugenie de Montijo, Jules Verne, Hemingway and the Marquis de Sade may seem to be strange bedfellows. Yet each sits alongside the others in the select library of Gerald Ghislain, founder and Creative Director of Histoires de Parfums, where perfumes are storytellers.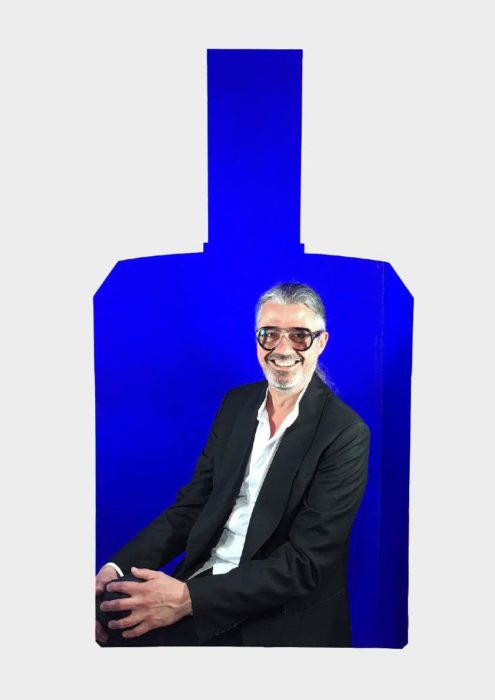 Gérald Histoires de Parfums This is Not A Little Blue Bottle (photo courtesy of Histoires de Parfums)
In 2016 and continuing into 2017, M. Ghislain has left the library, for an abstract art gallery where the stories of fragrance do not become known until they open on the skin.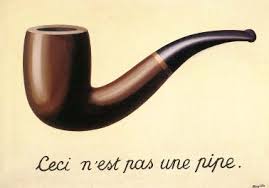 The Treachery of Images, Rene Magritte, 1928-29
M.Ghislain's three numbered Abstract fragrances, each surtitled Ceci N'est pas u"n Flacon Bleu" (this is not a blue bottle – a nod to Magritte's famous surrealist painting "The Treachery of Images") bring haute fragrance to all; half ounce bottles to be sold for $35. All three perfumes were created in collaboration with young scent stars Julien Rasquinet of IFF and Luca Maffei of Atelier Fragranze Milano.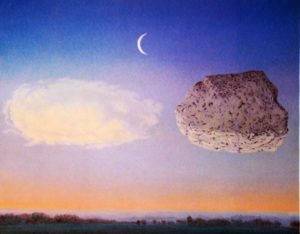 Renee Magritte Le Batielle de l'Argonne
No. 1/1, aka "This is Not a Blue Bottle," was launched in 2016 (Julien Rasquinet) and is a burst of bright orange and sparkly aldehydes that pops like streamers escaping from a pressurized can. As the fizzy orange notes whizz around, a slither of honey creeps in and pulls them gently to earth, aided by velvety-pepper geranium leaf. These scents play volleyball with each other for a while, until the amber turns up and starts to solidify the giddier notes. Amber here is subtle, bone dry, adding weight to the composition like a resinous anchor to the damp leaf aromas of the patchouli base. Notes: Aldehydes, orange, geranium, honey, amber, musk, patchouli.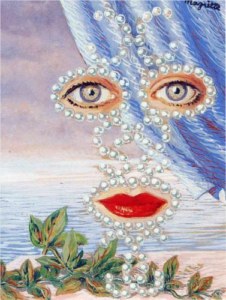 Rene Magritte Sheherazade c1950
No. 1/2 (Luca Maffei) is the "perfume of light" in the Blue Bottle collection. And, indeed, there is weightlessness to 1/2 that makes it float like gossamer silk, seeming to hover above the skin. This does not imply that 1/2 is insubstantial. Somehow, perfumer Luca Maffei has managed to create a fragrance of suggestions: there is ivy, bay rose, muguet, and vanilla, all of which I smell in the opening.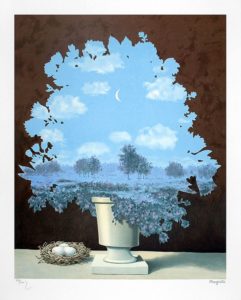 The Country of Marvels, Renee Magritte
But, with the exception of the vanilla, they never smell completely like themselves. And yet, there is none of the aldehydic linen/clean musk quality traversed by other perfumes attempting to translate the concept of light. No 1/2 is an airy, puff pastry floral, like the fragrance of spring blooms caught only with a passing breeze. Notes: Lierre (ivy) baies rose, lilac, lily-of-the-valley, ylang-ylang, sandalwood, vanilla, white musks.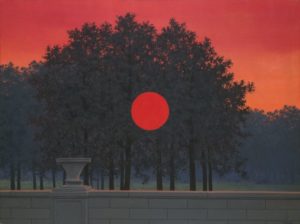 Le Banquet Renee Magritte
No. 1/3 (Julien Rasquinet) is the smell of rose and saffron simmered in blood orange juice. Meant to evoke fire, the opening of 1/3 is dominated by soapy, peppery saffron and forceful, masculine leather, thick with tannin. But then, in just a few minutes, a full-bodied red rose gets going, opening with tremendous warmth, and 1/3 starts to give the impression of actually heating on the skin. This is the inverse of 1/1: both are orange-dominated Rasquinet creations. But where 1/1 is alternately fey and grounded, 1/3 is hot-blooded, emotional. Wearing them side-by-side on my arm creates a rather beautiful, if disruptive, medley.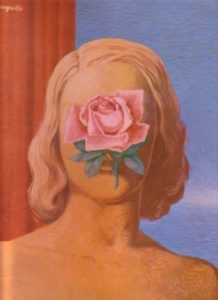 XXe Siecle Cover- Renee Magritte 1965
This is what I think of as a near/far perfume, with two distinct personalities depending on how closely you breathe in the scent. Sniff deeply, wrist under your nose, and No.3 is sweaty leather mixed with saffron and something vegetal with a rooty, vetiver-like vein. Hold your arm away, and a radiant rose and ruddy orange sing out loud, settling down the aggressiveness of the leather. In the dry down, the leather/saffron and rose/orange duets come together with musk like a chorus at sunset. Notes: Blood orange, rose, saffron, patchouli, musky leather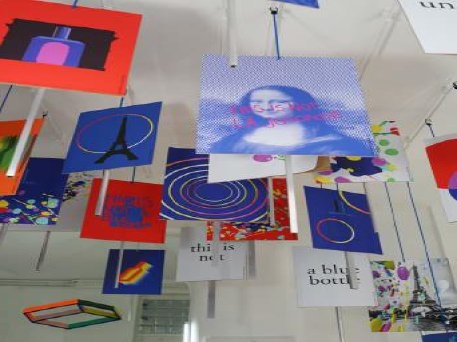 This is Not A Blue Bottle Display courtesy of Histoires de Parfums
There is coherence between the three perfumes that makes them feel like companion pieces in the same gallery. With their accessible pricing and uncompromisingly high quality, This is Not a Blue Bottle series proves that art and commerce need not be enemies.
Disclaimer: samples provided by Histoires de Parfums – many thanks. My opinions are my own.
— Lauryn Beer, Editor
Art Direction: Michelyn Camen, Editor in Chief (Magritte bien sûr)

Left to Right: 1/1, 1/2 and 1/3 60 ml/$105
Thanks to the generosity of Gérald Ghislain and Histoires de Parfums, we have a reader's choice of a 2 oz. bottle of 1/1, 1/2 or 1/3
OR

15ml/$35 each (1/1, 1/2, 1/3)
A set of all three 0.5 oz. bottles for one registered reader worldwide.
To be eligible please leave a comment with what appeals to you about the three "This is Not a Blue Bottle" perfumes based on Lauryn's reviews, if there was one you think you might best and why, where you live and which you would choose should you win, i.e. 15 ml x3 or 2 oz of your choice. Draw closes 2/5/2017.
We announce the winners only on site and on our Facebook page, so Like Cafleurebon and use our RSS FEED… or your dream prize will be just spilled perfume