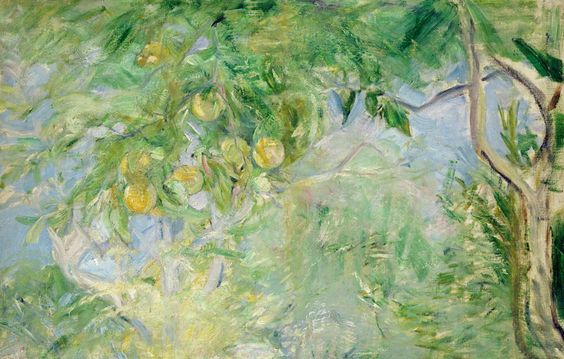 Orange Tree Branches. 1889. Berthe Morisot
Netherlands' Natural Perfumer Hiram Green has released his fourth perfume Dilletante to much anticpation. Wikipedia defines a 'dilettante' as: "a person who enjoys the arts or someone who engages in a field without investing the usually required effort." and Dictionary.com, "a person who takes up an art, activity, or subject merely for amusement, especially in a desultory or superficial way; dabbler." This caused me much confusion at first, as Mr. Green is far from a dabbler, having constructed natural perfumes which propel and evolve the standard for the genre and has paid his dues in both the business and creative ends of the perfuming spectrum. So what is it he is trying to say with this odd name? I have to imagine it is the deceptive simplicity found in the homage to the orange tree and its three main aromatic offerings: petitgrain, orange blossom/neroli and orange oils.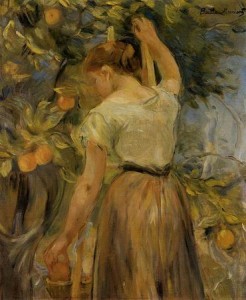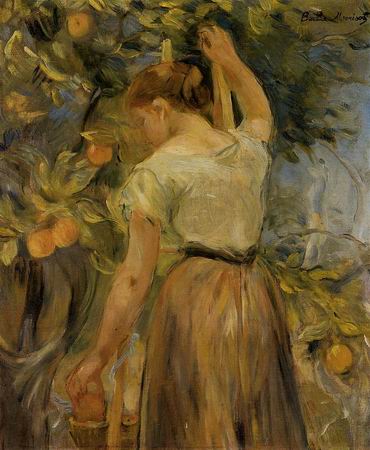 Young Woman Picking Oranges by Berthe Morisot
Far from a soliflore, this triptych of oils gives a complete olfactory vision of the 'giving-tree', wherein one can observe three seasons in one spray. Dilettante opens with indolic sweetness of blossom, boosted by orange and given structure by petitgrain. There is the hallmark of a natural perfume in the way they tend to go through phases of wear, although Hiram has extended this interplay from a couple hours into a range of 5 to 8 hours (this is but one reason Hiram Green is upping natural perfume standards.)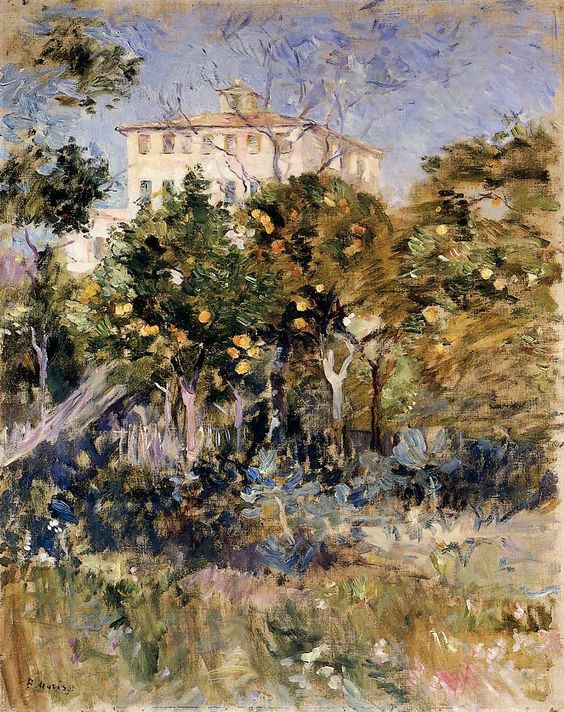 Villa with Orange Trees, Nice, 1882 Berthe Morisot
Hiram described Dilettante as an enchanted and light-hearted celebration of summer. Enchanted yes, but this is no summer fling. There is much to be discovered in the accessory notes which are present but hard to put a finger on.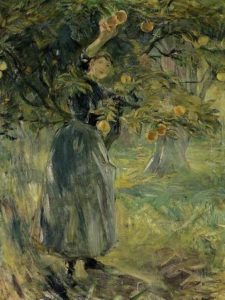 The Orange Picker Berthe Morisot
Dilettante could easily translate into any season, provided one is fond of the orange tree in general. There is a resinous smoke in the dry down which is sublime in its reservation and refusal to take over any stage of Dilettante, as well as hints of spice and an effervescence similar to, but more subdued than 2015's Shangri-La.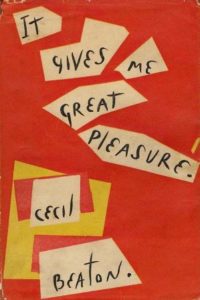 In short, this is a perfume of joy
Notes: Petitgrain, neroli, orange
*disclosure: my sample was provided by the kind folk at Twisted Lily for review.
–Einsof, Natural Perfume Editor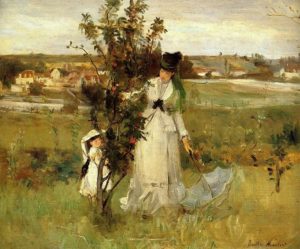 Chasing Butterfilies Berthe Morisot
Editors's Note: I have a sample of Dilettante and for me it brought to mind the late 19th century art of French Impressionist painter Berthe Morisot. Deceptively simple, but masterly. Hiram Green received A CaFleureBon Best of Scent for Best Natural Perfumer of 2014 and last year the limited edition Voyage debuted…an ode to Lake Pichola and Octopussy's floating palace, which is still available at Indigo Perfumery .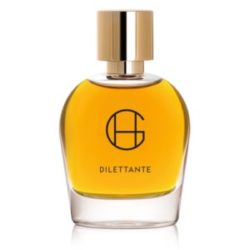 Thanks to the generosity of Hiram Green we have a draw for a 50 ml bottle of Dilettante for a registered reader USA, Canada or the EU . To be eligible please leave a comment with why you want to win Dilettante based on Einsof's review, if you wear "summer" fragrances year round, where you live and your favorite Hiram Green perfume. Draw closes July 15, 2016
We announce the winners on our site and on our Facebook page, so Like Cafleurebon and use our RSS option…or your dream prize will be just spilled perfume