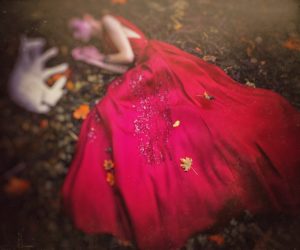 Magda Laguinge from the Fashion editorial 'Couture Adventure', by Jumbo Tsui for Harper's Bazaar China, December 2013 (digitally altered by TSF)
'A slumber did my spirit seal;
I had no human fears:
She seemed a thing that could not feel
The touch of earthly years'. From 'A Slumber Did My Spirit Seal' by William Wordsworth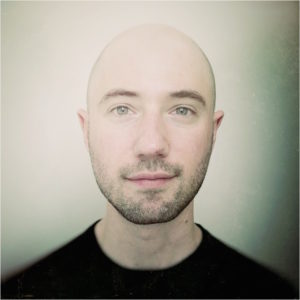 Hans Hendley Portrait by TSF
I love the work of Hans Hendley, he is a very special guy; when I reviewed his debut collection for the Foxy blog in March 2015, I realised there was something unique and sensual in his stillness and capture of the world whether through his glowing, jewel-like olfaction or the luminescent precision of his photographic hinterland. He has an incredible visual eye that reveals itself in series after assembly of soothing atmospheric images. Hans has a BFA in Photography from the University of North Texas School of Visual Arts and has worked in a lomography store in New York, passing on his skills and visual know how to others. Everything he creates is informed by his careful, patient persona. There is exquisite attention to detail in his work from the tincturing of materials, the determination to surprise and surpass himself, the inherent beauty of self-improvement alongside his crafted labels, logos, boxes, sealing wax and small personal touches that imbue his work with humble pride and artistry.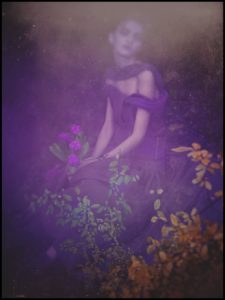 Fashion Editorial 'Secret Shore', Magda Laguinge by Jumbo Tsui Harper's Bazaar China
I have Fume, Auric, Bourbon and Rosenthal in my collection; all of them beautiful. Fume thrills me with its dirty forest smoke and haunted spaces littered with galbanum tread and medicinal shade. My bottle of Bourbon is shifting in the darkness of my study, the throaty, woozy vanilla, heavy on the tonka and an unusual tawny cognac oil to exalt the sooty sheathed bean. Rosenthal is my favourite, a darkened anisic, chewy rose with darkness on its mind. A mix of unctuous sandalwood, patchouli and spiky juniper add a strange dimension to a smoky and arrestingly sensual rose. The Hendley collection is signed throughout by a deeply personal signature,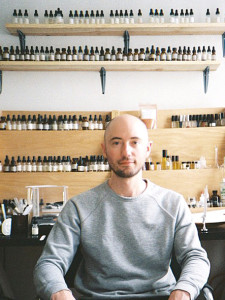 Hans Hendley in front of his perfume organ (Hans Hendley)
Hans has worked hard to control his beautiful materials and accords, arranging them to create intrigue, pulchritude and pursuance. The spearmint and violet of Jade, orris root and ginger of Gia and the patchouli oil, orange blossom and cacao extract in Auric; these things are the imaginings and concrete olfaction of someone who has purpose, on a journey to redolent revelation.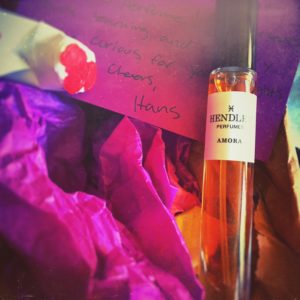 Hendley Perfumes Amora ©TSF
Now we have Amora, which in this Fox's humble opinion is not only Hans' best work to date, but also one of the most addictive and beautiful perfumes I've smelled in a while. The addiction of it is part of the perfume's distinctive character. You will know what I mean when you try it; you will it very hard to stop inhaling your our skin. I became oddly obsessed with my wrists to the point where they no longer felt like my own. If you had sprayed Amora on me and told me it was a new MDCI or Chanel Les Exclusif, something from Mathilde Laurent at Cartier I might have been swayed to believe you, the blending and quality of materials is that good. I don't want to sound like I am any way throwing shade at the earlier work, because I love them and wear them all the time, but Hans himself is aware it has been a year and half since he has launched anything and he is a little jittery about the reception to Amora. He has been honing and developing his techniques and any worries he has are utterly groundless. Amora marks that moment when he moves from hardy proud wool to finest molten cashmere, the feel and texture of this composition is exquisite.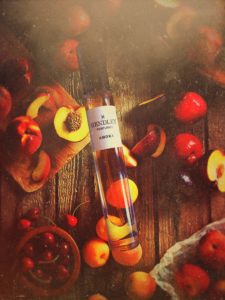 Amora Image ©TSF
I knew as soon as I inhaled it I had such words for it, Amora is a story scent, woven with love and passion. It is built essentially from luscious stone fruit accords, peaches, plums, cherries, nectarines and apricots mixed with berries, a stunning rose absolute, blonde tobacco, sweet resins, musks and ambergris. Everything has a delicious sense of abandonment, a sweet boozy fall, underpinned by decay, lipstick and fumy dust.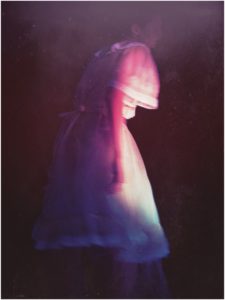 Girl in white – Fashion Editorial for LIFE MAGAZINE 2016 June Issue Jumbo Tsui
For me Amora tells the tale of a beautiful girl who has left her quiet forested lands to walk runways and grace a thousand glossed pages. Now she is exhausted, homesick, tired of the fluttering hands in cacophonous ateliers, striding runways in shoes of mousebone and peacock feathers while couture pricks blood from her pale skin. The lights and photographers dull her eyes; the judgemental frow and social media erode her. One night waiting her moment in a trailing gown of red silk feathers and hours upon hours of blood-flecked embroidery, Amora turns and walks away; away from the lights and voices, picking up her shoes and running barefoot down corridors and out into the streets and cold night. Traffic and city life exploding around her, she walks, her gown gathered in her arms, in and out of the cars, ignoring the calls and leers. After hours of silent walking, she reaches the edge of the city that has held her tight for so long; beneath is green and the scent of trees, leaves and the sounds of wing and claw.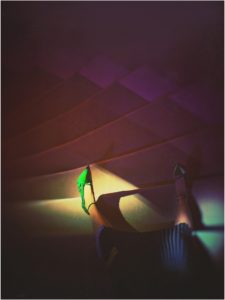 Sui He 'In the Shadows' Fashion Editorial for Modern Weekly China by Jumbo Tsui
Eyes watch Amora in her red of red gown as she moves though the trees, pale skin glowing in the moonlight. It feels a little like coming home she thinks as the small house appears through the verdancy, overgrown but alive and welcoming, lit she realises by morning sun pouring down from above. Small fragments of scarlet feather and pearlescent beads are discarded across the forest floor as Amora walks languidly to the door. Inside, the room is suffused with honeyed light from rough-hewn stained glass blocks filtering the sun. A scarred wooden table in the centre of the room is scattered with tumbled fruits, golden apricots, cherries, furred peaches, nectarines and an array of green, purple and burgundy plums. Some are fresh and vibrantly alive, others decaying, dropping softly into the table surface. Everywhere is dust, the floor littered with rose petals and some forgotten fruit, the air sugared and acerbic by turn. A fire has recently been extinguished; the ghost of smoking wood hangs in corners and edges of the room.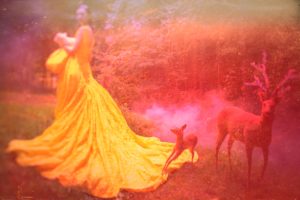 Magda Laguinge in a Fashion editorial 'Couture Adventure', by Jumbo Tsui for Harper's Bazaar China, December 2013
Amora is exhausted, she needs to sleep; the heady scented air in the room is making her drowsy. The hints of narcosis, powdered jamminess and glowing fruits cause her to swoon to the bloom-strewn floor. Outside from miles around, birds, deer, lynx, wolves, snakes and bears gather at windows and door to watch over Amora as she slumbers and inhale the exquisite smoky, sweet vanishing. They have seen this before, this sleep, so deep, so beautiful amid the fruits and roses. This is Amora, the delicious addictive fairytale, a scent that will obsess your skin. Hans Hendley has created a perfume of rare magnificence. Buy it, slumber amid the fruit and roses, wear your own skin like a dream.
Disclosure: My 9ml bottle of Amora was sent to me by Hans Hendley. Thank you. All opinions my own.
–The Silver Fox, Guest Contributor, and Author of The Silver Fox
MC Editor's Note All photos by Jumbo Tsai and have been digitally altered by TSF: Hans' Auric won a 2015 Cafleurebon Best of Scent and Hans Hendley has participated in our Perfumers Workshop The Perfume Organ. Our Reviews of Tama, Auric, Bourbon and Rosenthal here and Fume here
Thanks to Hans Hendley of Hendley Perfumes we have a worldwide draw for a registered reader (you need to do this or you are ineligible) for a Amora 9ml travel spray or a sampler set of the seven fragrances in the line Amora, Auric, Rosenthal, Jade, Bourbon, Fume and Gia. To be eligible, please leave a comment with what you enjoyed about The Silver Fox's review (he REALLY REALLY loves this one folks), where you live and which of the offers of sampler or sprayer you would chose should you win. Draw closes 10//7/2016
Follow us on Instagram @cafleurebon @everdandysilverfox and @hendleyperfumes
We announce the winners only on site and on our Facebook page, so Like Cafleurebon and use our RSS option…or your dream prize will be just spilled perfume.