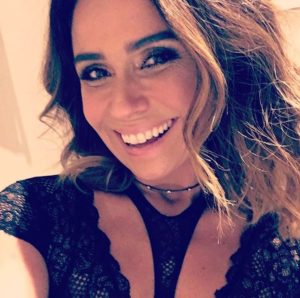 Giovanna Antonelli Brazilian Actress and superstar via instagram
Perfumes fronted by a famous celebrity (a.k.a Celebuscents) often get a bad rap or are ignored completely, many times with good reason. So what happens when a celebrity who is passionate about fragrance works with world-class perfumers, using only top notch ingredients? Small stunning miracles, as attested to by award winning Brazilian actress and producer Giovanna Antonelli. You may not have heard of her, here in the States, but in Brazil (a country roughly the size of the USA's lower 48) she is theatrical royalty (her instagram page @gioanto has 5.7 million followers). After a chance meeting with the actress, and having fallen in love with her indomitable spirit,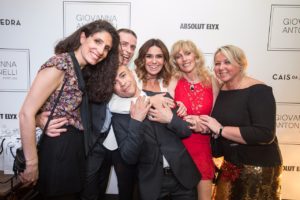 from left to right Mathilde Bijaou,Lionel Guignard, Giovanna (with Edson Fernandes in her arms) and Monique from Mane (photo for CaFleureBon)
Brazilian designer Edson Fernandes along with his business and life-partner Lionel Guignard took a chance, and promising to create world class niche perfumes pitched the idea of a fragrance line to Senhora Antonelli. Despite having turned down numerous fragrance and beauty endorsement possibilities in the past, as a perfumista, she was excited about direct engagement in the project.
Giovanna Antonelli photo courtesy of COURTOIS/mourot
Thus was born a new Parisian fragrance companycalled COURTOIS/mourot and its first namesake fragrance range, inspired by Giovanna Antonelli is haute parfum all the way. All three of the perfumes in the new Giovanna Antonelli range are inspired by Giovanna herself who was hands on in every aspect of the perfumes and each scent contains the number "11" in its name, a reoccurring number in her life that has come to represent "amor, alegria, abundância, felicidade, é boa sorte" (love, joy abundance, happiness, and good luck.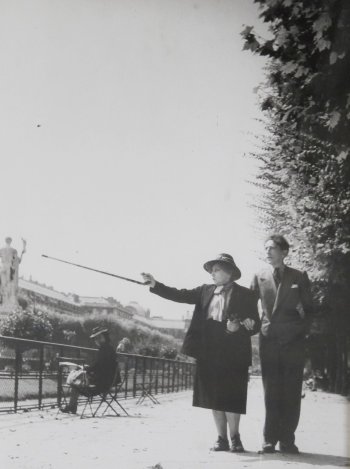 Jean Cocteau and Colette at the Jardin du Palais Royal, photographed by Serge Lido
411 Intenso was inspired by the Palais-Royal, a landmark of Parisian life, which although a bit antiquated still feels like a profoundly contemporary setting imbued with the spirits of Molière, Colette, and Cocteau. Home to La Comédie Française, romantic gardens and shops both old and new sheltered under arcades, it remains one of the most charming corners in the city of light, naturally chic, without ostentation. Composed by Julie Massé, perfumer at Mane, who is no stranger to fine perfume having created Prive Armani's Pivoine Sozhou (with Cecile Matton), Si Le Parfum, and Si Rose, Fleur Universelle and Terres Aromatiques for Lalique, and notably for Shay & Blue London fragrances. Her thoughts,"Giovanna reminded me of the Palais-Royal; a woman in love with beauty, feminine, a little theatrical, who appreciates beautiful classical things and appropriates them by modernizing them."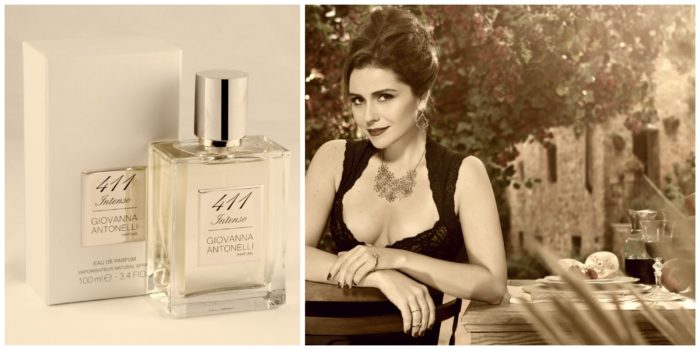 Giovanna Antonelli and 411 Intenso apped MC
411 Intenso opens with a sharp rose and fresh bergamot, nose-tickling pepper, spicy and sweet but quickly turning dry, slightly dusty and summery yellow as the chamomile creeps in giving it a hint of the classic and old-fashioned perfumes of bygone eras. For awhile it borders on the comforting green and herbal astringent aroma of an ice cold glass of tisáne, condensation droplets running down the sides, served by your favorite "black-sheep-of-the-family Aunt in a sun-warmed afternoon kitchen. The scent of the highly polished wooden table, centered by a vase of wild grasses and flowers, woody and arboreal, dust motes dancing on the shafts of golden light streaming through the open windows, a waft of your Auntie's sweat covered over by her heady peony and floral-scented splash cologne, and filtered through her vintage yet SO au courant Hermes scarf. Haunting, wistful, and beautiful as a daguerreotype seen through the sheerest bridal veil lens. Notes: Rose de Bulgarie, Bergamot, Pepper, Chamomile flower, Jasmine sambac, Ylang ylang, Peony, Patchouli, Amber, Vetiver, Sandalwood.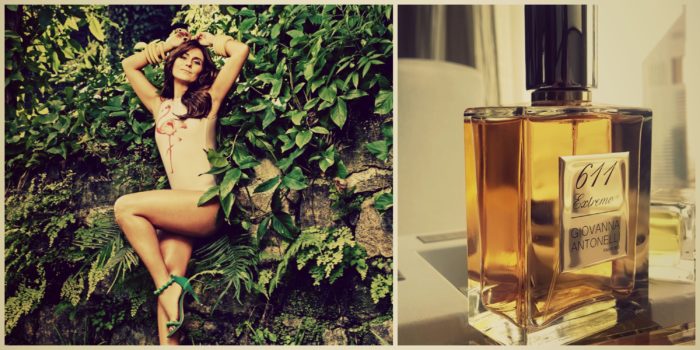 Giovanna Antonelli and 611 Extremo apped MC
611 Extremo, (composed by Cecile Matton who created Josephine Baker for EldO, Baby Doll for YSL, Valentino Gold, and Elegance Animale for Lalique among others) is inspired by the Rio Botanical Garden blossoms at the foot of the Corcovado peak in the very heart of Rio De Janeiro, the Carioca city. Mme. Matton says, "As a true nature lover, Giovanna wished to dedicate a perfume to this extraordinary green space where she loves to walk with her children. The heart of Giovanna is pure Carioca, joyful, generous, and radiant. She inspired me to create a fragrance dominated by a vibrant urban tuberose, a fragrance with sensual and spicy notes that leave an unforgettable trail." With 611 Intenso Ms. Matton has created a perfume as lush, tropical, humid and heady as Rio itself. Having spent a fair amount of time in the Rio Botanical Gardens, I can speak to its green, shady, and wooded beauty, meandering paths, lakes, footbridges, Japanese garden, and multitude of stunning tropical birds.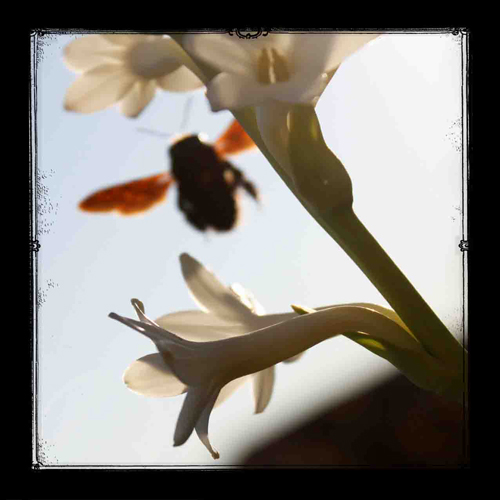 Tuberouse collage MC
Of the 345 park acres, only forty percent is "park-developed" the rest kept in wild forest creating one of the critical green lungs of the city. This perfume is all about the tuberose, from start to finish the tuberose note is present and persistent, while the other notes lap at its edges, helping to create a context for the buttery and almost candied aspects aspects of the moist and dripping tropical bloom. If you love Tuberose as I do, this glorious almost-gourmand celebration of tropical Brazil will definitely want to be in your collection. Notes: Rhubarb, Pear, Bergamot, Tuberose, Egyptian Jasmine, Hawthorn, Licorice, Iris, Benzoin, Vanilla.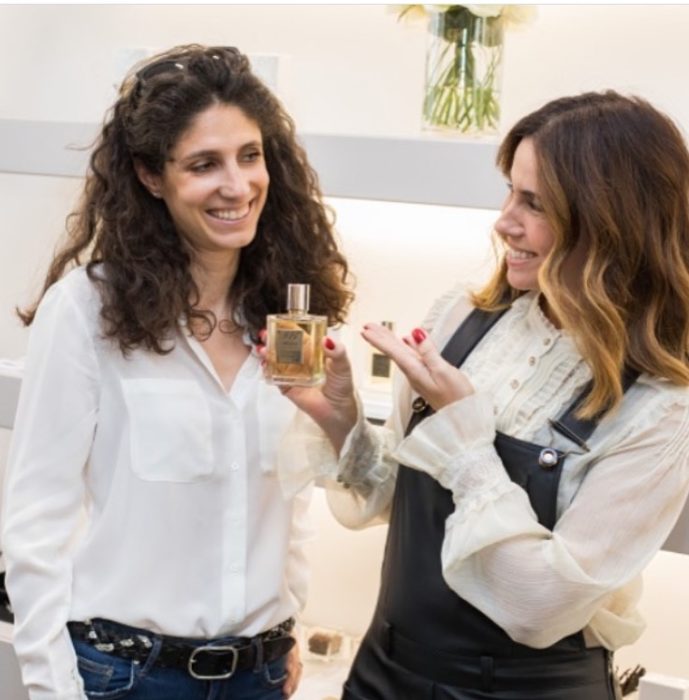 Mathilde Bijaoui and Giovanna Antonelli via Instagram
According to Mathilde Bijaoui, who has given us unforgettable scents like EldO's Tilda Swinton Like This and Bijou Romantique, Penhaligons' Lily & Spice, Jacomo For Men, and Jo Malones' recent Myrrh & Tonka, 811 Absoluto took its inspiration from Sao Paulo. "It is a very creative and cosmopolitan city open to the world: a tropical New York. "Sampa" (as its inhabitants lovingly call her), exudes a formidable vitality mixed with "la dolce vita". Giovanna wished to salute the part of her that goes by "Gio", the ideal of a "Paulista" epicurean hedonist who reinvents herself constantly and relentlessly. To that end I created a powerful perfume because it is here that the heart of Brazil beats the strongest! I wanted a voluptuous, intoxicating, and full-bodied signature that reflects the temperament of fire, both magnetic and sensual, and whose silky floral heart is gradually unveiled".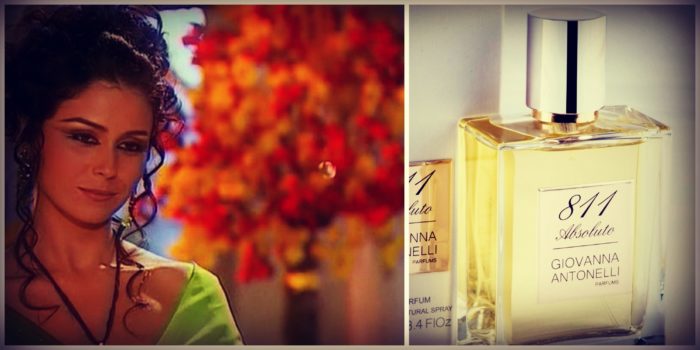 Giovanna Antonelli as Jade in the Brazilian Telanovela El Clon apped by MC
Like SamPa herself, 811 Absoluto is big, brassy and blowsy, a take-no-prisoners green and slightly epicurean floral that carries its own jet stream wherever it goes. A study in contrasts, this is an edp on steroids, at once flighty and girly, but also gritty and street smart as a proud Paulista who is as comfortable in a "fio dental" monokini on the beach, or a severe suit in her CEO office, calling for a small coffee or cafezinho, for her clients. The jasmine and honey provide a deep slightly indolic sweetness, while the balsamic notes, patchouli and amber keep it grounded, sexy, and altogether help to provide the "in-control realness" of a "Brasileira Capaz!" To which I say "Tudo Legal!" Top: Bergamot, Pepper, Clove, Lavender, Green notes, Jasmine, Honey, Balsamic notes, Patchouli, Amber, Musk, Vanilla
Disclosure: Thank you SO much to COURTOIS/mourot for supplying the perfumes. The opinions are my own.
-Robert Herrmann, Sr. Contributor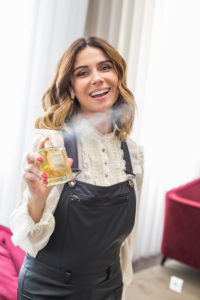 -Art Direction and Contributions: Michelyn Camen, Editor-in-Chief; I used as many photos of Giovanna Antonelli as I could, as her role in these fragrances cannot be understated. Please note the site is live www.giovannaantonelliparfums.com but not in English, I am linking to the French site and of course if it was Robert, who spent time in Brazil it would be to the Brazilian site. USA News! You can purchase the brand at Osme Perfumery in Miami (786) 409-4732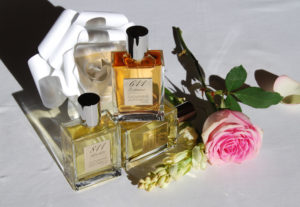 Photo courtesy of Giovanna Antonelli Parfums
Thanks to COURTOIS/mourot, Lionel Guignard, and Edson Fernandes we have a reader's choice of 100 ml of Giovanna Antonelli 411 Intenso, 611 Extremo or 811 Absoluto for three registered readers Worldwide.
OR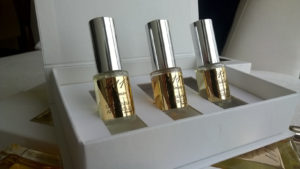 You may choose a Discovery Kit
Please be sure to register if you have not done so. To be eligible please let us know what appeals to you about Robert's reviews of 411, 611 and 811, which Giovanni Antonelli perfume you would like to win, why, and where you live. Draw closes 6/9/2017.
Please follow us @cafleurebon @giovannaantonelliparfums and @courtoismourot
We announce the winners only on our site and on our Facebook page, so like Cafleurebon and use our RSS feed…or your dream prize will be just spilled perfume.