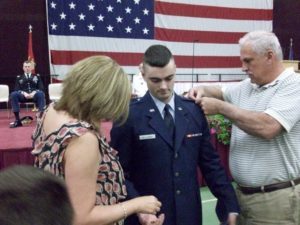 Daniel Gallagher being pinned by his parents as a 2nd Lieutenant US Air Force
Career military may seem a rather round-about way to come to creating beautiful perfumes, but that is exactly the trajectory that Daniel Gallagher's life has taken, and his much-talked about perfume line Gallagher Fragrances, debuted in 2016 and has quickly become one of the darlings of the fragrance community. No small feat for a man with a Bachelor of Science degree in Computer Security and Information Assurance, a Master of Science degree in Cyberspace Operations, and currently serving in the rank of Captain as an Air Force Cyberspace Defense Officer. The icing on this most fragrant cake is that Daniel is a REALLY nice guy, responsive to his customers tastes, desires, and comments and all of this just adds up to a slam-dunk perfume-wise. So it seemed that, given his military experience, reviewing a Gallagher Fragrance for the 4th of July was just meant to be.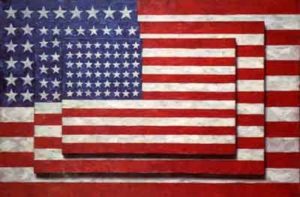 Three Flags by Jasper Johns, 1958.
"Freedom's just another word for nothin' left to lose
Nothin' don't mean nothin' if it ain't free…." – Kris Kristopherson
Sometimes amidst all the parades, fireworks, backyard barbecues, and bunting, we forget the meaning of July 4th, which is freedom, independence and liberation from oppression. As a child of parents who both officers in the Army Air Force in WW II, these thoughts are never far from my mind and helped shape my life and feelings into not only constantly hoping for world peace, but also a glowing respect for the men and women who attempt to insure that same peace and freedom for nations globally. Daniel Gallagher has essentially managed to find a balance between the millennium-old adage regarding swords and plowshares, and has created an extraordinarily beautiful range of fine perfumes.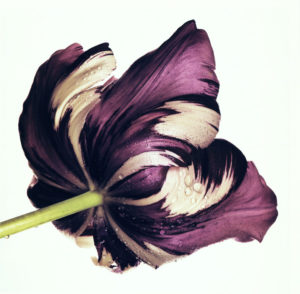 Irving Penn Tulip ©
Within the Gallagher Fragrances line are the very popular Bergamust, its limited edition dark twin Bergamust Noir, and the wildly popular new aquatic Amongst Waves. However I decided to focus on a scent from his lesser known "Silk" series, Tulip Silk, a representation of one of my all time favorite flowers.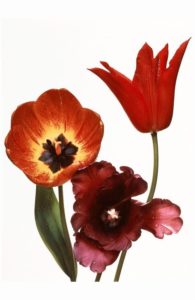 Three Tulips Red Shine, Black Parrot, Gudoshnik, New York, 1967 US Vogue March 1989 Irving Penn ©
Skirting the soliflore genre, Daniel describes the Silk Series as "…made up of ten fragrances each with one "featured note" in addition to a blend of woody base notes". Each featured note is the main focus of the fragrance and the woody notes serve as a graceful yet bold dry-down. Simplicity is the beauty behind The Silk Series in that it presents you with the ability to combine or "layer" two or more unique fragrances."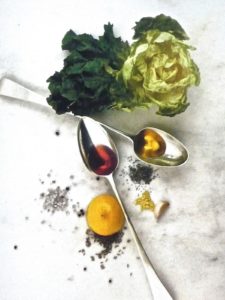 Irving Penn Salad Ingredients 1947 ©
I gravitated right to Tulip Silk not only for my love for the flower, but also because tulips' scents are notoriously vague to non-existent, often a kind of slightly floral, bitter and musty vegetal smell. I was therefore quite curious to discover what an abstract scent-representation of "tulip" might be. The tulip accord used in Tulip silk does not smell like tulip per se, but no matter. This is a perfume that absolutely does not disappoint; it's just simply beautiful with a heady citrus opening backed by sweet and powdery dusty notes. The initial rush of medicinal alcohol in any perfume is one I absolutely love, (no waving hands around for me), and combined with the sweetness and powder of the tulip accord create top notes which I fell head-over-heels in love with. It reminds me so much of the fresh zing from the "Wash N' Dry Moist Towelettes" that my mom used to carry in her purse on all our travels. I remember holding those "towelettes" to my nose and breathing in the coolish citrus floralcy until it became bone dry, and I adore that smell to this day. The citrus mellows down once the musk comes forward, but remains present with a scent akin to fresh Kaffir lime leaves placed on a warm-ish plate of steamed jasmine rice, another of my favorite smells.
Benedetta Barzini Photo by Irving Penn for Vogue, 1965
Fresh, bracing, yet warm and exotic with the smooth musky and woody notes underneath. My nose was joyfully glued to my wrist all day long, and I'm excited to have found yet another perfect summer scent. As per Daniel's suggestion, I'm excited to try combining it with another from the Gallagher silk series, say Jasmine perhaps? Sounds absolutely delicious and intoxicating. Silk Tulip is a perfume I will most happily add to my collection.
Notes: Tulip accord, white amber musk, woody notes
Disclosure: Thank you SO much to Daniel Gallagher for supplying the samples. The opinions are my own.
–Robert Herrmann, Contributing Editor
-Art Direction: Michelyn Camen, Editor-in-Chief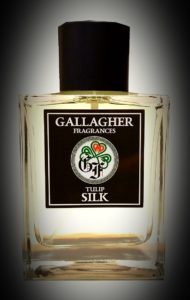 Thanks to Gallagher Fragrances, we have one 100 ml. bottle of Tulip Silk edp
and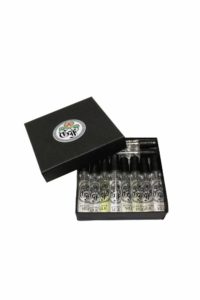 a sample set of the Silk Series for one registered reader worldwide, so be sure to register if you have not done so. To be eligible please let us know if what you enjoyed about Robert's review of Tulip Silk, which fragrance in the Silk Series appeals to you the most, and where you live. Draw closes July 8, 2017.
Daniel is the 123rd American Perfumer to be featured in our Profiles in American Perfumery Series
We announce the winners only on our site and on our Facebook page, so like Cafleurebon and use our RSS feed…or your dream prize will be just spilled perfume.