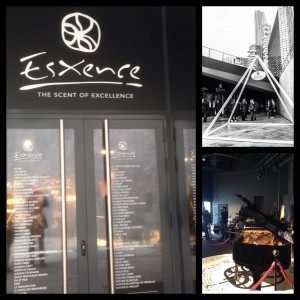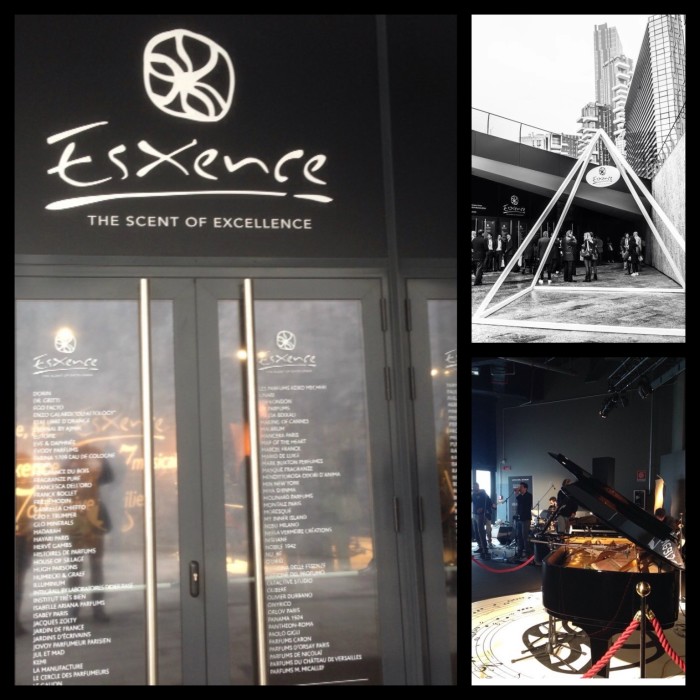 Esxence 2015 Photo Michelyn
In my review of The Different Company's I miss Violet, I noted that leather was a major trend at Esxence 2015; equally in evidence was the resurgence of aquatics. This much maligned genre is making a come back in the niche/artistic fragrance world. Back in the 90s perfumes surfed in on a giant calone wave. Who didn't have a bottle of L'Eau d'Issey or the ubiquitous Cool Water? There's a sense of refreshed thinking behind the new generation of marine scents, we began to take note, first with Heeley's Sel a Marin (2012). In 2013, Laboratorio Olfattivo released Salina and Hermes debuted Jean-Claude Ellena's Hermessence Epice Marine also that same year. Bertrand Duchuafour's incredible 2014 release Copal Azur from Aedes de Venustas followed. Now, some of the most buzzed about perfumes at Esxence 2015 used marine notes in new ways, noticeably of course, Croisière Collection from Pierre Guillaume, Neela Vermeire's Pichola and Acquasala from the Italian House of Gabriella Chieffo.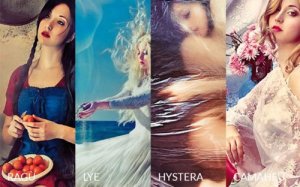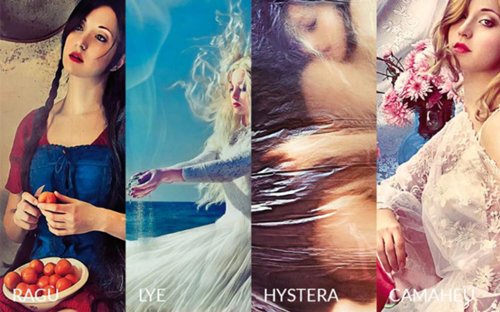 Gabriella Chieffo's line Gabriella Chieffo Profumi launched in 2014 with four perfumes – Ragù, Lye, Hystera and Camaheu Signora Chieffo utilises artwork and stories for her perfumes in an arresting way that references motherhood, cooking and a spiritual connection to her homeland of Southern Italy. Gabriella's artwork reminds us of Cindy Shermanesque photography and brings to mind Italian women, strong and passionate archetypes. She craft elaborate stories surrounding the perfumes, which take on an element of fantasy.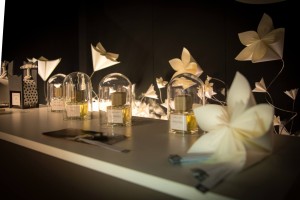 Esxence 2015 Gabriella Chieffo Booth
Gabriella had one of the most alluring stands at Esxence that bloomed with cream coloured origami flowers scented with her perfumes.

Gabriella Chieffo Aquasala Parfum and Rising Star Perfumer Luca Maffei
As I was working my way around her flowers, I quickly realised that my favourite was Acquasala, a floral marine signed by Luca Maffei, (the young Italian perfumer who was recently a winner in the Independent Category at the 2015 Art and Olfaction awards).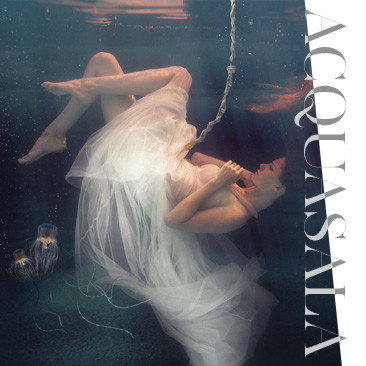 Gabriela Slegrova Photogrpaher
It's what I would describe as a departure from the aquatics of old as the new wave utilses a more contemporary and sophisticated blend of shades and tones from the niche palette. Acquasala is a perfume of contrast, with salted water washed up against spiced incense and florals. I enjoy it more on each wear. This fragrance references not only introspective moments of contemplation and growth, but also has a culinary link. Acquasala is a traditional Southern Italian food made with stale bread, chilli, garlic and egg. If I look at the press notes that accompany the perfume, it's described as "a dive into vital liquid, in a non-space where every passion is acquiesced and yields to silence, to peace. An immersion in fluid where everything becomes quiet." I don't always think the marketing stories match the perfume. But in this case I get the drift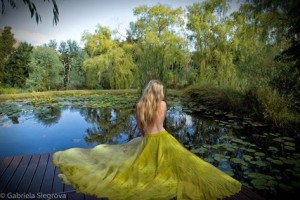 Gabriela Slegrova Nymph between waterlilies
Editor in Chief Michelyn Camen had a chance to chat with Luca Maffei about Aquasala and he told her "When Gabriella told me the idea she had in mind, I was immediately attracted by it because of the culinary inspiration from Salento (her birthpace in the South of Italy) and the idea of introspection. She showed me the image of a mysterious woman walking through gardens and then deciding to go diving into the endless sea, leaving behind her the safety of firm land. So this inspired me to create a new acquatic accord, flowery spicy marine. For this I have used seaweed instead of calone, beautiful neroli from Tunisia, bright elemi and then pungent spices like black pepper, nutmeg and carvi".
Model Adri Le Kock Gabriela Slegrova Photography
When I first smelt this perfume at Esxencein Milan, (before I read the perfume's story), I immediately imagined that I was underwater, floating peacefully. Even though I can't bear the thought of diving, it made me feel that I was deeply immersed in water with smells of floating debris around me. The artwork further develops this image, reflecting moments of connectedness and protection. An umbilical cord is referenced in the photograph – that magical connector between mother and child in the womb. The water brings to mind the child's immersion in the womb's amniotic fluid.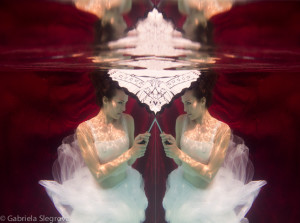 Gabriela Slegrova Photography
On subsequent wears this underwater image still remains, but there is a beguiling contrast with a distinct peppery, spicy opening that seems to intensify over time as the incense washes the scent with its aroma. The spiced element is present in Acquasala from the get go in the form of caraway, elemi, nutmeg and pepper. There is a dose of iris in here too but it's slight before the marine element is given a lift from the cashmeran, musk and patchouli. The aqua component or kelp as it's listed in the notes, has a mineral like aspect and it's slightly salty. But this is not one of those overly saline aquatics by any means.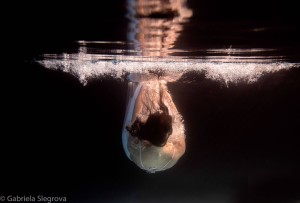 Gabriela Slegrova Photography
Acquasala eschews that insouciant salty beach vibe of sunscreen and blue skies that are often present in marine fragrances. It has a cleverness to it. An intellectual marine perfume if you will. I dabbed a little REM (mer spelt backwards in French, meaning sea) to compare, which is a popular marine scent in France from jewellery brand Reminiscence. From memory I anticipated similarities but there was hardly any cross over at all as the mood of the perfume was so different. REM really does bring to mind a beach where you're dabbling your feet in the water, with the smell of sunscreen, salt and hot air all around. It has a warm quality, a tanned up tone that is quite comforting and smells a lot sweeter. Acquasala perhaps shares more common ground with Copal Azur from Aedes de Venustas with the combination of incense and a watery aspect. However that scent has a greater incense intensity. Acquasala has a much more ethereal otherworldly fluidity. Acquasala is calming, very peaceful and has an introspective nature, with a weightlessness that appeals. It's an aquatic scent that doesn't resort to the ozonic faux beachery trickery of old, it's forging a different path and it's rather captivating.
Sr Contributor, Megan Paki and author of MeganinSainteMaxime
Disclosure: Sample from Gabriella Chieffo at Esxence 2105
Note: The photographer for the Acquasala artwork is Gabriela Slegrova, who lives in Capetown and we are so struck by her underwater photography we used it throughtout the piece. Ms. Slegrova's facebook Page is here. Gabriella Chieffo's Ragu was a CaFleureBon top 25 fragrance of 2014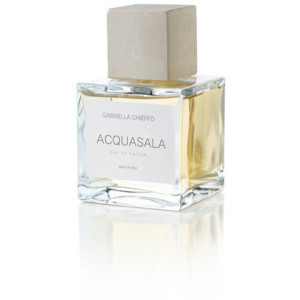 Thanks to Gabriellla Chieffo Profumi we have a draw for a bottle of Acquasala (€160.00) for a Registered ÇaFleureBon reader in the EU, USA or Canada. Please leave a comment with what you enjoyed about Megan's review, your thoughts on the new wave of aquatics and where you live. If you want your comment to count twice please like Gabriella Chieffa Promui Facebook page here. Draw closes 4/23/ 2015
We announce the winners only on site and on our Facebook page, so Like Cafleurebon and use our RSS option…or your dream prize will be just spilled perfume