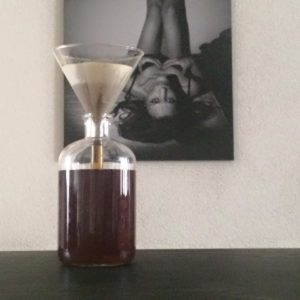 Francesca Bianchi Filtering The Dark Side (photo Francesca Bianchi Perfumes)
"My passion for perfumery was sparked fifteen years ago by a book and a handful of essential oils, gifts from a friend. Since then, I have been studying and experimenting….My perfumes are conceived and handcrafted by me from initial spark to final bottling in my laboratory…..it's a passion to which I am compelled to surrender." -Francesca Bianchi, Perfumer.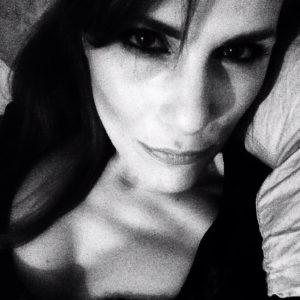 Francesca Bianchi perfumer
Francesca Bianchi Perfumes did not burst upon the fragrance scene mid- 2016. Oh no, instead Francesca and her initial offering of three Extraits of Parfum strolled in languidly, not unlike a cat looking for mischief, and ultimately charmed everyone in her path. Suddenly, last Autumn, her perfumes started popping up in various fragrance groups on Facebook and private conversations. It was a small groundswell, but the reviews were unanimous in praising the three scents and their creator. Francesca, originally from the Italian Florentine countryside, went on to study Contemporary Art History in Florence, before the requisite travels throughout Europe and Northern Africa, and ultimately settled in Amsterdam where she lives and works currently. Her travels (and that fortuitous gift of an aromatherapy book and oils set) led to her obsession with perfume, and we are the fortunate recipients of her collective experiences. All three scents in her inaugural line, Angel's Dust, Sex And The Sea, and Dark Side are sexy, sensuous, and slinky. I am addicted to Angel's Dust…..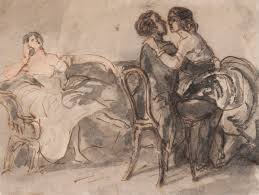 Drawing, Demi-mondaines, Constantin Guys
If your first thought at hearing the name Angel's Dust is a drug from the 70s' ; perfume is a drug to some and for me Franceca Bianchi Angel's Dust is my drug of choice. This is a swoon-worthy scent that I suspect will happily have you addicted in no time. Ms. Bianchi describes the name Angel's Dust as "…(it) conveys the idea of innocence and corruption – a lethal seductive mixture." Exactly. This is the perfume that belongs in the boudoir of the demimondaine. It's the olfactive equivalent of writings by Colette or Anaïs Nin. A dark bedroom with rumpled silk sheets, lace negligee hanging carelessly on the bedpost, a round-mirrored vanity topped with well-used lipstick, dusting powder spilling out around a forgotten feather powder puff, a smear of fragrant rouge on a glass-topped surface. Bottles of perfume. Used. Sexed. Sated. Yet for all its sexy boudoir vibe, Angel's Dust Extrait never veers into candy-floss sweetness. It is solidly unisex.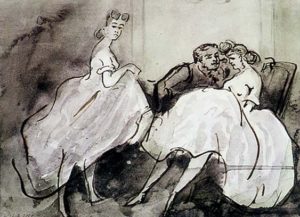 Bazar de la volupté, 1870, Constantin Guys
Upon first application of Angel's Dust I was thrilled that there was a chair nearby. There are less than five perfumes that have set my head spinning at first whiff, and Angel's Dust is one of them. I spent the day walking around in a stunning fog of scent.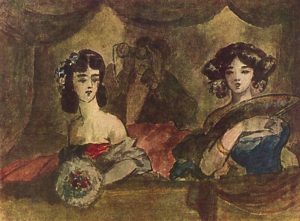 Girls on the Balcony, Drawing, Demi-mondaines, Guy Constantin
Opening with a mixed haze of dry iris and milky/powdery mimosa, a slight whiff of something naughty and feral very quickly makes itself known, but always subtle, ever so subtle. This first impression of powdery, sexy iris/mimosa is spiced up with a dash of pepper, and linearly stays this way throughout the drydown.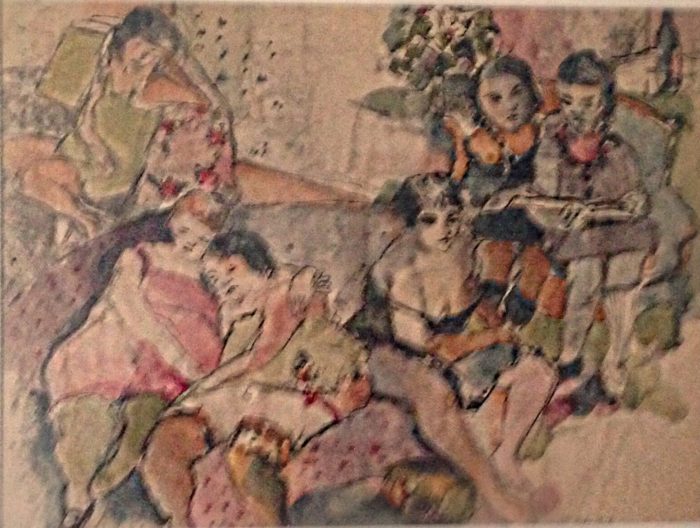 Daughters and Whores, 1981, Michelyn Camen (scanned) Watercolor, pen and ink
The scent of virginal rose appears after about an hour, followed by musk that brings to mind a 19th century bordello. There is the smooth woodiness of the sandalwood and tolu balsam, and there it stays, a very good thing indeed. I applied a few sprays before dinner, and woke up the next morning to the faint aroma of benzoin mixed with a soft vanilla. Sillage is close which one would expect in an extrait and longevity is overnight. Notes: black pepper, rose, mimosa, iris, musk, sandalwood, tolu balsam, benzoin and vanilla
The samples of Francesca Bianchi Perfumes were purchased by me, and the opinions are my own.
—Robert Herrmann, Contributor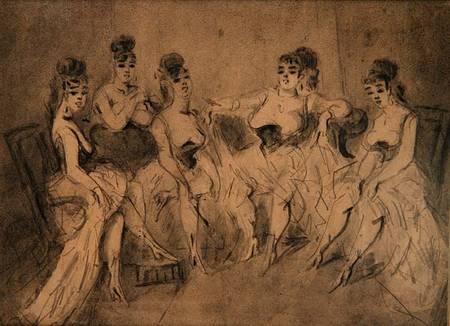 Girls in a Bordello (pen and ink) Constantin Guys (1802-92)
Art Direction: Michelyn Camen, Editor in Chief. I painted the bordello scene used in this review, "Daughters and Whores" (a college project) pen and ink and watercolor. I was heavily influenced by Dutch born painter Constantin Guys, who Charles Baudeliere called a "painter of modern life."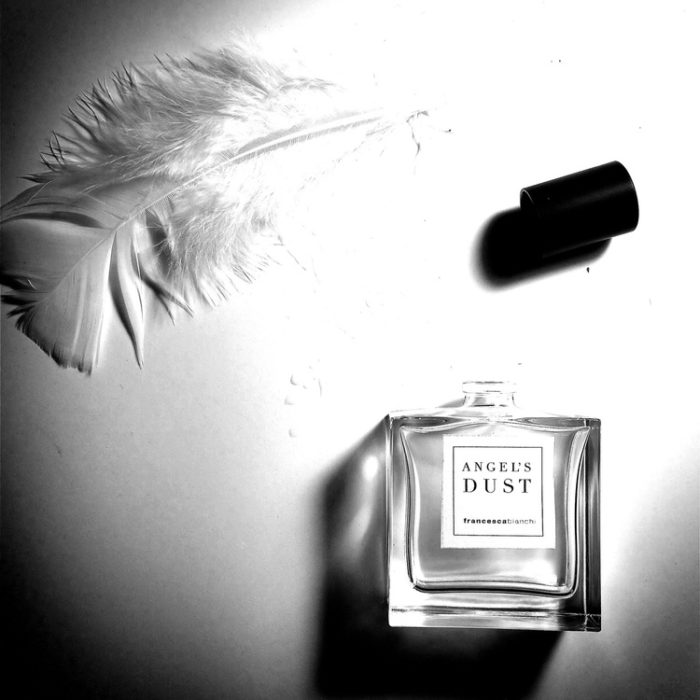 Angel's Dust (photo Francesca Bianchi)
Thanks to the generosity of Francesca Bianchi Perfumes, we have 30 ml bottle of Angel's Dust extrait for 1 registered reader in the USA, EU or Canada (you must register, don't know how click here
Or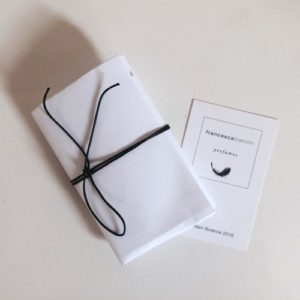 A discovery set of Angel's Dust, Sex and The Sea, and The Dark Side
To be eligible please leave a comment with what you enjoyed about Robert's review of Angel's Dust, where you live, if you are familiar with Francesca Bianchi Perfumes and if you would choose the discovery set or the 30 ml extrait. Draw closes 2/6/2017
Follow @cafleurebon on instagram, Francesca Bianchi Perfumes @francesca_w and Robert @islandjavaguy
We announce the winners only on site and on our Facebook page, so Like Cafleurebon and use our RSS feed…or your dream prize will be just spilled perfume