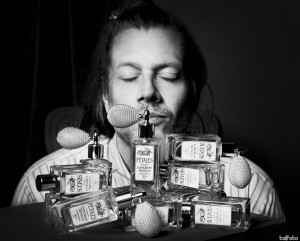 Perfumer Stephen Dirkes for Euphorium Brooklyn PhotographerTal Shpantzer
Euphorium Brooklyn is back, after Suedois, and discovering a new release from this house is like waking up from a nap and deciding if the fever that put you down is still with you or not.  The inspirations for the various offerings are rolled in musty velvet, and culled from the cracked spines of books written by entirely imaginary people and their never-published tomes.  Be that as it may, their perfumes are truly singular, no matter how they choose to present themselves.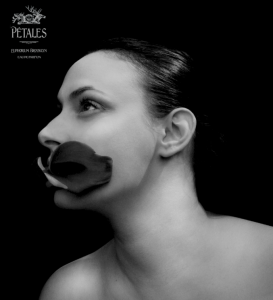 Euphorium Brooklyn Pétales (Photographer Tal Shpantzer)
Euphorium scents tend to hang suspended in your consciousness, tugging you into a slow, nearly drugged state until you submit to their charms. Their textures are as thick as Oriental carpets, with the individual notes announcing themselves like late-night revelers, with a slightly slurred tone that collapses in a merry heap hours later, utterly spent on the skin.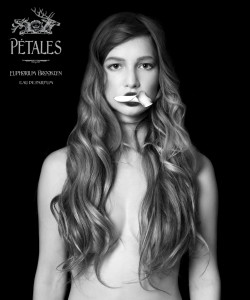 Euphorium Brooklyn Pétales (PhotographerTal Shpantzer)
Which leads us to their latest, and to my mind, their best launch to date:  Pétales,  Pétales is a floral fragrance;  but if you're looking for your next Big Sweet Jasmine Rush, or a silly, fun n' fruity late-summer confection, please stop reading now.  Pétales is one of the most bizarre, dark, animalic and compelling florals I've ever sampled.  You read the notes in this fragrance and somehow your brain wants to believe the result is other than what Euphorium Brooklyn Pétales presents on the wrist.  There's rose here, pink grapefruit, jasmine, even linden blossom – so you might think, "Ah…floaty pink pillow perfume!"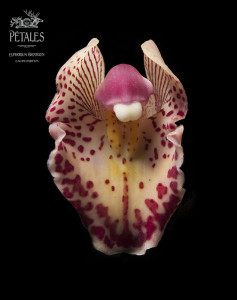 Euphorium Brooklyn Pétales Orchid (Photographer Tal Shpantzer)
But no.  Pétales is also loaded up with balsamic indoles, black pepper and no small amount of backstage makeup lavender drenched in rain-soaked iris.  The list includes fig, and honey as well, but I'll be damned if I can detect any sweetness in this scent.  What sweetness there exists is buried completely under a damp, earthy, green soapy loam that is pure stem.
Euphorium Brooklyn Pétales Lily (PhotographerTal Shpantzer)
Imagine burying your entire face in a lily at a funeral home, way past the outer edges of the bloom and into the ice-cold neck of the flower stalk and this is where you'll find Pétales hiding.
 Graveyard Scene in the movie  Harry Potter & The Deathly Hallows 2010 Daniel Radcliffe (Harry Potter) and Emma Watson (Hermione Granger) in front of Lily and James Potter's Grave
There's a deadness in this fragrance that is both compelling and horrifying – the olfactory equivalent of watching shadows crawl across the broken windows of an abandoned building, or the way dust might smell in a morgue at midnight.  Only the rose and grapefruit notes remain to keep you grounded and curious about how this scent unfolds.  I kept huffing my wrist and then sighing, then staring, then huffing again.  On and on and on – Pétales is spellbinding and deeply, deeply melancholic at its core.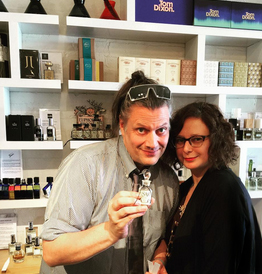 Stephen Dirkes and PhotographerTal Shpantzer at Twisted Lily Fragrance Boutique
The actual, non-fictional inspiration for this release is an artistic collaboration between Euphorium Brooklyn perfumer Stephen Dirkes and photographer Tal Shpantzer, whose Petal Series evokes a richly detailed and emotionally charged portrait of flowers as something Other, cleaned of context.  The photographs which inspired the perfume only add to its breathless sense of time lost, of some numbing Limbo approaching.  Both the photographic series and the scent have an anaerobic feel, as if they were both trapped in a belljar with all oxygen removed.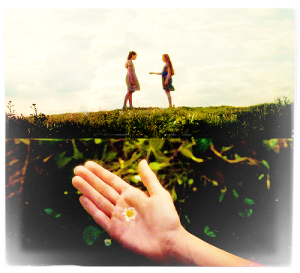 Young Lily Potter holding a flower Deathly Hollows Part 2
But despite this deathly asphyxiation, Pétales is wearable and complex enough to demand your attention.  The pink grapefruit and rose are cheery enough at the start (well-wishers bringing pie to the funeral).  They brace the nose for the green, indolic and balsamic undertones that follow soon afterwards.  There's a hint of sweet jasmine that also opens up after the top notes begin to fade, but not enough to lighten the tone of the scent into the land of the living. As the drydown begins, there's a dry, musty balance between woods and musks (perhaps a coffin accord?).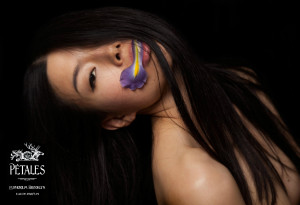 Euphorium Brooklyn Pétales (PhotographerTal Shpantzer)
Even though my initial impression of Pétales was one of shock and sadness, this scent is still absolutely lovely.  With melancholy comes reunion, and remembrance. Great perfumes always have the ability to stop time in its relentless and remorseless arc, and grant the wearer a bespoke moment of grace.  And so it is with Pétales – one should wear this not to impress someone, but to remember them.  It stole my breath and left me mute in its wake.
 Notes: Rose, Lavender, Orchid, Hyacinth, Linden Blossom, Lily, Iris, Orange Blossom, Violet, Orris, Jasmine, Geranium, Palmarosa, Pettigrain sur la Fleurs, Galbanum, Green Stem, Moss, Pink Grapefruit, Fig, Honey, Star Anise, Elemi, Black Pepper, Vetiver, Labdanum, Benzoin, Tolu Balsam, Ambergris, Indole, Tonka Musk
–Pam Barr, Senior Contributor
Sample sent to me by Euphorium Brooklyn for review, opinions my own
Petales is also available at Twisted Lily Fragrance Boutique and Apothecary
Thanks to Euphorium Brooklyn, we have a worldwide draw for our registered readers (you must be registered and you must use your registered named) of a 30ml CONUS and 3.3ml bottle for international readers anywhere in the world.  To be eligible, please leave a comment on what you you will remember about Pam's review of Petales, where you live and what scent makes you melancholy for something or someone lost. Draw closes August 28,2015
We announce the winners on our site and on our Facebook page, so Like Cafleurebon and use our RSS option…or your dream prize wil be just spilled perfume