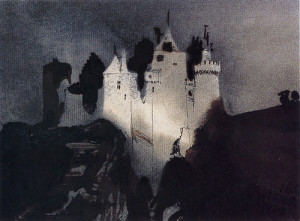 Victor Hugo Castle Lit Up at Night 1856
Hermann à mes côtés me paraissait une ombre
Hermann me dit : Je songe aux tombes entr'ouvertes ; 
Et je lui dis :  Je pense aux tombeaux refermés. 
Lui regarde en avant : je regarde en arrière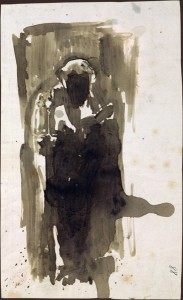 Victor Hugo Pen and Ink
How does a shadow smell? That's been my question when I first read about Etat Libre d'Orange Herman à mes côtés (me paraissait une ombre), the new fragrance created by Givaudan rising star Quentin Bisch under the creative direction of Etienne de Swardt and the artistic direction of David Jaumes. Perhaps it's Christmas Eve high mass on a misty night after the Church doors close and the last candles extinguished. As you walk home, there is the scent of incense on your coat, you see the faces of your friends swallowed up in the fog until they disappear. Suddenly all around you is darkness, muffled sounds and walking shadows, presences made of nothing but cold moist air hitting your nostrils and bringing incence and petrichor.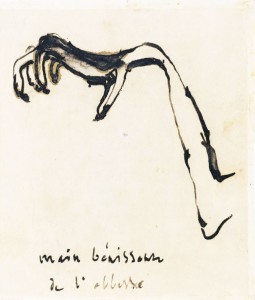 'Main benissante', Victor Hugo
A misty graveyard redolent of incense and petrichor is your companion, echoing your inner voice as something "other" grips you in a pas de deux danse macabre. That's exactly what the rosy ghost bottled in Herman à mes côtés smells like, which to my nose is the best Etat Libre d'Orange launched since 2012's amazing citrus-gourmand Fils de Dieu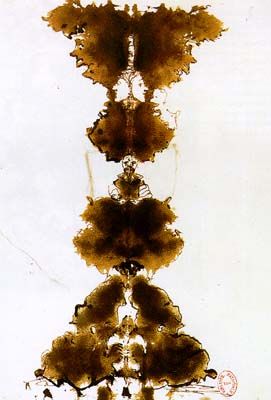 Tache d'encre (1856) Victor Hugo
The earliest representation of the Danse Macabre theme is from the cemetery of the Church of the Holy Innocents in Paris (1424–25), a place Victor Hugo likely walked through during his Méditations poétiques. Death rising from the tombs, shadows and bones swinging through herbs and livid flowers takes a somehow less frightening face. Hermann's opening actually is green with the galbanum dashed metallic coldness of pepperwood diffusing the blackcurrant bud feline fruity facets. Decadently atmospheric, the fragrance then starts radiating its peppery rose mist reminiscent of freshly plowed soil, teardrops and of rivers of ink flowing in stormy weather.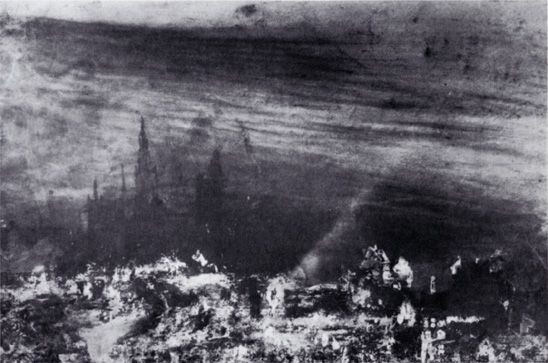 Victor Hugo The Dead City 1858
The rose-cassis theme has been a classic since Guerlain Chamade but Quentin Bisch, creates an oddly pungent acidity reminiscent of another "ombre", Diptyque's Ombre dans l'eau, and amplifies its dewy side. The beautiful concoction of watery Calypsone, earthy geosmine and peony-like petalia (a Givaudan captive) in fact succeeds here to cleverly render what's called Petrichor, the famous smell of rain on a dry soil that's a dreamy smell many keep looking for. As the greek origin of the name Petri-ichor suggests it also conjures the smell of "petra", salty wet stones and "ichor", the blood of Gods that's a brilliant reference to immortality versus death in Hugo's lines about open tombs set against closed tombs, past and future, dream versus reality.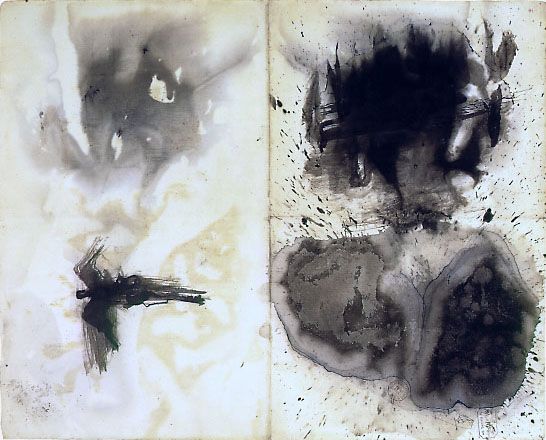 Victor Hugo Ink Blot art 1876
There is an overall sheerness to the perfume, which surprises since I was expecting something more conventionally dark. I liked this different interpretation of "shadow", where gloom can also mean no other living being, is around you isolation into the woods and therefore coldness. Transparent often means shortlived but not in this case. Herman à mes côtés lasts forever thanks to a darker base where hints of the musky-balsamic aspects of Mark Jacobs Bang given by pepperwood are deepened by a dry patchouli, bright incense and possibly a touch of castoreum lending a more masculine rubbery finish which adds complexity and a much needed roughness to balance its ethereal romance. Probably a touch more of decay and supple leather would have made it flawless, more daring. Hermann à mes côtés me paraissait une ombre walks closely but is still a step away from the original footprint of Etat Libre d'Orange provocative, outspoken heritage.
Notes: Blackcurrant buds, black pepper, galbanum, calypsone, geosmin, frankincense, pepperwood, petalia, rose absolute, patchouli, ambroxan
-Ermano Picco, Contributor and Editor of la gardenia nell occhiello
Disclosure: sample provided by Etat Libre D'Orange, opinions my own
Editor's Note: I chose Victor Hugo's pen and ink illustrations. In addition to his poetry, novels and dramas, he produced over 4000 paintings. Quentin Bisch's first commercial perfume was Etat Libre d'Orange La Fin du Monde in 2013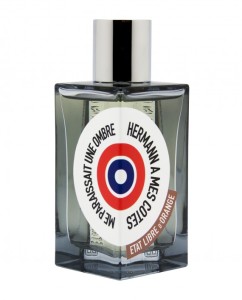 Thanks to Etienne and David for our last draw of a new 2015 fragrance, we have 100ml bottle of Hermann à mes côtés me paraissait une ombre for a registered reader You need to do this) in the USA, Canada and EU. To be eligible please leave a comment with whhat appeals to you about Hermann à mes côtés me paraissait une ombre, where you live and your favorite Etat Libre D'Orange. Draw closes January2, 2015
We announce the winners on our site and on our Facebook page, so Like Cafleurebon and use our RSS option…or your dream prize will be just spilled perfume