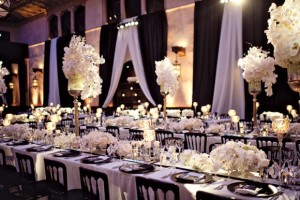 Eric ButerBaugh Floral Artistry Photo: Californiaweddingday.com
Doors open onto a gilded ballroom. The tables are set with the finest china, sparkling crystal, and flowers– so many flowers so beautifully arranged that the term "spare no expense" comes to mind.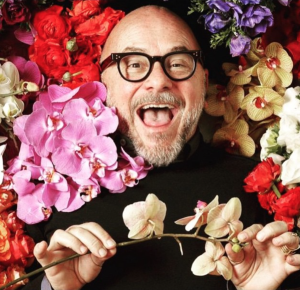 Eric Buterbaugh THE Florist to the stars -via EB Florals
Eric Buterbaugh is the premier A-list L.A. florist, with devotees like Naomi Campbell, Gwyneth Paltrow,Gwen Stefani, Demi Moore and Nicole Richie, and clientele ranging from luxury houses Dior, Valentino and Cartier to the British royal family and the king of Thailand.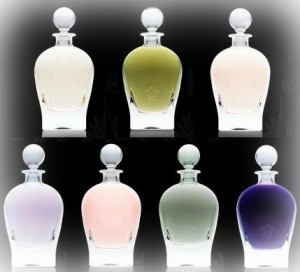 Apollo Hyacinth, Virgin Lily of the Valley, Regal Tuberose, Celestial Jasmine, Sultry Rose, Velvet Lavender and Fragile Violet
His new fragrance collection, collaboration with industry veteran and business partner Fabrice Croisé and top perfumers from Firmenich, (Master perfumers Harry Fremont, Alberto Morillas, and Honorine Blanc as well as Senior Perfumers Pierre Negrin, and Ilias Ermenidis) clicks in a way that makes one wonder why no one's thought of it before– a master of the visuals of flowers, Buterbaugh proves that their fragrance can be equally gasp-inducing. Featuring interpretations of seven of the grandest flowers (Apollo Hyacinth, Virgin Lily of the Valley, Regal Tuberose, Celestial Jasmine, Sultry Rose, Velvet Lavender and Fragile Violet), this collection is destined to become iconic because of its unique viewpoint. It reminds me of the couture at the Met Gala– larger than life and whimsical, while always remaining elegant. Each scent has its own appeal, but for me the standouts were the rose, jasmine and tuberose.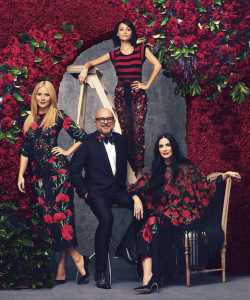 Eric Buterbaugh with friends, Gwyneth Paltrow, Nicole Richie and Demi Moore – via harpersbazaar.com
Sultry Rose and Celestial Jasmine were developed by Illias Ermenidis, creator of Gucci by Gucci, Victoria's Secret Heavenly, and Alfred Sung Shi, among many other well-known fragrances. Rose is Eric Buterbaugh's signature flower due to his original technique of "peeling" back the petals to make the bloom more dramatic; Ermenidis' treatment of the scent follows suit.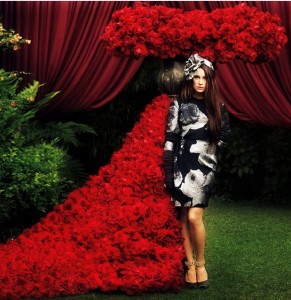 Photo: Rose Red Carpet Eric Buterbaugh Style Harpersbazaar.com
Sultry Rose is said to be from his private collection, presented to Buterbaugh as a tribute to the latter's floral artistry, and it's the most perfect rose I've ever had the pleasure of sniffing. The first reel opens with a flourish of drama, like the entrance from a grande dame of Hollywood. Unexpected top notes of passionfruit and pepper add a freshness and piquancy to the priceless ottoman rose essence at the heart of the scent. The combination presents an irresistible tension between sweet and seductive: angels scatter petals on her train as she glides down the red carpet, but beneath her finery, a human heart beats ardently. In time, vanilla orchid and saffron warm the rose with a hint of leather and honey; her hair has come undone, her lipstick is smudged, and the smoldering glances she's giving her leading man across the room are unmistakable in their intent. Base notes of ambrette musk, oud and ambergris accord leave their embers burning well into the night.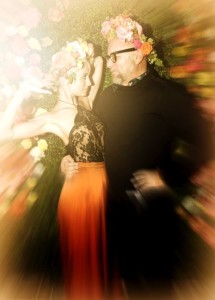 Nicole Richie with Eric Buterbaugh via instagram (digitalized)
In contrast, Celestial Jasmine is a young ingenue, opening effervescently with linden blossom, freesia and jasmine sambac. Her dress is frothy, her laughter is tinkling, and she knows exactly what she can get away with thanks to her status as the It girl of the moment. Heart notes of jasmine de Provence, tuberose petals, and narcissus prove that she has both depth and range, contrasting a squeaky-clean soapiness with pure floral seduction, and as time goes on she's not above letting her sexy side (made up of base notes of ambrox, silk wood and skin musk) come to the forefront to catch that hot director's attention.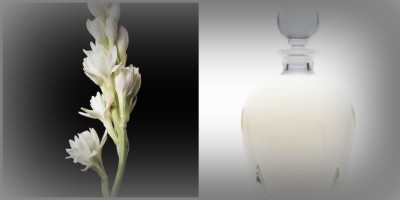 Regal Tuberose was signed by Master Perfumer Honorine Blanc, the creator of one of my personal favorites, Elizabeth and James Nirvana White, and was inspired by her memories of travelling to an Amazonian jungle. If Sultry Rose and Celestial Jasmine are leading ladies, Regal Tuberose is the role of a lifetime. Multifaceted and complex, this royal floral refuses to be typecast. Her opening is refreshingly bitter, with top notes of grapefruit, white pepper and papyrus accord skewing fresh and modern. In time, patchouli leaves mellow and amplify the green, while tuberose absolute and jasmine sambac petals take center stage. Their buttery purity is grand but never typical, indicating that this is anything but your grandmother's white floral. Base notes of amber wood, oak moss and captive musk ground her character development in enticing Eros. We hear Eric has been wearing Regal Tuberose these days…
Eric Buterbaugh
If forced to pick a favorite, I think I'd be able to cry on cue, but fortunately they won't have to compete for your affections; each suits a specific mood and will win its own place in your heart. Sold exclusively at Eric Buterbaugh's LA store and on his website, the seven scents are available for $300 for 100 ml, or in a seven scent sampling kit with 10 ml vials of each fragrance for $250.
— Nancy Lichtenstein, Monthly Contributor
Disclosure: Samples provided by Eric Buterbaugh Florals; opinions my own.
Editor's Note: Kudos to Mr. Buterbaugh and M. Croisé for acknowledging each perfumer as auteur and for the wonderful interviews with each olfactive artist. The website is truly a treat for the eyes as much as the fragrances for the nose. I will chime in and inexplicably fell in love with Virgin Lily of The Valley by Pierre Negrin (of Amouage fame), which I would not have ever guessed would have been my favorite. So much for reading notes and looking at names There is nothing Virginal about this scent-MC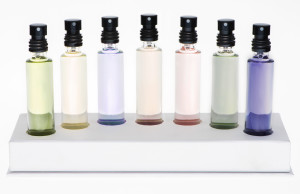 Thanks to the incredible generosity of Eric Buterbaugh Florals, we have one seven scent sampling kit to give away to a registered U.S. reader. To enter the draw, please comment indicating what about Eric Buterbaugh Florals intrigues you and which of the fragrances you would most like to experience. Draw closes 7/19/2015
We announce the winners on our site and on our Facebook page, so Like Cafleurebon and use our RSS option…or your dream prize wil be just spilled perfume