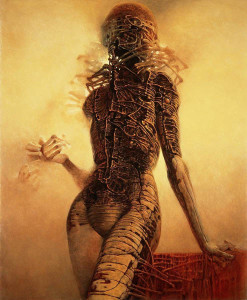 Zdzisław Beksiński
Somewhere in a far-flung future, hundreds of years on, the machines will have won at last. The Earth as we know it will be a glittering, seamless egg of wire and chrome. The air will churn with compression and electrical heat, and if there are any humans left, they will not be born of flesh but from circuitry.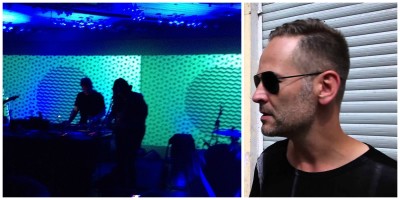 Unsound electronic Ambient Musicians Tim Hecker, Steve Goodman (aka Kode9), Ben Frost and Geza Schoen
This post-human future will have its own scent; a secret molecular burn that endlessly explodes into fiery motes that dully sparkle in the sun's dying rays. Berlin-based perfumer Geza Schoen may have seen this future in visions and brought it back to us – as a warning or perhaps a benediction in his trio of scents entitled Bass, Drone and Noise. The launch is a partnership with electronic ambient musicians Tim Hecker, Steve Goodman (aka Kode9), and Ben Frost, as part of an ongoing synaesthetic art installation known as Ephemera, which was originally mounted as part of the Unsound Festival in Krakow at the National Museum.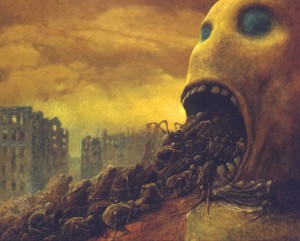 Zdzisław Beksiński
Hr Schoen asked the three musicians about their earliest olfactive memories and then built the three perfumes around their response:Bass is the scent representation of a memory Steve Goodman had of a busted vacuum emitting burnt dust. Noise is Ben Frost's buried memories of Catholic mass hymns, insect drones, and crackling bushfires. Drone is Tim Hecker's imagination conjuring up an ancient ritual where repetitive sound induces levitation.
The perfumes that emerge from this unique and disparate set of images are powerful, startling and very engaging.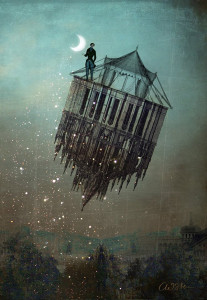 Zdzisław Beksiński
The lightest and most approachable of the three is Drone. It begins with "air notes" and aldehydes, with a fir and juniper heart and then a base of patchouli, vetiver, and ambergris. It is definitely the most "ephemeral" of the Ephemera line, and will appeal to people who enjoy clean, fresh styles. The composition comes off like a slightly citrusy, chlorinated swimming pool (and this is a good thing.) The fir/juniper vs. airy aldehydes at the start is playful and approachable. Drone got the most return sniffs on my wrist when I wore all of the Ephemera scents at once.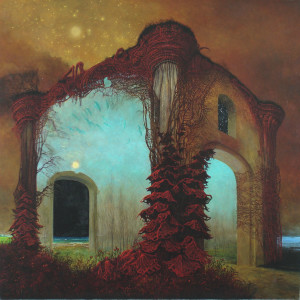 Zdzisław Beksiński 1978
Bass is fireside scents, rum and smoke that moves through an astringent, tea-note middle and ends up on a slightly animalic and mossy vibe. The smokiness at the top comes off as more burnt metal than charred wood ("Honey? There's something wrong with the vacuum cleaner again!") But Bass has a lovely warmth underneath all the torched appliance accord, and the drydown gets almost cuddly with the castoreum and moss (think of a warm cat or a dog playing in the bushes). The drydown is really the star for me in Bass as I'm not a fan of fireside scents. Notes: woodsmoke and rum notes, developing into leather, mastic, and tea notes, and finishing with castoreum and moss, among other scents.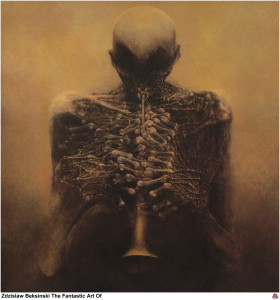 Zdzisław Beksiński
Noise is definitely the rowdiest of the three Ephemera perfumes. Noise pulls no punches and is extremely forthright at the start. A monster blast of saffron and black pepper will constrict your throat as you sniff, only slightly tempered by ozonic and aldehydic notes. This perfume smells like an electrical closet, or overheated plastic as it begins to melt. After about 20 seconds, it settles down into a more tolerable perfume. There's labdanum in here somewhere that sweetens the pot a bit, but Noise takes a lot to get used to on the skin.
Notes: aldehydes and air notes, developing to fir and juniper, with a base of patchouli, ambergris, and vetiver.
The longevity, power and sillage on all three is above average. They lasted about six hours at least, and the notes are all tuned for maximum effect. The sillage is moderate, yet restrained considering how intense these perfumes can get – they aren't skin scents by any means, and you'll definitely make a statement. Someone standing next to you will be able to ascertain you are wearing fragrance.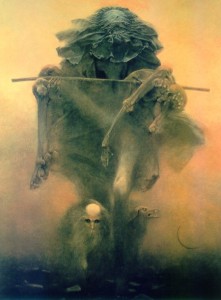 Zdzisław Beksiński
The first time I encountered the Ephemera trio I was fairly nonplussed to be honest. Noise and Bass seemed too similar to make a lasting impression of individuality, but on subsequent wears, each perfume clearly announced its own voice. The secret to these scents is that they get more intriguing and personal the longer they are on the skin.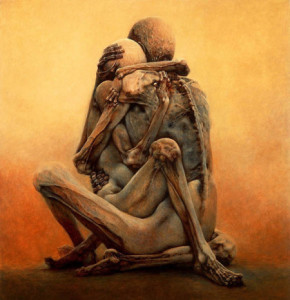 Zdzisław Beksiński
They all come off initially as blunt, inhuman, and electrically-charged scents that only fans of abandoned warehouses or post apocalyptic wastelands might appreciate. But underneath the technology is a very warm and beating human heart can only be heard if you listen very closely as the scents develop. In the future, there may only be machines. But mankind will continue on, in the marked boundaries between the ones and zeros. Geza Schoen has given us all a glimpse of a stark, glittering cage centuries hence. But metal rusts, plastic melts, and humanity will rise again in a hidden and humbly-scented glory.

Unsound Ephemera Drone Noise and Bass perfumes
The perfumes from the Ephemera installation are vividly imagined, wondrous scents that challenge our notions of wearability and definitely need to be experienced by the wearer I grew to love my scented techno-overlords, and give them a chance and so will you.
Steve Johnson, Editor
Disclaimer: I received my Ephemera samples from Twisted Lily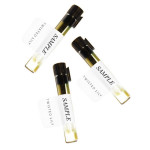 Thanks to Twisted Lily, we have a draw of a sample set of Bass, Drone and Noise for a US reader. To be eligible, please comment below with your favorite post apocalyptic movie title or which of the three may appeal to you the most. Draw closes 4/27/2015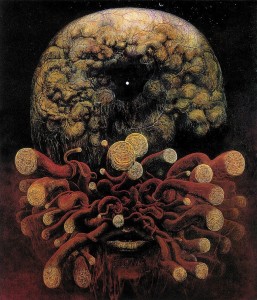 Zdzisław Beksiński
Editor's Note: For fans of Try Before You Buy there is a discovery kit of 15 ml of all three. All art is by Zdzisław Beksiński, a Polish surrealist (born in Sanok), a pioneer in Utopian Art, who was famous for his surreal, gothic nightmarish paintings, photos and sculptures of the future. He never named his paintings he thought it was pointless to put a label on them. Zdzisław Beksiński was murdered in 2005. I am a Geza Fan Girl and for those not familiar with his breakthrough work you should start with his own brand Escentric Molecules (01 is a CaFleureBon Modern Masterpiece), move on to A Beautiful Mind Series and then Paper Passion (a collaboration with Wallpaper Magazine, Karl Lagerfeld, and Gerhard Steidl) that was a olfactive interpreation of the scent of ink on paper fresh off the printing press. Michelyn Camen, EIC
We announce the winners only on site and on our Facebook page, so Like Cafleurebon and use our RSS option…or your dream prize will be just spilled perfume.