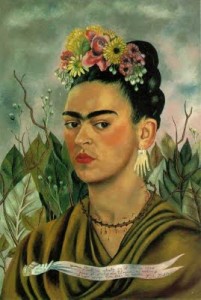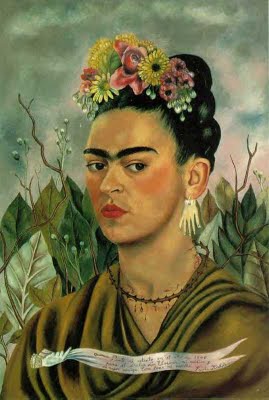 Self Portrait Frida Kahlo
Shelley Waddington of En Voyage Perfumes has a new fragrance, entitled Frida Eau de Parfum, and let's just get this out of the way quickly: You Want It and You Want It Now. Meaning before Summer is over, before Fall spices start yearning for your scented attention, and definitely before Winter comes with its wolves at your door. The top notes alone in this fragrance will leave you spellbound for a long, long time – they positively glow with dewy, rich fruit backed by a rigid green accord that makes the whole opening of the scent elevate.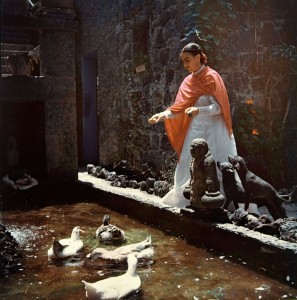 Gisele Freund Frida in her garden 1951
But this should come as absolutely no surprise to anyone who reads Cafleurebon regularly, or for anyone who's come within 100 sniffing yards of this line previously. We've covered En Voyage perfumes extensively, and our Editor-in-Chief, Michelyn Camen, has collaborated with Shelley Waddington on a previous release, Zelda, another powerful iconic woman in history.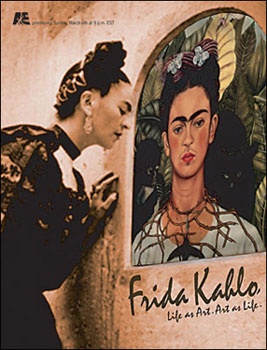 Frida Kahlo Life as Art. Art as Life
En Voyages' new release, Frida Eau de Parfum, is homage to the Mexican artist Frida Kahlo, and for those looking to discover who this amazing woman is and what she meant to the art world, look no further. I will not waste your precious time trying to encapsulate her life and history as you can read Shelley and Michelyn's article here.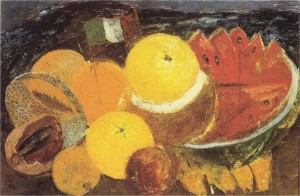 Still Life with Flag 1954 Frida Kahlo
I will say this about Frida the scent however – I don't think I've ever come across a perfume that has such a distinctive and delicious watery, tropical opening before. The initial rush of the top notes are to die for – it's as if someone has arranged a perfect still life of apricots, watermelon and peaches in a bowl, slightly chilled it, popped in some greenery from the garden and set it right under your nose. I kept re-applying this perfume to my wrist over and over just to re-experience how it begins.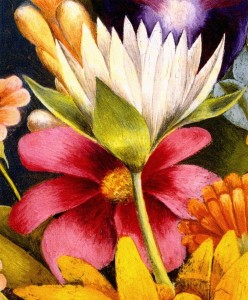 Floral Detail of Frida Kahlo Painting "Moi et Mes Parroquets" 1941
But that, like any good first cool first course on a sweltering evening's banquet, is just the start. Soon an incredibly lush tuberose note rises up out of the heart, and this scent shifts from tranced-out swami to a much earthier plane of existence. The floral heart of this perfume is one of the absolute best I've ever come across – the leathery tuberose is suddenly enveloped in the richest, moistest, roundest white floral cloud. There's jasmine, and ylang ylang and hibiscus here and they all are vividly expressed. White floral fans will have a massive crush on En Voyage's Frida as this scent settles into its stride. Just smelling the transition between the juiciness and pop of the top notes and the lushness of the tuberose will do it alone. This perfume enraptures the wearer; I cannot even imagine what it might do to someone on the street as you walk past. Decent perfumes have that "I see what you did there" feel to them, but Frida Eau de Parfum has an enormously powerful "I see what you did to ME there and I want it done again!" seduction woven throughout. This is a scent, just like Frida Kahlo herself that cannot be ignored.
Frida Khalo at 10 yrs old photo Guillermo Khalo
Frida also does something wondrous in the drydown phase – it switches genders! We are led from the most sumptuous hotel pillow florals into a final phase of sugar, tobacco and oakmoss, shot through with riaow-riaow animalics, myrrh and frankincense, The effect is immediate and stunning and it made me jump up and down when it occurred. I wish more perfumers tried things like this – we so often see the expected denouement in perfumery – the woody, dry forgettable phase. But Frida simply puts on men's clothes and ends with a masculine, spicy-sweet flourish that upends expected male vs. female olfactory roles and slyly presents Frida Eau de Parfum as a brash and sexy choice for men as well as women to wear.
Fridas Kahlo's dresser – 1941 – Photo by Emmy Lou Packard
This is my first experience in sampling an offering from En Voyage Perfumes and I am SO down the rabbit hole now. Frida Eau de Parfum has so much going on inside of it that it instantly became my pick so far for Best perfume of 2015. I honestly doubt I've sampled a perfume before that had such command of what it was trying to achieve, not only in honoring its inspirational source, but in explicitly detailing in its arc how that can be done. The transitions from opening to heart to drydown are a wonder in this scent, and every note shines.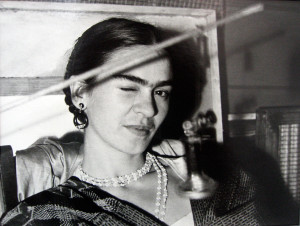 Frida Kahlo Winking Lucienne Bloch 1933
There's a delightful playfulness here, a wink-and-a-nod to the wearer that makes Frida Eau de Parfum stand out in a crowded indie/artisan field. Frida Eau de Parfum is every bit as complex, unexpected and challenging as the artist herself, and this perfume is an absolute testament to what perfumery as art can accomplish in the right hands. I adore it.
Notes: Apricots, Watermelon, Peaches, Lemons, and Lush Greenery, Tuberose, Hibiscus, Cactus Flower, Champaca, Ylang Ylang, Gardenia, Jasmine, Light Woods, Sugar, Oak moss, Aldehydes; Myrrh, Frankincense, and Copal; Tobacco, Green Pepper, Sexual Animalic Notes, Musk, Amber
Pam Barr, Contributor
Art Direction-Michelyn Camen
Disclosure: I was sent a sample by Ms Waddington, opinions my own
Collage by MC shows 30ml of Frida Eau de Parfum
Thanks to Shelley Waddington we have a draw for a 15 ml bottle of Frida Eau de Parfum for a REGISTERED reader anywhere in the world. To be eligible you must be a registered reader. Please leave a comment with what you enjoyed about Pam's review, if you are a Frida Khalo fan and where you live. Draw closes July 20, 2015.
We announce the winners only on site and our Facebook page, so like CaFleureBon and use our RSS option…or your dream prize will just be spilled perfume.