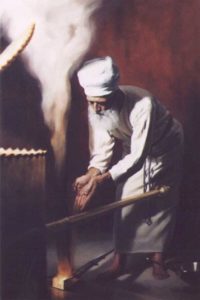 Priest offering ketoret in the Holy of Holies, painting by Binyomin Allen
And the LORD said unto Moses, Take unto yourself sweet spices, stacte, and onycha, and galbanum; these sweet spices with pure frankincense … And you shall make it a perfume, a confection after the art of the apothecary, tempered together, pure and holy … and put of it before the testimony in the tabernacle of the congregation, where I will meet with you: it shall be unto you most holy. — Exodus 30:34-38; 37:29.
Onycha, whose name sings of antiquity, is one of the ingredients of holy incense recorded in Exodus. But its origins remain a mystery. Some scholars believe it to be derived from the membrane of a mollusk found in the Red Sea, beaten to a fine powder, while others have favored the gemstone onyx or the resins benzoin and labdanum as the onycha of the Bible.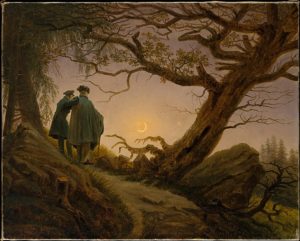 Two Men Contemplating the Moon, Caspar David Friedrich, 1825-1830
Dawn Spencer Hurwitz of DSH Perfumes Onycha combines all permutations:a tincture of onycha shell, labdanum and benzoin, and combines them with an amalgam of woods. Launched alongside Dark Moon as part of Dawn Spencer Hurwitz's winter solstice scents, Onycha is a roasted, resinous dark oriental brew with the strange, pitch beauty of a starless night.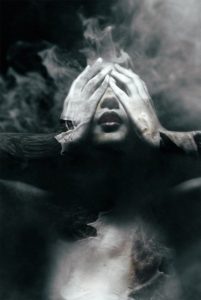 Pictures of You, photo by Federico Bebber
This is perfume as echo, plaintively calling to something very old in our DNA. There is something otherworldly in the smell of Onycha, a murmur of long forgotten voices intoning prayer, ancient rites where censers smoked with burning oils; outside the temple walls, the aromas of tangled forests of gnarled trees, and the vague salt tang of the sea far beyond.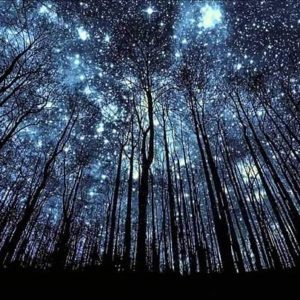 Starry forest, stock photo
A first cousin to her stunning and justly feted Café Noir in its roasted, resinous darkness. But where Café Noir wanders into a Parisian brulerie, with a particularly delicious bitter chocolate-patchouli note, Onycha goes deep into the forest, surrendering itself to primeval woods and ritual smoke. The opening is rich with roasted choya nakh shell and benzoin. The toasted mineral smell contrasting with the richness of the resin is mesmerizing. As the first notes surrender to each other, the sour-sweet, just-turned-milk aspect of labdanum creeps in, bringing a subtle animalic touch. The fragrances meld seamlessly, as if part of a continuum.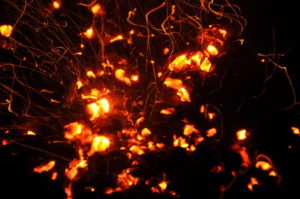 Fire embers, photo by WhiteShirt 77
A vinous woody note, like old Rioja and stewed plums, wafts up in the middle stages as incense curls around the resins. Then, a slow rush of woods: the sandalwood becomes distinct, and the cellar woods smell of cedar comes forward. The blend of warm, syrupy and roasted-woody aromas is intoxicating, almost gourmand, and I find myself slightly dizzy from inhaling over and over. As Onycha dries down, there is a distinct smokiness very like burnt embers in a fireplace. A faint saltiness emerges, and I sense the mineral note again, like the residue of the sea on sun baked shells. But Onycha remains dominated by its fascinating brew of charred resins and aged woods. It is familiar and unearthly; the perfume of a past life, of a memory so far back in time it exists only in stories.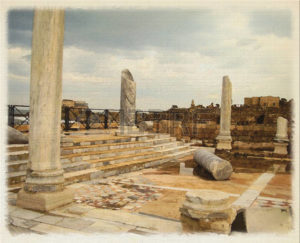 Herods palace ruins in Caesarea, Israel Stock photo
"These are your temples. There are rows of stone countenances, pillar after pillar. As if walking through a forest filled with alabaster heads: here, the frown. The gaze. The luminous stare. Smoke from the incense curls, shapes itself against the archways, rubs against the grooves of the columns. Only a few men press their heads to their hands. Outside, archeologists excavate a stone torso. Bound in coils of fraying rope, it rises before us, pulled upwards by a backhoe. Its form momentarily hides the sun, though as it sways, the light strikes our eyes. Saying yes. Saying no." – Dear Empire (these are your temples), Oliver de la Paz
Notes: Onycha tincture, Labdanum, Siam Benzoin, Oude, Fossil Amber, Himalayan Cedar, Siam Wood, Mysore Sandalwood, Choya Nakh, Oppoponax, and Frankincense (Sacra).
Disclaimer: Sample provided by DSH Perfumes – many thanks. My opinions are my own.
— Lauryn Beer, Editor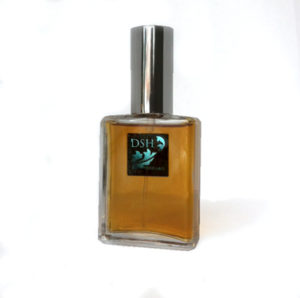 Onycha, photo DSH Perfumes
Thanks to the generosity of DSH Perfumes, we have a 1 dram bottle of Onycha for one registered reader anywhere in the world. To be eligible please leave a comment with what appeals to you about Onycha based on Lauryn's review, where you live nd if you have a favorite DSH Perfume. Draw closes 2/17/2017.
We announce the winners only on site and on our Facebook page, so Like Cafleurebon and use our RSS option…or your dream prize will be just spilled perfume.