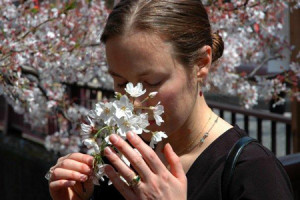 Dawn Spencer Hurwitz: Her nose buried in lilacs
The first perfumer that I visited upon walking into the San Francisco Artisan Fragrance Salon on March 5 was Dawn Spencer Hurwitz. I was overwhelmed; this was my first event associated with CaFleureBon; there were so many perfumers to meet and the weather… so blustery and wet. I completely forgot about all of this the instant Dawn mentioned her new 100% natural lilac composition La Belle Saison.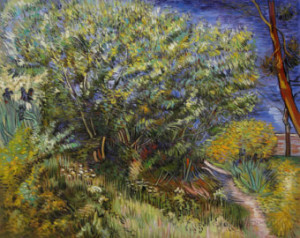 Lilac Bush – Vincent van Gogh 1889
Lilac is one of the strongest floral scent memories of my childhood. I practically lived in the giant light purple lilac bush outside of our house every spring when it was in bloom. With spring just around the corner here I could feel that lilac's time was upon us. I had been stopping by all of the local florists that week to see if there were any to bring home but each time I was "too early". So when Dawn held up the beautiful French cut glass bottle I practically dove right in.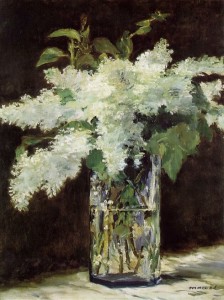 Édouard Manet, Lilacs In A Vase, c.1882
Lilac doesn't give up its sweet green indolic scent easily. It is not available as a raw material to the natural perfumer it is one that must be built up masterfully little by little using other botanicals to mimic the fragrance.
Nina Simone's Cover of James Shelton's My Lilac Wine from Wild is the Wind 1966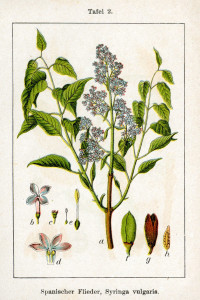 Syringa vulgaris vol. 10 – plate 02 in: Jacob Sturm: Deutschlands Flora in Abbildungen (1796)
The most successful perfumes based upon lilac that I have smelled were not all natural perfumes. En Passant by Olivia Giacobetti for Frederic Malle and French Lilac by Pacifica were two that I sought out when I was familiarizing myself with the construction of lilac in perfumery, they are both fairly realistic and both beautiful in their own right despite containing little to no actual lilac whatsoever. But could this be done in a natural?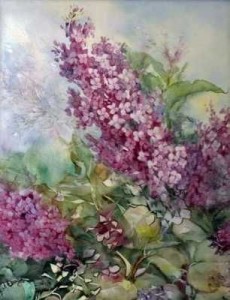 "That Overgrown Lilac Bush" on porcelain tile by jewelry and porcelain artist, Bonny Eberly
La Belle Saison opens with fresh green and uplifting notes of cucumber, bergamot, and anise before gradually evolving into a sweet yet ever so slightly skanky soft floral heart containing neroli, jasmine grandiflorum, and Bulgarian rose wrapped in subtle spices. The composition is all held together with base notes of ambrette, vetiver and beeswax absolute. I get the fullest sense of lilac at the opening when all aspects of the perfume are blossoming at once on the skin which makes sense for a floral as ephemeral as lilac.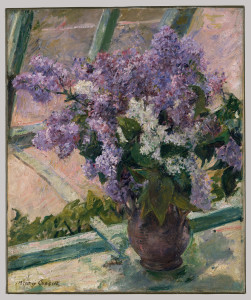 Mary Cassatt Lilacs in A Window (Vas de Lilas) Date: ca. 1880–83 Oil on canvas
As Dawn states "La Belle Saison is "less a photographic 'portrait' of lilacs but rather like a painting that expresses the feeling as well as the scent of lilac, of Spring's freshness, and incorporates the nuances of other blossoming beauties that are releasing their fragrance nearby".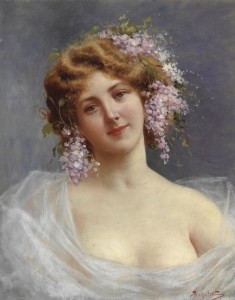 Girl with Lilacs by Achille Beltrame
This isn't a lilac soliflore so don't expect a one note bouquet of tiny blossoms; instead allow it to conjure lilacs in bloom that you have dreamt about throughout the winter. Lilacs in a gorgeous bouquet of accompanying soft florals with an incredibly sophisticated "skin scent" light musky dry down.
The raw materials for La Belle Saison are costly, difficult to source and rare, and the perfume is being offered as a signed and numbered limited edition to start. They are available in Extrait 10 ml Antique French presentations / 30 pieces (retail price: $330) ; Extrait 5 ml Antique French presentations / 50 pieces (retail price: $130).
Notes include: Cucumber, bergamot, anise, neroli, jasmine grandiflorum, Bulgarian rose, spice, ambrette, beeswax absolute, acacia honey, vetiver.
Disclosure: I received my sample of La Belle Saison from Dawn Spencer Hurwitz, opinions my own.
–Zee Boudreaux, Natural Perfume Contributor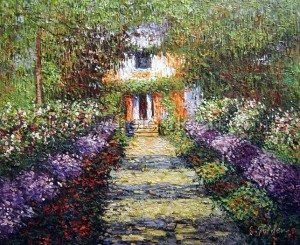 A Pathway in Monet's Garden at Giverny
Editor's Note: Dawn created olfactive paintings for her collaboration with the Denver Art Museum entitled In Bloom: Painting Flowers in the Age of Impressionism which debuted July 19, 2015. The series of scents is entitled Giverny in Bloom (Giverny in Bloom, Le Jardin Vert, La Danse des Bleus et des Violettes, and Les Opera des Rouges et des Roses) reviewed here by Aaron Potterman. The artistry of these impressionist perfumes is one of the reasons why Dawn was awarded CaFleureBon Best Perfumer 2015
Thanks to the generosity of Dawn Spencer Hurwitz of DSH Perfumes we have a draw as follows for two registered readers
Worldwide a sample vial of La Belle Saison (this is valued at $23)
US: one of the 5 ml extrait in limited edition flacon
To be eligible, leave a comment with what you enjoyed about Zee's review, where you live, if you have memories of lilacs or a favorite DSH Perfume. Draw closes March 17, 2016
We announce the winners only on site and our Facebook page, so like CaFleureBon and use our RSS option…or your dream prize will just be spilled perfume