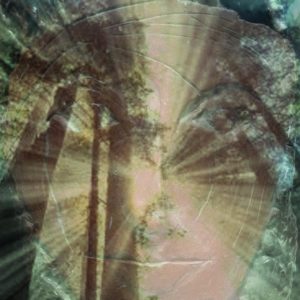 Become the Shaman, art by Dawn Spencer Hurwitz (you can see Dawn's face just visible through the image) 1990s
"In an uncertain world we seek a place of safety, comfort, and peace … But what if the power (and protection) we seek comes from within?" asks Dawn Spencer Hurwitz. "What if we all had access to a safe place filled with magic? The invitation is to Become the Shaman. You possess the strength and power to cast all 'demons' aside. When you become the Shaman, you find that true balance and power come from within."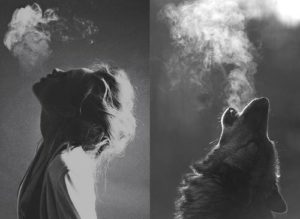 Photo httpdesignspiration.net ©
Almost as old as humankind itself, shamanism is a practice of ritual magic that is said to open a gateway to the other world, capable of summoning shades either beneficent or hostile. Become the Shaman, DSH Perfumes Dawn Spencer Hurwitz's contribution to CaFleureBon 7th Anniversary commemoration, Project Talisman, invokes the gentlest of spirits, weaving a protective spell of indigenous woods, plants and resins from across the Americas into a woody cocoon of light incense, resins and sap.
Metamorphosis 003, art by optiknerve©
Comfort scents often possess facets of childhood smells such as cream, wool, cereals and a sense of warm skin. While some of these notes surface in Become the Shaman, its rich, soothing fragrance is based on woods, particularly Palo Santo, with which it weaves an olfactory security blanket of quiet resins. Palo Santo, or "holy wood," was used by the Incas to purify and cleanse the spirit from negative energies. Dawn added white sagebrush (used by Native Americans for purification) and copal resin "to imbue the design with richness and protection." She also developed an accord of milkweed, a plant native to the New World, to symbolize transformation, as it is the sole food of migrating monarch butterflies.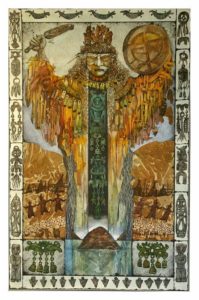 Image from Vladimir Nikishin's series of 20 artworks titled The Shamans of Siberia©
Palo Santo has a mild piney aroma, more like dried pinewood than the living tree. In the first few moments of Become the Shaman, this arid conifer mingles with the teenage incense aroma of burning joss sticks along with milky tonka bean. The fragrance this combination creates feels distantly familiar, like a catch of pleasant memory. But when a tobacco note creeps in, Become the Shaman turns smokier, more of the outdoors. An anisic note enters along withand the twiggy, dusty crackle of summer brush, the scent of dusk in open terrain.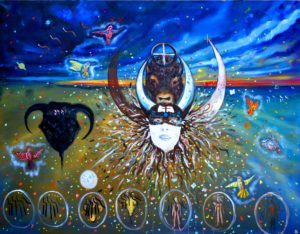 Healing the Soul by Artist Grace Divine ©
While Become the Shaman has a fairly linear development, the copal resin and balsam come out more strongly with time, adding a sappy richness that melds with the delicate vanilla-tonka notes of the opening. The Palo Santo is complemented and underscored by the emergence of mild cedar. The notes all work in balance, without competition, giving Become the Shaman and feeling of harmoniousness. Coming back to the scent on my hand an hour later, Become the Shaman's woody, milky incense envelopes is like a quiet hug, a soft flood of warmth like the childhood safety of blanket forts and flashlights. Its magic is not the demon fighting variety but as a kindly restorative for a day of too much news and tiny heartbreaks, a talisman for these uncertain times.
Notes: Amyris, Copal, Milkweed (accord), Palo Santo, White Sagebrush, Peru Balsam, Texas Cedarwood, Tobacco Absolute, Tonka Bean Absolute, Vanilla Absolute, Gaiac wood, Incense.
Disclaimer: samples provided by DSH perfumes – many thanks. My opinions are my own.
— Lauryn Beer, Editor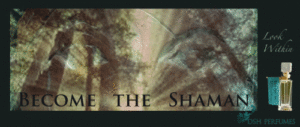 Become the Shaman, artwork by Dawn Spencer-Hurwitz
Thanks to the generosity of DSH Perfumes, we have a 30 ml bottle of Become the Shaman Eau de Parfum for 1 registered reader (register here) in the U.S. or for an International reader a one dram mini flask. There is only one winner. To be eligible, please leave a comment with what appeals to you Become the Shaman based on Lauryn's review, what you turn to for comfort, where you live and your favorite DSH perfume. Draw closes 4/9/2017.
We announce the winners only on site and on our Facebook page, so Like Cafleurebon and use our RSS FEED… or your dream prize will be just spilled perfume