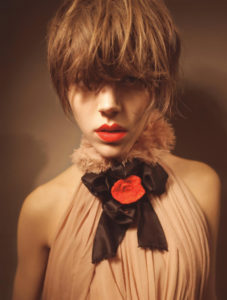 Kiss from a rose- Freja Beha Erichsen by Glen Luchford Model Freja Beha Erichsen
I have mentioned in previous reviews that orange blossom often misbehaves terribly on me, in one of three ways. It is either suffocating, soapy, or screechy like a toddler throwing a temper tantrum, and I have learned to approach fragrances with orange blossom in much the same way I approach toddlers; with great optimism, a bit of trepidation, and a back-up plan. One never knows, after all.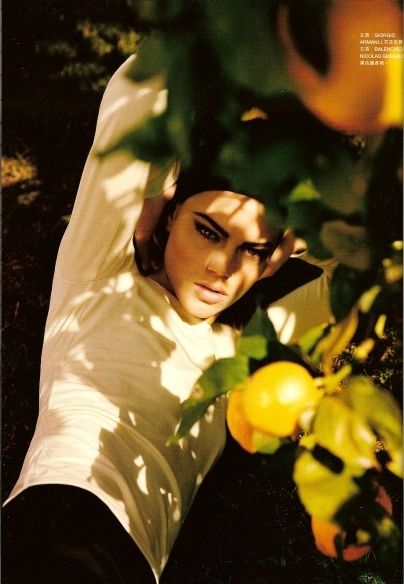 Freja Beha Erichsen Steven Meisel
Happily, there is no need for trepidation or back-up plans with Eau des Sens, the 2016 Spring release from Diptyque . Perfumer Olivier Pescheux keeps the orange blossom calm with earthy, spicy angelica, cool with a shot of brisk juniper berry, and a healthy dose of bitter orange to stop it going off on a screechy tangent. The press release touted Eau des Sens as "the scent of the orange tree in its entirety, from the white petals of the orange blossom to the dark green leaves to the juicy, bitter Seville orange hanging off the branches" Semantically speaking, I think Love For 3 Oranges by Amber Jobin captures an orange tree in its entirety more perfectly, but the blossom, leaf and fruit in Eau des Sens are beautifully done.
Eau des Sens opens with the unique green bitterness of petigrain and spiciness of juniper berries. The combination of these two notes provides a lovely check and balance to the orange blossom right from the start, keeping it from getting out of hand. There's a cool, refreshing aspect to this pairing, and I think it will make this a wonderful fragrance to wear in the humidity of summer. One light spray seems to emphasize the petigrain and the bitterness of the Seville orange, whereas as multiple sprays bring out the fruitiness (more about that later).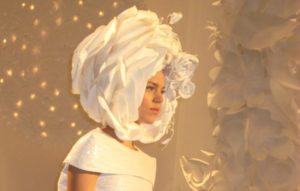 Model Freja Beha Erichsen
The orange blossom itself is very well mannered. In M. Pescheux's capable hands, it is neither suffocating nor screechy. That cooling aspect, enhanced even further by the earthiness of angelica, allows our little prima donna to shine without drowning out the chorus. A final thought about application: when it comes to applying fragrance, I tend to be a very light sprayer, however I've learned that some perfumes need a more lavish application; Eau des Sens is one of them. One small spray gave me a fragrance that was quite pleasant, but when I sat down to write my review, I decided to spritz myself with several hearty sprays, and the difference was amazing. The orange was much juicier, and the bitterness was tamped down a bit. The angelica and juniper berry were more noticeable, and it was a much spicier fragrance overall.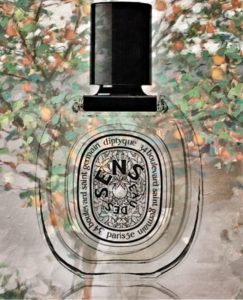 Digital collage MC Diptyque Eau des Sens
Regardless of how you spray it, Eau des Sens is a lovely fragrance that will last all day, without ever being overpowering. I get 10 hours on skin, easily, with good sillage, and because the orange blossom isn't allowed to get too carried away with herself, Eau des Sens is easily wearable by anyone, male or female, who enjoys a crisp, elegant fragrance with a little sparkle to it.
NOTES: Orange blossom, bitter orange, juniper berries, angelica and patchouli
DISCLOSURE: My review is based on a beautifully packaged and presented bottle, generously sent to me by DiptyqueParis. Had I not liked it, I wouldn't have reviewed it. And I do.
Tammy Schuster, Sr. Contributor
Art Direction: Michelyn Camen I chose the androgynous beauty of fashion model of Danish Freja Beha Erichsen